---
Your destination wedding photographer in Berlin
Kurt Vinion Wedding Photography
Atmospheric, Emotional & Elegant photographs for modern couples
You can look at a picture for a week and never think of it again.
You can also look at a picture for a second and think of it all your life.
- Joan Miro
---
World's Top 100
WPJA Artistic Guild Photographer
Chosen by 8 professional photographers from across the world to capture their precious moments
---
Testimonial from a bride and wedding photographer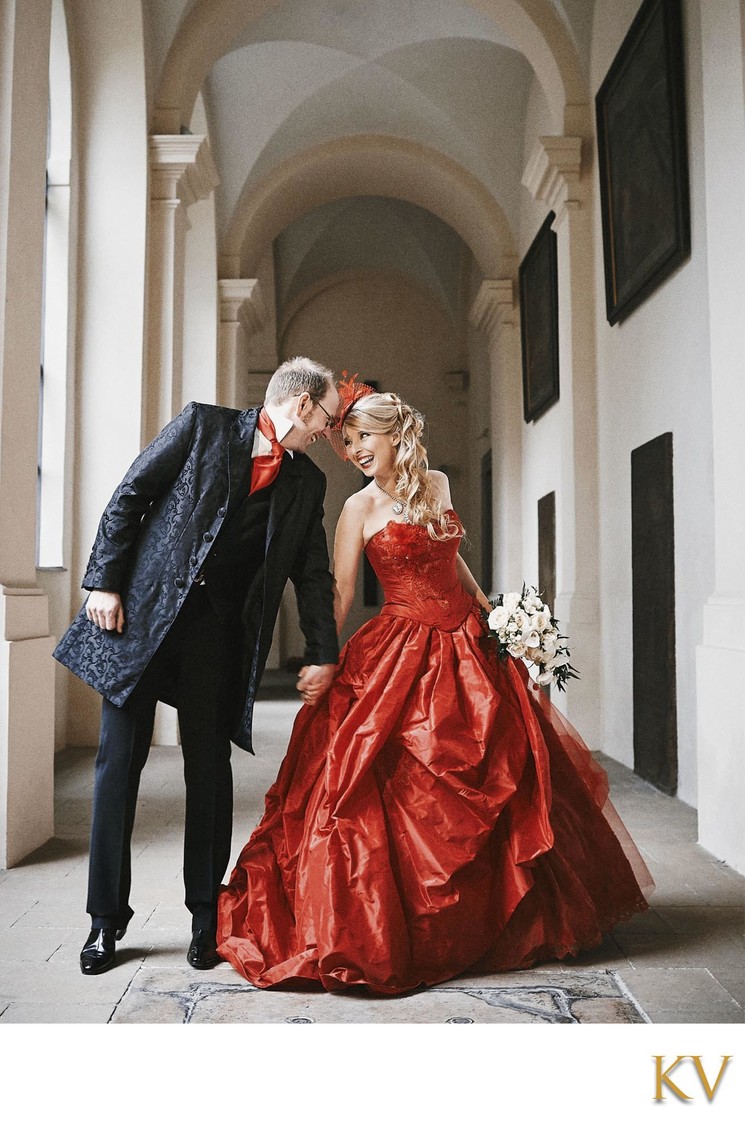 I just love them. What I love most is that you have really captured the day and the way Andrew and I were feeling and this is priceless.
As a wedding photographer myself, it was always going to be a big ask for someone to capture our big day and get us to behave ourselves! Not only did I admire Kurt's work enough to want him to be our man, he was even part of the reason why we decided to get married in Prague.
On the day he was great, never demanding but always guiding us. He is a pleasure to have around on a wedding day! He certainly went above and beyond for us, agreeing to come out onto the streets of the city in the rain.
The results are magical and we've had so many people compliment us on such great wedding photographs.
I cannot recommend Kurt highly enough. He is an immense talent and an all-around lovely guy.
-
Sam (UK Wedding Photographer) & Andrew


---
Featured International Destination Weddings
From fairy tale castles in Bohemia to a historic 16th century English House in London, to a Baroque garden in Prague, near a crystal clear lake under the Juliana Alps, inside a historic Romanesque church - we have captured weddings all around Europe, the United States, and Hong Kong. We are proud to showcase a few of them here. To see more, please review our separate collections listed in the menu.
---
MY FAVORITE WEDDING PHOTOS & PORTRAITS FROM AROUND THE WORLD!
---
POPULAR BLOG FEATURES YOU MAY ENJOY
TIPS FOR SELECTING YOUR WEDDING PHOTOGRAPHER
ADVENTUROUS NIGHT TIME WEDDING PORTRAITS


---
ARE YOU READY FOR AN ADVENTURE? GET IN TOUCH TODAY!
---
International Destination Wedding Photographer for Berlin
Thank you for stopping by - chances are you were searching for a wedding photographer in Berlin and came across my site.
My name is Kurt Vinion, I am an American who has spent most of my life in Europe. A former photojournalist I have been capturing stylish love stories for unique couples from around the world since 2008.
To understand how I create unique images to suit each couple's personalities, please take a few moments to visit the many galleries to get an idea of the kind of photographer I am. I hope you will see that I believe in capturing real moments and also a visual narration of one's wedding day.
And no worries, I am very capable of creating those very stylish and important portraits that you will be very proud of.
My Wedding Photography Style
My style is a mixture of genres. As much as I love capturing real moments, I have no problem with putting you in the best light or cleaning up the environment so that there are no distractions or posing you to showcase those gorgeous curves. And yes ladies, I can provide you with a little bit of help in the post-production - but that will be our little secret.
I am also a big fan of trying new ideas and being creative - especially with light. Perhaps this is why I have photographed 8 fellow wedding & portrait photographers? If you can make a wedding photographer cry (in happiness) then you are doing something well.
As a potential bride or groom, you will want someone who can ensure that no matter where you are and who you are - you will look your absolute best. This is what I do. With no ego and no stress.
If this is the kind of photographer that you are looking for, please get in touch. I would enjoy hearing about you, how you met, why here, and why now, and what you have planned.
WEDDING PHOTOGRAPHER BERLIN
Emotional, Atmospheric, Heartfelt photos for unique couples
You are unique and so are your memories and life experiences. Regardless of who you are, or where you come from, or who you love; who you're becoming as individuals and as a couple — are what truly matter.
If you are planning your destination wedding in Berlin or nearby, please feel free to contact me. It would also be great to know a bit about yourselves and the kind of imagery you desire.
If you have not already done so, please take a few moments to visit the many different galleries presented on this website to get an idea of the diversity of styles and the many international couples I work with. Hopefully, you will see that my approach to each couple is as unique as they are.
Pre-weddings Photographer Berlin & Potsdam
Looking for a pre-wedding photographer in Berlin or Potsdam? One who can create both stunning natural light as well on-location studio-quality portraits that capture your personalities in an artistic and natural way? If this sounds like you - should really get in touch.
Since 2008 we have photographed over 300 couples from as far as Hong Kong, Singapore, Thailand, China, Taiwan, Indonesia, Myanmar, USA, Canada and etc. We have captured their pre-wedding stories all over Europe and as far as Hong Kong.
We don't stand you in front of a famous location and take a pretty picture, instead, we work very closely with you to create a body of work that captures your personalities and your style and in a fun way. Unlike most photographers - we will also ensure that your images are flawless and worthy of being showcased on those big screens at home during your ceremony and on those large format prints.
And ladies, no worries, we know how to work with you to showcase your curves as well as make you the center of attention in those incredible atmospheric locations.
But don't just take my word for it, take a view of our client's testimonials as well as our sections dedicated to different types of sessions such as pre-weddings and our very popular sunrise sessions.

We don't just take pictures we can also create incredible artwork! Please visit our Wall Art section as well as our Album collections
About Kurt
A quiet, unobtrusive type, I would never wish to be the center of attention. Nor am I one of those photographers whose ego is bigger than their talent. I realize that I am missing out (?) on those Instagram and Facebook LIKES and the popularity that they can bring and yet — I am peacefully ok with not feeding the various social media platforms.
Perhaps it is my belief that life is a gift and that the short time we have should be better spent with those that we love and in doing what makes us happy.
Described as open-minded, keenly observant, and one who has a natural ability to focus on the little details. I simply love creating and capturing those little moments that make life so special. As of the year 2021, I have photographed 8 wedding & portrait photographers' love stories (weddings & anniversary photo sessions). If you can make an experienced wedding photographer cry in happiness - you are doing well.
My Professional background
A US military brat who spent 9-years in Germany before the age of 16, I fell in love with Germany and Europe. Educated at the top photojournalism program in the United States, my first position post-Uni was the Director of Photography at the University of Louisville Athletic Department. While on vacation in Prague I was offered a once-in-a-lifetime chance to work at what I originally intended to be: as a photojournalist.
A year later I was covered international stories for The New York Times, The Boston Globe, and Spectrum Pictures. It was an incredible journey. It was also heartbreaking and soul-crushing as my area of concentration was reportage; stories of children living in the sewers of Kyiv, 'freedom fighters' in Belfast, illegal coal miners in the Donbas, the suffering of Afghan refugees, or the conditions of those living in the West Bank.
My start in weddings came when a fellow journalist demanded I fly halfway around the world to capture her wedding in San Diego. When I replied that I was a photojournalist and not a wedding photographer her response was: 'that is exactly why we want you!' It was a wonderful, eye-opening experience, one that shook me to the core and questioned my reasoning for being a photographer.
A few months later back in Berlin, another friend asked if I would capture his best friend's wedding in Italy - the bonus: I could bring my young family to stay at the villa. That wedding was everything you would expect from a wonderful German/Italian wedding - it also cemented my love for this work. To be able to capture so much happiness, joy and the many wonderful moments of two families and their friends coming together was a game-changer in my life, career, and trajectory as a visual storyteller.
Since then I have covered 300+ weddings in many countries and with many people from all walks of life. It has been a beautiful journey one that I am still enjoying to this day.
The reality is: capturing love and giving couples the opportunity to relive those wonderful moments over and over again is a wonderful responsibility one that I never tire of.
PHOTOGRAPHY AWARDS & RECOGNITION
WPJA TOP 100 ARTISTIC GUILD WEDDING PHOTOGRAPHER
International photojournalism awards:
The Best of Photojournalism 2 - 1st places in Magazine and Reportage
Czech Press Photo - numerous awards in various categories
Hearst Journalism Award
KNPA Sports Photographer of the Year
and various others
The BEST AWARD: being told that children were being adopted from an orphanage in Ukraine by American couples who had seen
my reportage on their struggles. The truth is: there are no awards that can ever top that!
Are you currently planning your wedding or elopement? If so I would love to tell your story
Please use the contact form
---
International Destination Wedding & Portrait photographer in Berlin Kurt Vinion
wedding & pre-wedding & elopement photographer available in Berlin, Kiel, Potsdam, Sylt, and anywhere in between
Weddings • Engagements • Pre Weddings • Portraits • Couples • Family • Corporate • Events • Branding
+420 776 069 384
Privacy Policy | Terms of Use | Copyright © 2022