An explanation of the different times you should consider for your photo session
For couples wanting to have the best photo shooting experience the question of 'When is the best time to take our photos?' is one of our most popular questions. The truth is it depends on what you wish to have. As a photographer I personally love shooting during the Golden Light Hour. It is my favorite time of day where the light just oozes warmth and as a creative at heart - I love capturing those sun flared images.
My other favorite time is at sunset or sunrise when the sky is changing color quickly and you have a stunning array of rich colors. Of course to really take advantage of having those colors you must also use a bit of flash to ensure that you have detail in your couples -otherwise you are left with silhoutttes as the key is to underexpose to capture those deep, saturated tones. Something that is not possible with a natural light photographer or one who does not use flash.
What you see in many photos are simple blown out skies and soft tones. It is known as a 'natural light style'. It is also very common as it is the easiest to capture. Especially when you slap on a lightroom filter (the 'light and airy' or a 'soft pink pastel') and you have the same kind of images that most have. There is nothing wrong with this look (though it is starting to look dated in 2021) and when done well it is quite beautiful. I capture these types of images myself at times if that is what the clients wish.
The reality is when you have a photographer who understands light well and has the right equipment they can bring back images in any style and at anytime of the day that will blow your minds.
The Golden Hour
This is the time where the sun starts to peak above the skyline in the morning or just before sunset. The fall months are especially breathtaking as the warmth of the sun hitting the Vltava river sends up gorgeous fog like conditions that create ethereal streaks of light that creates its own patterns. An example is this stunning portrait of our very elegantly dressed couple from Japan, photographed at Lake Bled in Slovenia during the Golden Hour.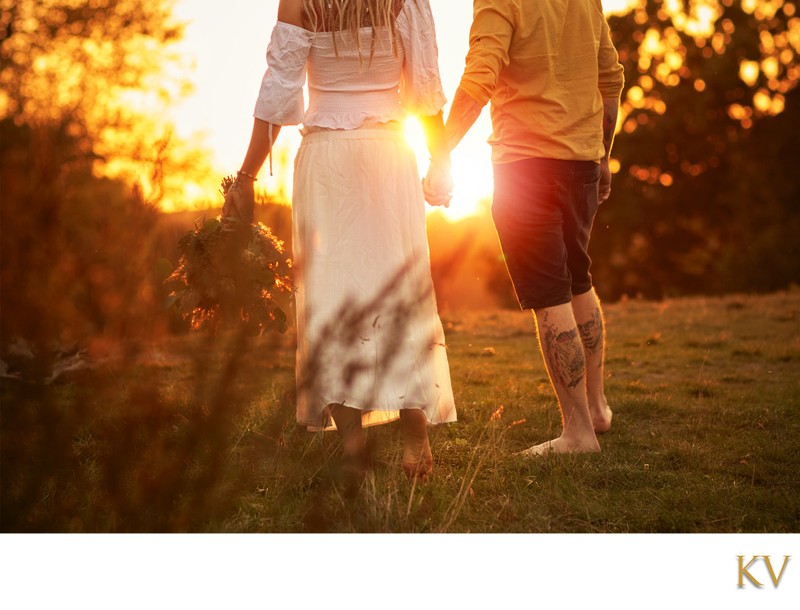 The benefits of having a Golden Hour Session
incredible Golden Light that creates warmth and contrasty conditions that photographers love to work with

picture perfect for very close and intimate images of sexy couples

wonderful opportunity for creative lighting such as lens flare, sun flare and even silhouettes
The Sunset or Sunrise
That amazing period when daytime turns to night or for those early risers when night time turns to day. Visually this is one of the most beautiful and creative time periods to capture and create dramatic portraits. As the sun sets behind Prague Castle it can surprise us with an incredible array of colors that look spectacular. Or vice versa, such as this image of our very sexy couple from Hong Kong captured shortly after sunrise atop the Charles Bridge.
perfect for creative & dramatic images capturing the sky as it flares.

unless all of your images are silhouettes a lighting crew is the only way to truly create and capture stunning images.

of course there are some drawbacks: getting up and being prepared in time for the sunrise & shortly afterwards the Golden Light Hour. This is usually not a problem for our couples from Asia who are still on their home time zones).

Or you can opt to capture this timeline during the late afternoon before sunset. The drawback, many tourists cluttering up your backgrounds.
The Daytime
Shooting during the daytime is something that many experienced photographers try to avoid. The reason: harsh lighting conditions that rarely look great. The strength of the sunlight often causes harsh glare and shadows which simply do not lend itself to great images - especially for portraits - think of those raccoon eyes that is quite common in these situations. However there are exceptions such as incorporating the sun to create a beautiful backlit images such as this one below.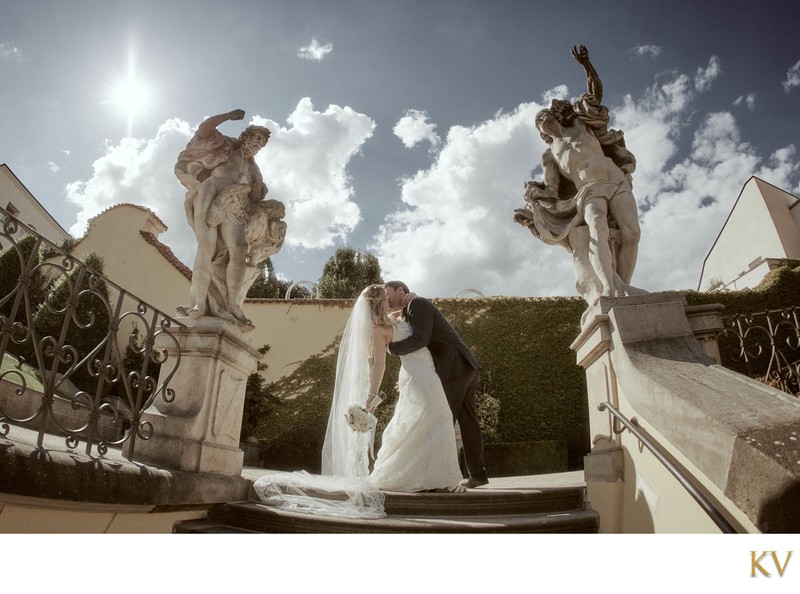 The other example is when you have an overcast and cloudy day. This is actually something many photographers prefer to have as everything looks soft and with less contrast it is easy to create wonderful portraits as well as stunning photos. The portrait of our bride below was shot on a cloudy day and as you can see the softness lends itself to a more flattering look and color palette.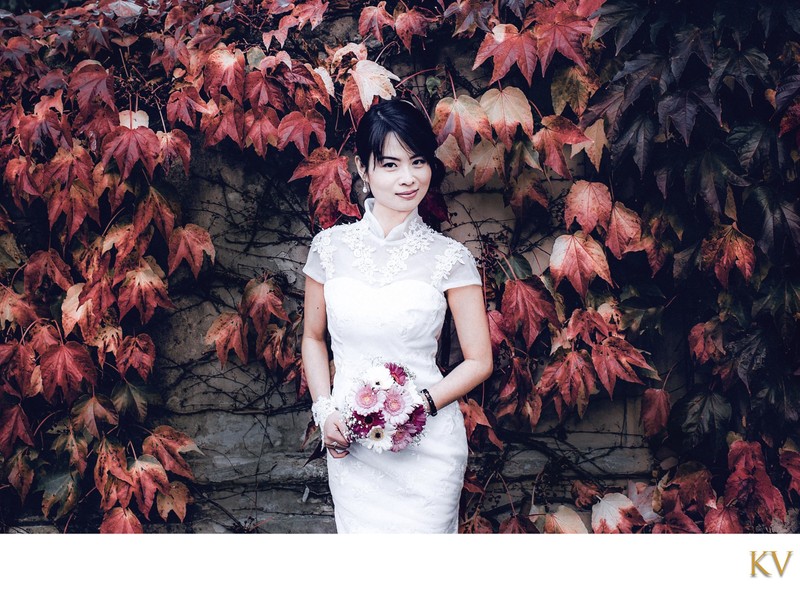 Evening (twilight) - Blue Hour
The period when the day is ending and the night is beginning (or the reverse pre-dawn before sunrise).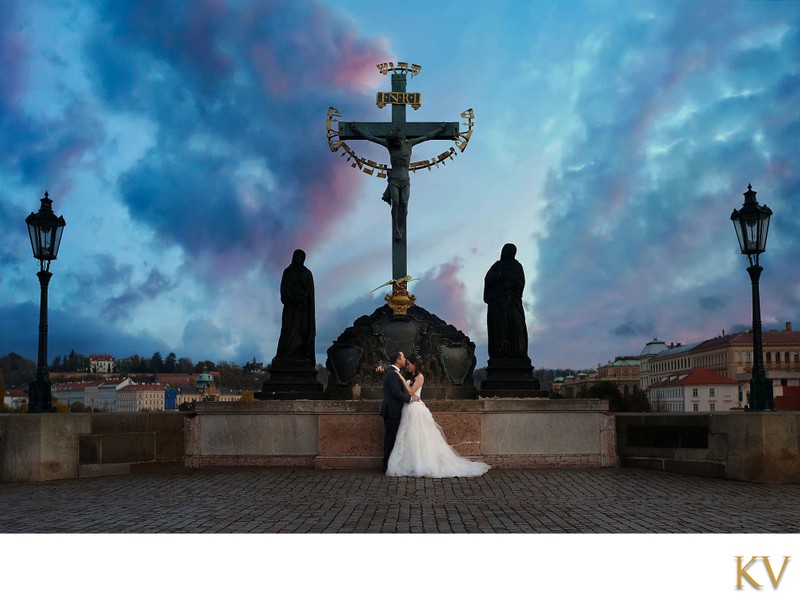 magical, beautiful, romantic & incredible are how couples view their images captured during this time period.

with the softness of the light their is no harsh lighting to cause unwanted and unflattering shadows. An ideal time for creating luxurious (and lit) portraits that will impress and amaze with their rich colors.
Night Time
Romantic gas lamp lit streets, iconic landscapes and add a bit of light and couples stand out against the blackened night sky.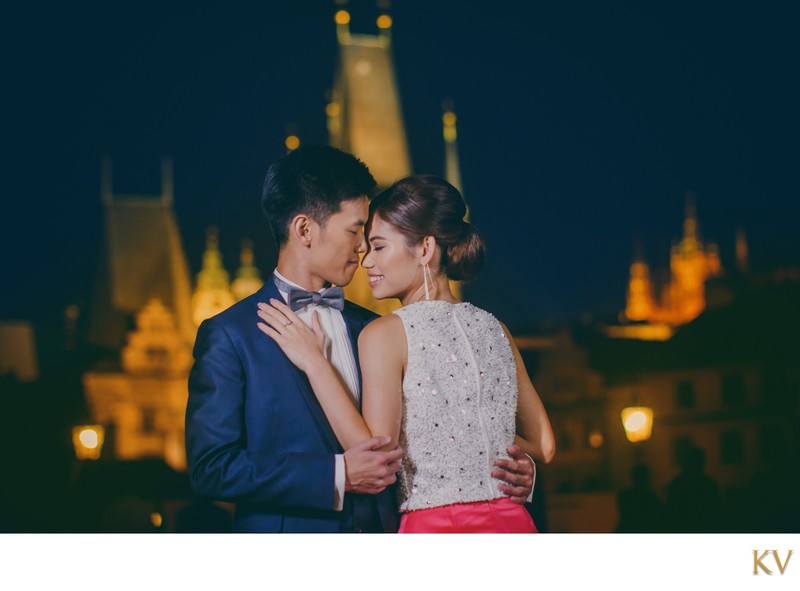 The time of day where the atmosphere of the city feels most alive and fun.

intimacy in beautiful historic locations such as Prague Castle at night is something our clients still rave about many years later.

a unique time to create truly unique and creative artistic and art directed portraits.
Interested in knowing some of our favorite garden locations in Prague for the best photo shooting experience?
---
An explainer on the different lighting situations that photographers face
Prague Portrait Studio
Weddings • Engagements • Pre Weddings • Portraits • Couples • Family • Corporate • Events • Branding
+420 776 069 384 • info@kurtvinion.com • © 2020