---
Prague portrait photographer: pre-wedding photoshoot, couple portraits, engagements, families & destination weddings
You can look at a picture for a week and never think of it again.
You can also look at a picture for a second and think of it all your life.
- Joan Miro
Native English speaking photographer serving: Cesky Krumlov - Castle Hluboka nad Vltavou - Castle Dobris - Chateau Mcely - destination wedding photographer in Czechia
For information on our Prague Wedding Photography Pricing and Packages please visit this link.
---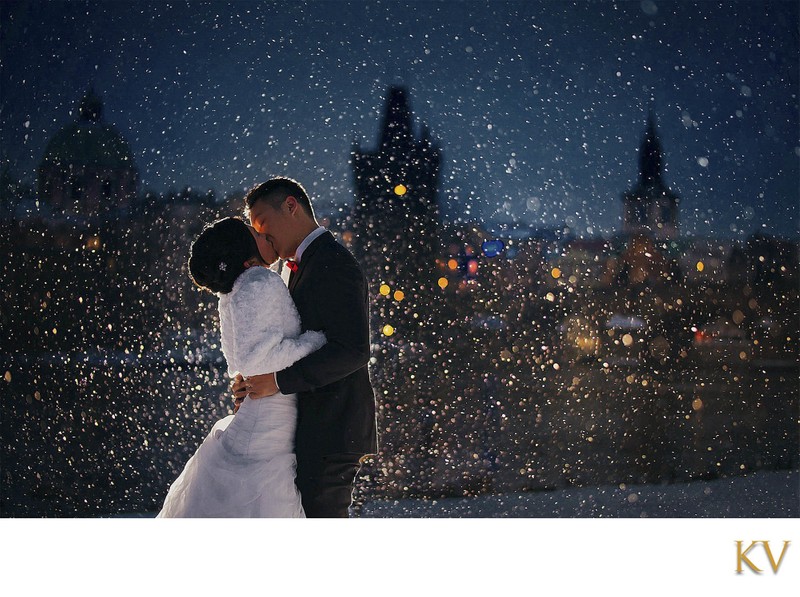 Wintertime Photo Session - from 300 EUR
A perfect portrait session for your pre-wedding, honeymoon photos, engagements, or just beautiful couple portraits from Prague's trusted professional portrait photographer!
Take in the gorgeous landscape of Prague during that most wonderful time of year - wintertime! These specially curated photo sessions come with two unique itineraries that showcase the breathtaking scenery of Prague as well as the colorful and festive Christmas Market in the Old Town Square. So bring your stylish winter outfits, or your wedding attire, or some sexy evening wear. No matter what you wear make this uniquely created Prague Portrait Session - distinctively yours!
To view more details visit
---
FEATURED PORTRAIT SESSIONS:
LOVE STORIES - E-SESSIONS - PRE-WEDDINGS - HONEYMOON PHOTOS
Interested in having a stylishly posed solo portrait session, intimate love story photos, a special honeymoon photo session, or an adventurous engagement session? If so we have you covered.
To provide you with the best photo shooting experience, we personalize the entire experience. By getting to know you, your likes, and your style - we then create imagery that is about You! Afterward, you can select your favorite images that we will digitally enhance to ensure that they look beautiful on your living or bedroom walls.
So no stress, no worries, just beautiful results every time.

---
Top 100
WPJA Artistic Guild Photographer
Emotional, Atmospheric, Heartfelt pictures for unique couples
Chosen by 8 professional photographers from across the world
to capture their precious moments
photography provider, I portrait I weddings I families I PR & Events I available worldwide
---
Portrait Photography & Wedding Photography featured galleries
CHATEAU LIBLICE DESTINATION WEDDING
LAKE BLED SLOVENIA ELOPEMENT
A LUXURY DESTINATION PRAGUE WEDDING
WEDDING AT THE SYON HOUSE IN LONDON
CASTLE HLUBOKA OUTDOOR WEDDING
---
POPULAR BLOG FEATURES
BEST GARDEN VENUES IN PRAGUE FOR PHOTOS
USEFUL TIPS FOR SELECTING A WEDDING PHOTOGRAPHER
WHAT ARE THE BEST TIMES FOR A PORTRAIT SESSION?
ARTISTIC PRAGUE PRE-WEDDING PHOTOSHOOT
AN UNFORGETTABLE PRAGUE WEDDING
WEDDING PHOTOGRAPHY CAPTURED BEFORE DAWN
---
Prague destination weddings & portrait photographer - combining art photography with photojournalism
Welcome to all the lovely couples from across the world. My name is Kurt Vinion. I am an American portrait & wedding photographer based in Prague. Previously I worked as a photojournalist with The New York Times, The Boston Globe, Getty Images, in capturing international award-winning reportages.
After the misery of photojournalism, I decided to focus on capturing happy, quirky, and beautiful moments in couples' lives: engagement portraits, pre-weddings, and the storytelling of one's wedding day. Knowing that these images will become cherished family heirlooms is a truly wonderful feeling.
The truth is: you deserve a gifted photographer who can tell your story. One who can make you comfortable and who understands what is important to you, and has a style of photography that you love! A professional who will work tirelessly to deliver an exceptional experience from beginning to end. The lifelong relationships forged with couples from around the world are also a bonus.
TESTIMONIALS & BUSINESS REVIEWS
Taking great pictures is not enough. It is also about the customer experience. I have always prided myself on ensuring the very best for every client. Please take the time to review my client's testimonials page as well as my 5 Star business reviews on Google, Wedding Wire, TripAdvisor, and etc.
---
Your photographer for your Family Photo Session!
Looking for a wonderful photo experience for your family's travel adventures?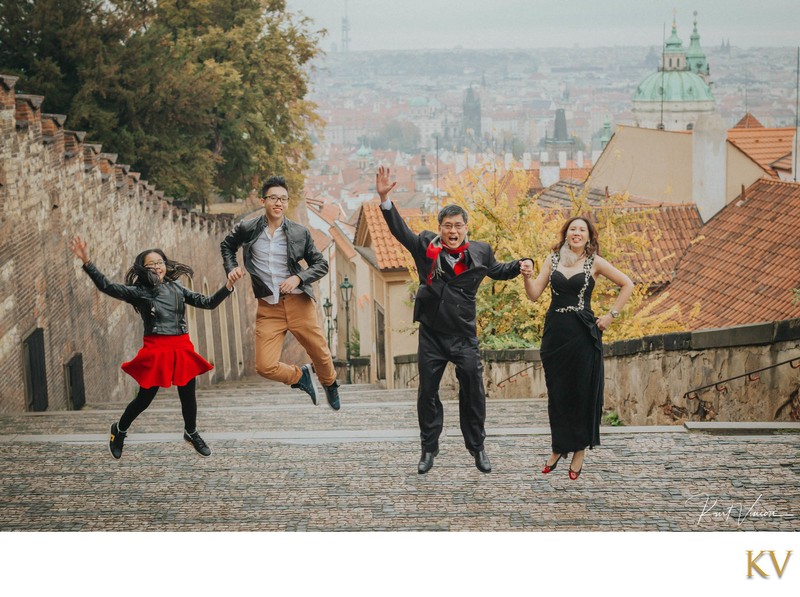 Family vacations are worthy events that deserve quality photos. As your family is unique, we personalize our photography to your styles and taste. We offer various genres of photography, such as reportage or candid family photos to those stylish posed portraits, including High School Senior Portraits. Additionally, we can create family portraits in the studio, though most families who visit from around the world love the idyllic and gorgeous backdrop of Prague.
As a Prague photographer who has been capturing family photos since 2008, I know this city intimately and especially how to capture it during its most beautiful times.
Regardless of the kind of photography session you choose, I will ensure that you and your loved ones have a beautiful collection of photos that you will be proud to hang in your home.
Speaking of beautiful artwork that deserves to be showcased in every family home, we are proud to offer gallery-worthy Matted Deckled Prints as well as the very best in Wall art.
Interested in knowing more? Please visit our Family Portrait section to see more family photos as well as current pricing and package info.
---
Searching for a reputable Prague wedding planner?
With 100's of Prague wedding agencies to choose from it can be quite daunting to find the best wedding planner that suits your needs. Many agencies are brilliant at having a stylish web presence - featuring fake weddings or 'styled shoots' with gorgeous models, locations, and lavish dinner tabletops. Yet they fail to provide the services that couples from N. America and Europe would expect. I have seen this happen many times.
With 13 - years of international experience, I would be happy to provide you with insight into those honest and ethical planners who believe in creating a1st Class experience. There is no quid pro quo.
Regardless of who you are, where you come from, and who you love - you deserve the very best for your Prague destination wedding.
You can use this contact form to get in touch.
---
Looking for a Professional Corporate Event and or PR Photographers in Prague?
With over 25 - years of professional photography experience in corporate events, PR, industrial, TV production stills, gala event coverage, private VIP events, staff headshots, or brand identity, the Prague Photographer Team can create visuals for nearly every need.
---
LET'S WORK TOGETHER
I WOULD LOVE TO HEAR FROM YOU!
If the form is not working or you do not receive an email response (please check your Spam folder) within 48 hours, please feel free to call at +420 776 069 384
---
Professional Photography by Kurt Vinion, Est.2008, Czech Republic
Wedding Photographer Munich | Wedding Photographer Berlin | pre-wedding Photographer Venice
Weddings • Engagements • Pre-wedding Photoshoot • Portrait Photographer • Couple Portraits • Family • Honeymoon • Corporate • Events • Branding
Prague Portrait Studio Located in the heart of Mala Strana
(via appointment only - no walk-ins allowed)
+420 776 069 384 • © 2021 Kurt Vinion
Introducing our new website dedicated to couple shoots in Prague:
and our newest site focusing on destination weddings in Austria, Germany, and Switzerland
Privacy Policy | Terms of Use | Copyright © 2021