You can look at a picture for a week and never think of it again.
You can also look at a picture for a second and think of it all your life.
- Joan Miro
The pro's choice in Prague! - Chosen by 9 professional photographers to capture their memories!
Prague photographer for Weddings • Engagements • Pre-wedding Photoshoot • Portraits • Couples • Family • Honeymoon
Bespoke Portraits for Unique Couples Who Demand The Best From Their Prague Portrait Sessions!

---
FEATURED PHOTO SESSIONS:
LOVE STORIES - E-SESSIONS - PRE-WEDDINGS - HONEYMOON PHOTOS
Are you interested in having a stylish solo portrait session, intimate love story photos, gorgeous Prague pre-wedding, or a honeymoon photo session? Or perhaps you wish to have an adventurous Prague photographer for your stylish nighttime engagement session? If so, we have you covered.
To provide you with the best Prague portrait photography experience, we personalize the entire experience to your taste and needs. By getting to know you, your likes, and your style - we create imagery about You! Afterward, you can select your favorite images that we will digitally enhance to ensure that they look beautiful on your living or bedroom walls.
For our lovely couples from Asia, please be sure to review our pre-weddings section listed in the menu above.
A collection of my favorite photo sessions!
Featuring a few of our International Destination Weddings
From fairy tale castles in Bohemia to a historic 16th century English House in London, to a Baroque garden wedding in Prague, near a crystal clear lake under the Juliana Alps, inside a Romanesque church - we capture weddings all over Europe. Presented here are a few of our favorites.
CHATEAU LIBLICE DESTINATION WEDDING
LAKE BLED SLOVENIA ELOPEMENT
A LUXURY DESTINATION PRAGUE WEDDING
PRAGUE VRTBA GARDEN WEDDING
WEDDING AT THE SYON HOUSE IN LONDON
CASTLE HLUBOKA OUTDOOR WEDDING
OUR POPULAR BLOG FEATURES
BEST PRAGUE GARDEN VENUES FOR WEDDING PHOTOS IN 2023
TIPS FOR SELECTING YOUR PRAGUE WEDDING PHOTOGRAPHER
THE BEST TIMES FOR CREATING UNFORGETTABLE WEDDING PHOTOS!
THE BEST PRE-WEDDING PHOTOS FROM PRAGUE!
A ROMANTIC CANDLE-LIT MARRIAGE PROPOSAL IN PRAGUE!
ATMOSPHERIC & STYLISH WEDDING PHOTOS FOR ADVENTUROUS COUPLES
---
ARE YOU READY FOR AN AWESOME EXPERIENCE?
Let's Chat!
If the form is not working or you do not receive an email response (please check your Spam folder) within 48 hours, please feel free to call
+420 776 069 384
---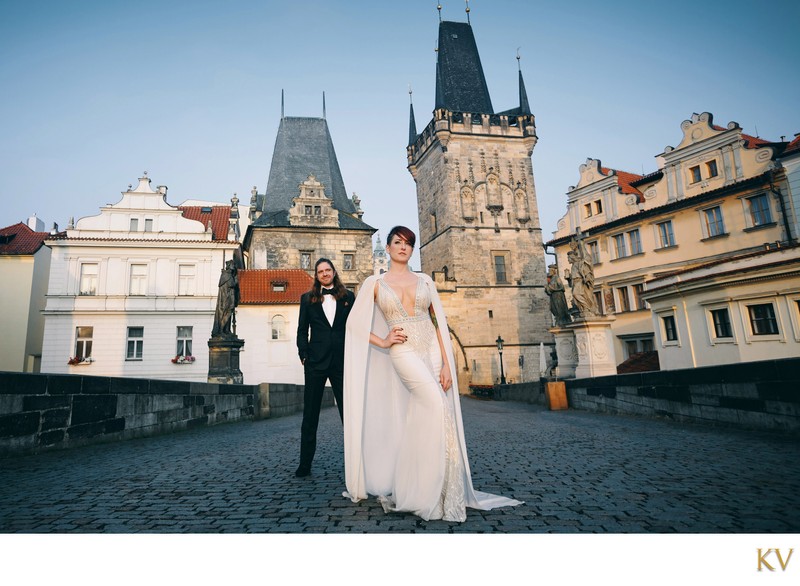 Sherri & Matt - Post-Wedding Photo Session
Kurt is an astounding photographer - one of the best in the world!
---
The Best Wedding Photos in Prague by American Photographer Kurt Vinion
combining art photography with photojournalism
Welcome to all the lovely couples from across the world. My name is Kurt Vinion. I am an American portrait & wedding photographer based in Prague. Previously I worked as a photojournalist with The New York Times, The Boston Globe, and Getty Images, in capturing international award-winning reportages.
As much as I enjoyed reportages, there was something missing. So I decided to change focus, one where capturing happy, quirky, and beautiful moments in couples' lives such as engagement portraits, pre-weddings, and yes, the storytelling of one's wedding day was more spiritually rewarding. Knowing that my images will become cherished family heirlooms is quite humbling.
The truth is everyone deserves a gifted photographer who can tell their story. One who can make you comfortable, one who also understands what is important to you, and has a style of photography that you love! A professional who will work tirelessly to deliver an exceptional experience from beginning to end. This is what I do. The lifelong relationships forged with couples are also a wonderful bonus.
TESTIMONIALS & BUSINESS REVIEWS
Taking great pictures is not enough. It is also about the customer experience. I have always prided myself on ensuring the very best for every client. Please take the time to review my client's testimonials page, plus my 5 Star business reviews on Google (Prague wedding & Prague portrait photographers), Wedding Wire, TripAdvisor, etc.

---
Your Premium Vacation & Family Photographer!
Looking for a wonderful photo experience for your family's travel adventures?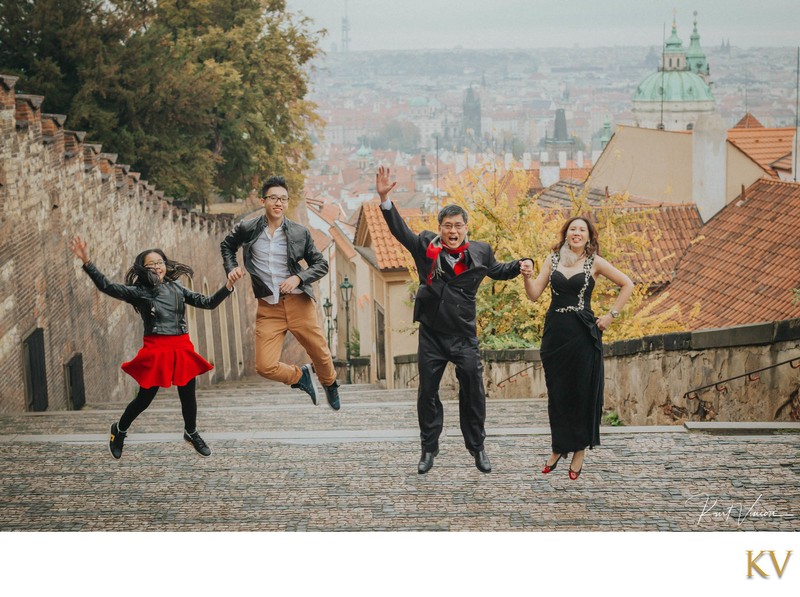 Family vacations are worthy events that deserve quality photos. As your family is unique, we personalize our photography to your style and taste. We offer various genres of photography, such as reportage or candid family photos to those stylish posed portraits, including High School Senior Portraits. Additionally, we can create family portraits in the studio, though most families who visit from around the world love the idyllic and gorgeous backdrop of Prague.
As a Prague photographer who has been capturing family photos since 2008, I know this city intimately and especially how to capture it during its most beautiful times.
Regardless of the kind of photography session you choose, I will ensure that you and your loved ones have a beautiful collection of photos that you will be proud to hang in your home.
Speaking of beautiful artwork that deserves to be showcased in every family home, we are proud to offer gallery-worthy Matted Deckled Prints as well as the very best in Wall art.
Interested in knowing more? Please visit our Family Portrait section to see more family photos as well as current pricing and package info.
---
Are you looking for expert advice on selecting a Prague wedding planner?
With hundreds of Prague wedding planners, it can be time-consuming to find the best planner that suits your needs. Many agencies are brilliant at having a stylish web presence - featuring 'styled shoots' with gorgeous models, locations, and lavish dinner tabletops. Yet they fail to provide the services that couples expect on an actual wedding day.
With 15 - years of international wedding experience, I can provide you with real-world expertise and insight when selecting a Prague wedding planner. Unlike others, there is no quid pro quo, just the truth from one who values honesty and integrity.
Regardless of who you are, where you come from, and who you love - you deserve the very best for your Prague destination wedding or Czechia destination wedding.
You can use this contact form to get in touch.
The most trusted wedding & pre-wedding photographer in Prague since 2008
---
STUDIO LOCATION IS NOT PUBLICLY LISTED - BY APPOINTMENT ONLY
---
Native English-speaking photographer specializing in on-location portraits and weddings in the Czech Republic, based in Prague
Prague Weddings • Engagements • Pre-wedding Photoshoot • Portrait Photographer • Couple Portraits • Family • Honeymoon
Our Prague Portrait Studio is Located in the heart of Mala Strana
(via appointment only - no walk-ins allowed)
+420 776 069 384 • © 2023 Kurt Vinion
Introducing our new website dedicated to couple shoots in Prague:
Looking for a Corporate or Event Photographer in Prague? Then visit here: Prague-Photographer.com
Privacy Policy | Terms of Use | © 2008 - 2023 Kurt Vinion