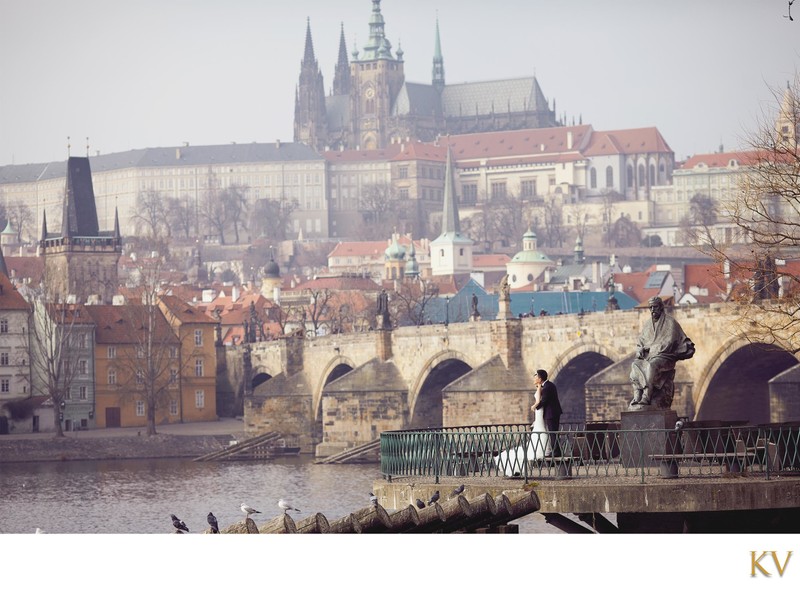 FAQ About our pre weddings & portrait sessions
Locations & timelines
You can chose the locations or we can simply create a route that takes in the most beautiful locations in the time allotted with your input in mind. As Prague is very busy with tourists I am also very happy to show you locations that only those of us who have been living here for a long time know. These locations are also quite beautiful and are close enough for us to maximize the amount of locations visited. Please note that we do not pause the sessions for new hair & makeup styles or simply to take breaks.
When is the best time for a pre wedding portrait session in Prague?
For truly beautiful images with very little worries about the weather the period from April (this is when the Cherry Blossom trees start to bloom) through the end of autumn in early October is usually gorgeous for most parts of Europe. Personally, September is the most visually stunning times of year as this is when the fall foliage is at its most spectacular and a visit to a garden is a must. The bonus; shorter days with its late sunrises and early sunsets make for easier & faster paced sessions. Early morning sessions are truly the best way to experience this city without the many tourists cluttering up your images. For many of our couples from Asia we actually will start their pre-wedding sessions 1-2 hours before sunrise to capture night motifs as well as panoramic images of the city as well as our very creative night time portraits.


Do we need a car to get around?
If you wish to pay extra for a van to drive you around we can arrange that. Truth be told, Prague is such a small and compact city that you actually see and experience more as opposed to sitting in traffic which is quite bad here. We do not recommend having a car as you will spend up to 20-30% of your time sitting in traffic. The only exception where you may wish to have a driver is during our long winter themed sessions where it can be quite cold.
Do we need to arrange transportation if we wish to go outside of Prague?
Yes, and no worries we can help arrange this on your behalf. Most day sessions are roughly 200 EUR and with a driver (up to 8 hours must include hotel pickup and drop off).
Are there differences in which days to book?
Absolutely, the ideal time frames are from Sunday – Thursday. Though some gardens may be closed on Monday's. Usually the weekends are quite busy with tourists and especially sunrise on the Charles Bridge with all of the party people leaving the clubs can be quite demanding as everyone will want to photo bomb your session.
When to book your session?
As the summer months are always in demand it is best to book your session as much in advance as possible. We do require a 50% deposit with the remainder due the day of.
Winter themed pre wedding photo session
For those couples wishing to have a winter themed session – the best months are December – February. Though we cannot guaranteed full cooperation with the weather. Be warned that though these sessions are quite beautiful, the cold weather does slow us down considerably.
Wedding dresses, tuxedos and evening wear outfits
We strongly believe that you should bring your own outfits so that you can enjoy your visit to Prague without spending hours trying to source the right outfits. However we do realize that this is not always practical. As such we can highly recommend the following Atelier for dress and for the guys Mens Tuxedo and suits.


Salan Maya - www.Salonmaya.cz - they have English speakers on staff and it is best to contact them in advance or at least view their online offerings.
Kleinod Gentleman Store - high quality suits and accessories for every man - www.kleinod.cz - they usually have English speakers on staff as well as online offerings.
There are many others and you can find them online.
What to wear
Dark clothes are always a bad idea for night time shooting. Red though a lovely color always ends up being the center of attention and detracts from the subjects - so wear sparingly. Black dresses and or very dark dresses can be quite tricky as you may end up losing the details. Loud patterns are also not a good idea as they distract. As wedding fashion is truly subjective it is up to you. For our ladies wearing high heel shoes in Prague can also be quite demanding so please keep that in mind as the cobblestones of the Charles Bridge have happily eaten up a Manolo Blahniks and lesser priced shoes. For our larger sessions it is best to take a comfortable pair of walking shoes as most of your session you will wish to be comfortable.
For the groom what to wear
The best colors for men tend to be beige, blue, gray. Fancy patterns or colors can be quite dated in a few years. The classical tuxedo - Black matte with a white shirt and black bow tie will always makes a bold and elegant statement. As for fabric, glossy looks quite terrible and cheap so matte textures are always best.
How many outfits
The answer depends on the number of hours and your timeline. Usually it is best to have 1 outfit for every 3 hours of shooting. Most couples will opt to have the white wedding dress and then an evening outfit. Others wish to have up to 3 and some will push for 4. The reality is for every outfit change you will lose valuable time traveling back and forth to the hotel, changing outfits and of course if you need a new hair & makeup look that will add more time as well. Additionally you can opt to have the following situations:
A) travel back and to your hotel that is centrally located in the historical part of Prague such as near the Charles Bridge. You can come and go as you wish and be comfortable during the entire session with no stress.
B) hire a van to drive us around and change in the fan on location. The downside is - you are changing in a van and unless your clothes are hung well they may have wrinkles. You have little or no privacy. The upside you can change as you wish. This is how we work in Paris as the city is very large to travel back and to.
C) bring your own suitcases. This is the low end / budget approach and creates more problems than it is worth. First, who is carrying or dragging your suitcase around? Second who is watching it during your session? Third, your clothes will be wrinkled and it is time consuming (expensive as we will not cover this in our basic retouching) to fix in post. Fourth, you have to use public toilets to change in which can be quite disgusting.
Truth be told, our clients would never drag their suitcases around during the session - it is a miserable experience. However you will see many sweaty, visibly unhappy grooms in Prague dragging suitcases around. Unlike Asia where you can actually safely put things such as your gear and suitcases on the ground without having them stolen - that is NOT the case in Prague or many European cities.
Hair & makeup artists
We work with only the best ladies who are not only certified but speak English fluently. If you wish to have a hair & make up artist we would be happy to recommend 3 of our favorites to you. These ladies do not pay us a commission like some of our counterparts who only recommend the ones who do.
Having beautiful, flawless images is key to a successful session. As such we believe that having a full-time hair & makeup artist attend to your needs during the entire session is important - though not a necessity. At the end of the day, the only thing you will have left are your photos. This is why we encourage our couples to invest a little bit more for peace of mind - after all you deserve the best!
How does it work with the hair & makeup artists? Once you have made your decision on whom to work with you should contact them asap to discuss your hair & makeup needs. Having photos of your outfits, your chosen hair styles are always helpful before meeting up and we encourage you to create a dialogue with them to discuss possibilities. For those ladies who have skin issues, no worries, please mention this to your hair & makeup artist before you meet up so that you have the right makeup for your session.
For an additional fee you can also have a hair & makeup trial to ensure you know exactly what to expect.
What do to the night before your session
First you will need plenty of sleep as being well rested is of the utmost importance. As many of our sessions start quite early chances are you will still be on Asian time. Plenty of liquids are also advised so that you are hydrated during your session. We also suggest hanging your clothes (or having the hotel steam your outfits) up the night before. Place all of your accessories on the table so that you can visually see what you have and if you are in need of anything. Also make sure your stylist has a big enough space to work in as well as lay out her accessories and making sure the space is well lighted is always a plus.
For the ladies, make sure you have showered before your makeup and hair stylish arrive - time is of the essence. Usually a full hair & makeup prep takes about 2 -1/2 hours. For the guys it is not needed to wake up and wait the entire time. Do make sure you have breakfast before you dress up.
Accessories
Personalizing your session to your needs is something we recommend and encourage. For some of our couples creating a unique and special motif (upon request) can be arranged with certain props and themes. As such we may be able to provide you with candles, lamps, champagne flutes, champagne, parasols and etc. Generally speaking we always encourage our clients to personalize their portrait session to their taste and style – after all it is your session. If you wish to discuss options more in details please speak with our team member with your ideas.
Flowers, balloons, musicians
Do you wish to have a beautiful bouquet, or perhaps a string quartet or a more editorialized styled session complete with champagne, candles and etc? No worries we can recommend talented and creative vendors who can assist in any way.
Accommodation
Ideally you will wish to stay in Mala Strana (and very close to the Charles Bridge) as it is the center of where we will focus our shooting on and is easier getting in and out of for those outfit changes. Please note there are some hotels that call themselves 'XXX Mala Strana' such as our favorite IBIS Mala Strana. This hotel is actually located in Andel and is not at all in Mala Strana. When in doubt contact our team for their recommendations.
Additional fees
Boat rentals (20 - 25 EUR per 45 minutes), horse and carriage rides (45 - 90 EUR per 45 minutes), as well as Old Timers (vintage cars) rentals (various prices and models), are billed at cost to the client. Many gardens charge 'wedding photography' or 'commercial photography' admittance fees. Fees are anywhere from 30 - 40 EUR. We do have a new location (a very run down palace that is perfect for old world styled portrait sessions - the fee is 100 EUR for 30 minutes. Churches in Prague are no longer allowing interior shooting due to the many photographers who disrupted church services. Special interior locations such as Chateau's and castles - typically shooting on the castle grounds is free but interior shooting is an extra fee.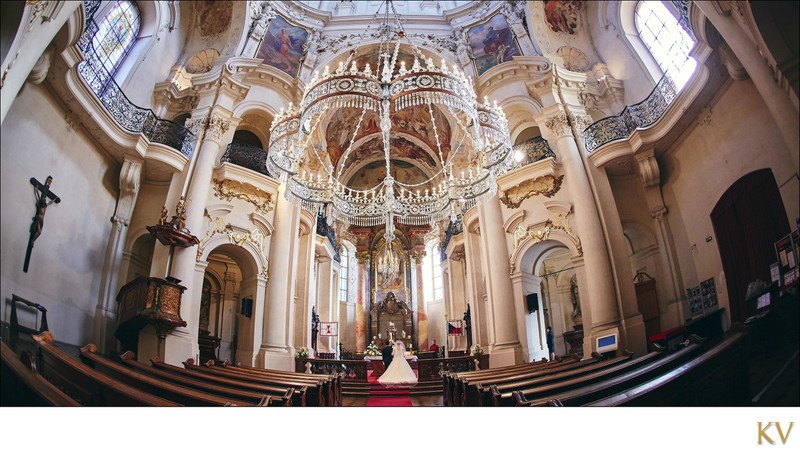 Symbolic ceremonies
We have been asked if we can arrange a symbolic ceremony and the answer is yes! Please contact our team to discuss options and packages.
Rain policy
Due to the high costs of the staff and the likelihood of us being booked the next day for a wedding, another client or possibly flying, we can not guarantee postponing your session due to bad weather. We may pause the session (at our discretion) but additional fees for the crews time must be agreed upon and discussed in advance. Or we can simply take use of some of Prague's most interesting interior spaces. We have only had 2 postponements until the next day here in Prague and luckily we were available. Due to the high chance of rain in Paris and in the summer months we are no longer offering Paris as a shooting location due to this issue.
Booking policy
We require a signed contract and a 50% retainer to guarantee your date with us. The remaining fee(s) are due on the day of our before the session starts. Also, as we are a registered and licensed business we must issue you an official receipt (after completion of all of the services).
Consultation
Complimentary consultation prior to your session. Due to the high volume that we experience at certain times and or our travel needs, a complimentary consultation may not be possible. In this case, we can and will arrange a Skype chat (or WhatsAp) to discuss everything online before your session. As our goal is to ensure that you enjoy your time and not be stressed over the details, our staff (Martina & Dorota) will ensure that everything is arranged in advance before your arrival. And no worries, we will also have lots of time to chat during the session.
Lighting crew
Creating flawless, beautiful images is my priority. Having the right people who can handle any lighting situation and weather changes are also very important. This is why I usually work with 1 or 2 lighting technicians. For many couples these sessions are an investment in not only time but considerable expenses so having a team who can provide professional and 1st class results is extremely important. Photographers who shoot only 'natural light' are either very talented and truly understand how to maximize the lighting in any situation or are simply photographers who are taking a short cut to maximize their profit and at your expense. Truly talented natural light photographers are highly sought after and as such they are quite expensive. The downside to the natural light approach - they are not capable of creating night time portraits or really work with variable lighting situations – something which we specialize in. As a professional who has many years of experience I do provide both styles depending on what the situation is. However, at the end of the day having an assistant who can create ethereal, dreamy & magical portraits is something that is not possible with natural light shooters.
Personal assistants
Sometimes we are asked if we can provide a personal assistant to aid you during your session. Truth is having a large crew really stands out and attracts large crowds. However, if you wish to have a personal assistant to carry your items we can arrange this for an additional fee of 50 EUR per 4 hour s as our team can not be responsible for carrying your items during the session as they are carrying their own gear.
For our VIP clients who wish to have a personal assistant who can take you shopping and etc, we work with several lovely ladies who either manage or run their own wedding agencies who can be of tremendous help.
What is our basic retouching?
We have transitioned to Capture One Pro and are running 5K resolution monitors across our work stations. Capture One Pro is recognized by professional and studio photographers worldwide as the best photo editing software. However for most people the term photoshop covers the retouching and creation of the images. Our standard image creation consists of: overall color balance, density, contrast. Our proofs can take up to 2-3 weeks (high season) to create as we wish to provide you with an image that is nearly finished and not simply proofs (images taken straight out of the camera without any adjustment). We also edit our images to present to you only the best images and not many similar images.
Upon receiving your list of selected files we will then proceed with creating a more finished look incorporating skin retouching (within reason) fixing and or removing blemishes (within reason) skin lightening (upon request) eyes and teeth brightening as well as remove any issues that we feel detract from the overall beauty of your images. These issues can be wrinkles under the armpits,strap and dress marks, wrinkles on the neck and shadows under the eyes. Our overall goal is to create a more natural look to your images and as such we do not do heavy glamour retouching. For our clients from Asia who wish to have a Glamour Glow filter - please contact us for rates on this extra procedure.
Please note that we do not slim thighs, shoulders, arms and etc, nor do we remove people, objects and cars as this is very time consuming and we would need to bill accordingly for our retouchers services. Though in certain situation our retouchers may remove any issues that they feel detract from the overall beauty of the image – again this is at our retouchers discretion. Special requests will be considered but again as our retouchers time is valuable certain fees may apply.
How long before we get our files?
How long before we receive our images? Typically we need 2-3 weeks to edit your session as well as create the look and style. Once we receive your list of selected images we will need another 2-3 weeks to finish them. For our couples who need express service we can provide this for an additional fee – please contact our team member for the rate and availability. Please note that as we only wish to create polished beautiful images this does take time.
Raw files
Typically we do not need to shoot in RAW. Contact us for our rates if you desire to have RAW Files.
How many images do you shoot per hour?
I am more interested in quality first and foremost. As such I usually capture anywhere from 30-50 images per hour depending on the situation and how outgoing each couple are.
Digital file creation
All final files are created in Capture One Pro v.20 including signature art series images. Our computer systems are IMac Pro's running dual 5K monitors plus an additional (BENQ 5K) monitor for 2nd screens. Our calibration system are DataColor Spyder X. We are using Sony A7iii, Canon EOS 1dsMarkIII, 5dMarkIV, 5dMarkiii, 6d and at times we also use a Mamiya RZ67 with a Phase One digital back for very select sessions.
Minimum file sizes are 5000 pixels and resolution of 300 dpi. We also provide your lab with a file information sheet that details how they were created and which color space to ensure everything is printed as we envisioned them.
Copyright
All files are with a shared copyright release so that you can print your images as much as you like. A copyright notice and file information sheet (for your printer to ensure everything is printed correctly) is supplied with all files upon completion of your order.
Routes, itineraries and additional information about your hair & makeup artist are not given out until we have receive a signed contract and your deposit.


General information about Prague
If you want an honest take on where to go, what to do and how not to get taken advantaged of during your visit to Prague Honest Guide (Janek & Honza) have been creating informative videos that take an honest look at this wonderful city. Focusing on everything from where to exchange currency (and how not to get burned), what to do and places of interest - this is a truly great resource.
---
How to plan for a successful portrait / pre wedding photo session
Prague Portrait Studio
Weddings • Engagements • Pre Weddings • Portraits • Couples • Family • Corporate • Events • Branding
+420 776 069 384 • info@kurtvinion.com • Kurt Vinion © 2020