---
Top 100 Artistic Guild Photographers
in the world by the WPJA (Wedding Photojournalist Association)
for the year 2018
---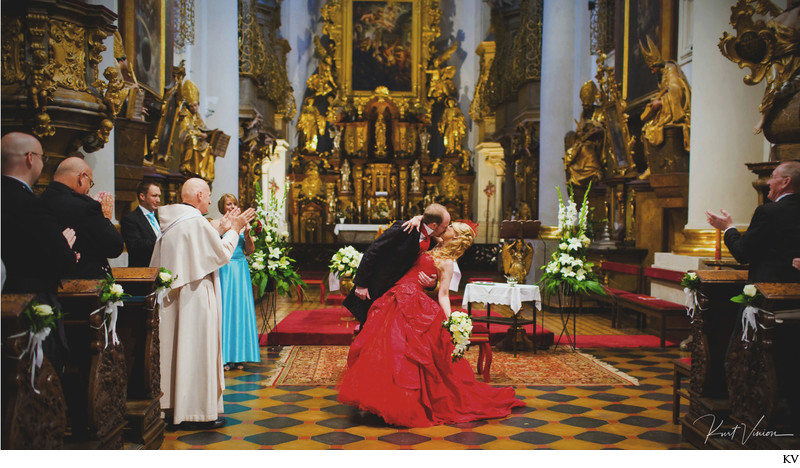 Sam & Andrew - United Kingdom
St. Thomas Church wedding, Prague
I just love them.
What I love most is that you have really captured the day and the way Andrew and I were feeling and this is priceless.
As a wedding photographer myself, it was always going to be a big ask for someone to capture our big day and get us to behave ourselves!
Not only did I admire Kurt's work enough to want him to be our man, he was even part of the reason we decided to get married in Prague.
The results are magical and we've had so so many people compliment us on such great wedding photographs.
I cannot recommend Kurt highly enough. He is an immense talent and an all round lovely guy.
---
Prague Wedding Photographer
My name is Kurt Vinion, born in America and educated in Germany and the US, I am one of the lucky ones who calls Prague my adopted home. My specialty is wedding photography that retains its classical elegance, yet with a photojournalist focus. My style can be best called modern, timeless and elegant.
I am also well known for my ability to use light in a creative way. This has garnered me awards (not that it really matters if you do not feel my images) such as the WPJA Top 100 Artistic Guild Photographers as well as many others.
I studied photojournalism in the United States under 2 incredibly gifted instructors who instilled in me the importance of connecting with people and telling their story. As my favorite instructor would say, 'Don't show me what it looks like – show me what it feels like'. From my days as a successful photojournalist that was my mantra - to capture what people were experiencing at that moment in time.
This same philosophy applies to my wedding photography. Truth be told everyone is now a photographer but few can capture real moments. It takes great patience, dedication and living in the moment. There really is a difference in those who focus on real emotions and those who just pose their subjects. To be able to do both is quite challenging - something few can do well. To do it in a creative and artistic way - well that is indeed a fundamental difference.
Since putting my Leica's down in 2007 and foregoing conflict and social documentary photography - I have focused on one thing and one thing only – capturing couples experiencing the happiest moments of their lives. It is a privilege to be a part of something so beautiful as ones wedding day. It is something I never tire of and it always brings a smile to my face. When couples select me they realize they are getting not only the photojournalistic approach but an artistic and creative photographer who works tirelessly to create something truly unique.
I have photographed weddings as far as San Diego, Hong Kong, Tuscany, Slovenia, Ireland, United Kingdom, Santorini and in many places in between. I also regularly cover weddings for many couples from Asia throughout Europe. The agencies who book me explain that though I do not speak: Japanese, Korean, Mandarin or Cantonese - I am always focused on capturing beautiful moments and the bonus: I am very easy to deal with. Perhaps it is because I have been doing this for awhile and can easily put people at ease with my laid back demeanor? Or people realize that when they hire a pro who has a background in photojournalism and magazine portraiture - they will look their absolute best. So no worries, I have you covered.
To pose or not to pose? If you wish to have a set of posed portraits ( BTW, I love the more elegant style that accentuates the curves ) or fashion styled portraits - I can do that too. Just make sure you set aside enough time on your wedding day to ensure that I can create a series of portraits that you truly deserve and in your style. After all every couple is unique.
In closing, I would like to say a big thank you to the many clients who have put their trust in me over the years. It truly is a great honor - one that I have and never will take lightly. Knowing that the moments I capture will be cherished for a lifetime - if not generations - is something I never tire of. In fact, I love it!
---
Great photos don't just happen. They take a keen eye, patience and an artistic sensibility.
Combine those elements with a focus on capturing authentic moments and the results are - priceless!
This is why 8 professional wedding & portrait photographers from around the world have chosen Kurt Vinion
to capture the happiest days of their lives.
Kurt's style is a mixture of photojournalism & fine art resulting in a style that is cinematic, honest and intimate.
---
Prague Wedding Photographer serving the Czech Republic / Czechia
If you are looking for a wedding photographer who loves capturing real moments for your destination wedding in the Czech Republic / Czechia I would be quite happy to speak with you. I have covered weddings all over this beautiful countryside and know many of its' Castles, Chateaus and quite a few of those beautiful small towns quite well. I can also assist you in creating your wedding day timeline to ensure that you have time for everything that you wish.
Available for your destination weddings in Czechia
I regularly photograph destination weddings in Italy, Ireland, Germany, Slovakia, Poland, Greece, Malta, Slovenia and traveling to those countries from Prague is not a problem. Though I have photographed weddings in the United Kingdom I most likely will not be taking any commissions until after there is some clarification with Brexit. I have pricing for destination weddings, and am very comfortable traveling. Whether you are getting married at Lake Eibsee in Bavaria or the Peninsula Hotel in Hong Kong, I will happily travel to you.
Prague Wedding Photographer Reviews
Many clients come to my site after reading reviews on Google, Wedding Wire or have read about me from blog sites. I am very happy that I have made so many of my clients happy enough to rave about their experiences with me. I hope to continue to make many couples happy in the years to come.
Interested in having me capture your Prague wedding?
Much of what I create as a photographer is not only about my skill set but about the connection that I have with you, your family & friends. The interactions we have leading up to your day as well as on greatly affect the work I will produce. Having that connection and trust allows me to both personalize and create images that will surpass your expectations.
We can do an in person or video consult where you will get a chance to share your story and your desires. I will also be quite happy to offer my insight on how you can have the very best experience possible from your wedding day photography.
If this sounds like the kind of photographer that you wish to have - please feel free to contact me today as I'd love to hear from you!
Moments that truly matters
Wedding photography is about real moments: moments of happiness, humor and those intimate moments that turn photographs into cherished life long memories. Couples should relax and enjoy their wedding day knowing that their photographer will be capturing those fleeting moments.
There is a new trend in wedding photography; to focus only on those art directed & moody portraits, to skip out on the many details and to not photograph those 'boring family photos.' In essence, to shoot as little as possible - focusing only on the bride & groom and especially their portrait session. This is fine for some couples but for couples who are investing a small fortune on their wedding day experience their expectations tend to be higher. This is why I believe in capturing everything that tells a complete story of ones wedding day. From the ring bling, bridal prep, to the wedding ceremony and the many details that make the location so special, to the families interaction & group photos and onwards up to and beyond with the dancing and partying. In essence I strive to capture everything. Sounds exhausting? Absolutely!
I realize that this style is not for everyone, but for those couples who chose me they can rest assured that there will be no short cuts taken and a true document will be captured and created.
Not only will you have those wonderful details, but you will have those beautiful moments shared between yourselves, your family & friends, the moments where the ladies go all out for the wedding bouquet or those moments where the kids are too excited over the wedding cake. Given enough time, I will also create a series of gorgeous portraits that will blow your minds!
It is my goal that you will cherish these memories for the rest of your lives!
---
Prague Photographer
Prague Portrait Studio
Weddings • Engagements • Pre Weddings • Portraits • Couples • Family • Corporate • Events • Branding
+420 776 069 384 • info@kurtvinion.com • © Kurt Vinion 2020