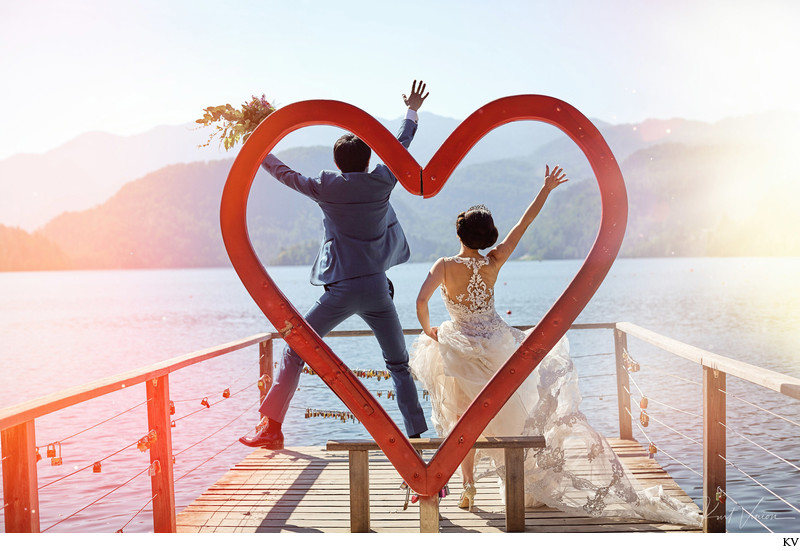 Many couples who would have normally planned a large wedding day celebration are instead eloping. With the right planning, an elopement can be an amazing adventure and a fantastic way to start your married life in your own unique way.
Let's face it, Covid has been a game changer – and especially in the wedding industry. With so much uncertainty, couples are rethinking their wedding experience. The traditional view of eloping where a couple sneaks away to marry is over. It is no longer uncommon for modern-day couples to go on unforgettable excursions by themselves or in the company of their closest family and friends.
Just Us
The beauty of eloping is that there are endless options to create something unique. One of our American couples held a private candlelit ceremony on the grounds of a castle shortly after nightfall. Another couple exchanged their vows as the sun's first light broke above the horizon of Prague. While others go the quick and easy route, such as the Old Town Hall.
Wedding planners can be called upon to create unique motifs such as: candle lit ceremonies, musicians, hors d'oeuvre, champagne, fireworks or whatever you wish to make the experience more meaningful for you. The reality is, you are only limited by your imagination.
A useful tip
You can still have a "first look" if you're eloping. In fact, I highly recommend it, and your photographer can easily assist you in organizing it so that you have photographs that capture that special moment.
Authenticity
The truth is, not everyone is a fan of weddings. There is a lot of stress that couples have to deal with when it comes to the pomp and circumstance, the customs, and the formality. Many of the customs can also seem archaic or out-of-date. Why do they have to cut the cake together? And why do couples have to do a first dance at all?
You can choose to have your elopement with close family & friends or you can opt for a more private affair consisting of just the officiant and the photographer who often acts as a witness.
The popularity of the pre-wedding elopement experience
Couples from Asia have reinvented the elopement experience. For many, it means traveling to a far-off land for a pre-wedding photo session on the same day they marry.
We regularly photograph brides & grooms before the sunrise on their wedding day. They love the idea of having those romantic cityscapes with the empty gas lamp lit streets and locations all to themselves. As the sun rises, they are gifted with images that are the envy of everyone who sees them. These typically artistic and highly stylized wedding photos are proudly projected on a big screen during a grand wedding meal, or it may mean displaying them in a designer book or large scale prints.
Price
Most traditional weddings cost a lot of money. For my sister's wedding, the cost of the festivities exceeded $100,000. With Cuban cigars, ice sculptures, and the live music acts, it was extravagant. Some people don't need or want something so over-the-top.
Your Foot Print
ECO or sustainability is another factor that has couples rethinking their plans. Those large weddings usually require a lot of people to travel both ways. Add in the cost of everything, including the fireworks displays, and they are simply unsustainable.
The pressure of having the perfect wedding
What is your ideal wedding? Is it a barn wedding - so very 2019? Or a Bohemian wedding in a field? Or is it a couture wedding atop a famous building? Forgoing all of this is one of the best reasons for eloping because you get to spend time together in a way that's unique to you and your partner.
One recent wedding was that of a couple who trekked to a volcano in Iceland. Besides their hiking equipment and the wedding attire that they changed into, the only thing they brought was a bible, a bouquet and a whiskey flask with 4 glasses. It was visually magnificent, but not for the faint of heart.
Intimate & personal
The reason why I am a big fan of elopements? Couples are not depending on the wedding industry to dictate how they should marry. What was once considered 'in' or 'cool' is nothing more than a marketing strategy to keep the industry viable. Couples now want intimacy, authenticity and a more personal approach. So go ahead, be as sexy, romantic, crazy or as outlandish as you wish and more importantly - go wherever you wish to go.
We would enjoy hearing your ideas, experiences. Please let us know your thoughts in the comments below.