Useful tips from an industry insider for hiring your Prague wedding photographer
Without a doubt Prague is one of the most beautiful cities in the world. With its historic architecture, stunning locations, laid back vibes, easily accessibility and reasonable price point - it is hard to beat for destination or elopement weddings. For couples coming from afar it can also be quite daunting when it comes to finding the perfect photographer for your wedding day.
With over 12 years of international wedding industry experience I would be happy to offer you my insight into the Prague wedding photography market. There is no quid pro quo, no promotion of colleagues - just the unvarnished truth. Every couple deserves to have memories that they will treasure for a lifetime.
One of the most important decisions couples will need to make is in knowing what style they desire.
Style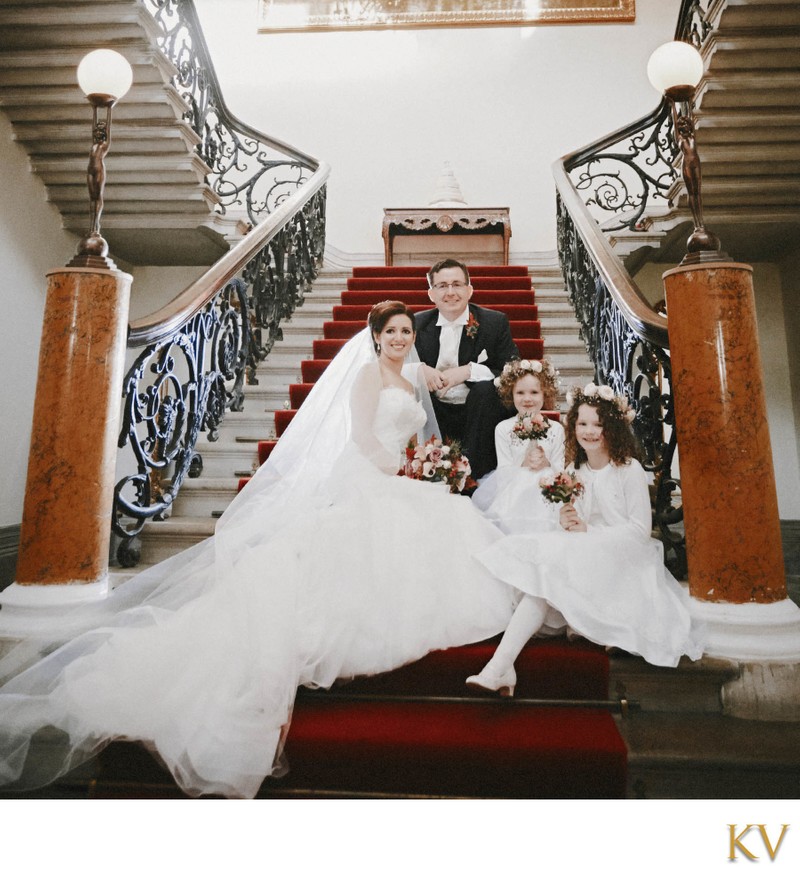 Traditional wedding photographers are similar to what your parents have from their weddings. Straightforward photos that are not highly creative and usually posed. The simplicity is what attracts some couples who do not want their images to look dated due to the new fads such as photoshopping of sunbursts or excessive coloring. The higher end of traditional wedding photographers are very detail oriented - such as the posing of couples, lighting, backgrounds and etc. The goal is to create studio quality images that retain a classical elegance. As such they will usually bring in studio lighting equipment. Traditional wedding photographers on the higher end command high rates due to their team consisting of specialized photographers who focus on capturing interiors, table top and details photographers and those who specialize in capturing candids and etc.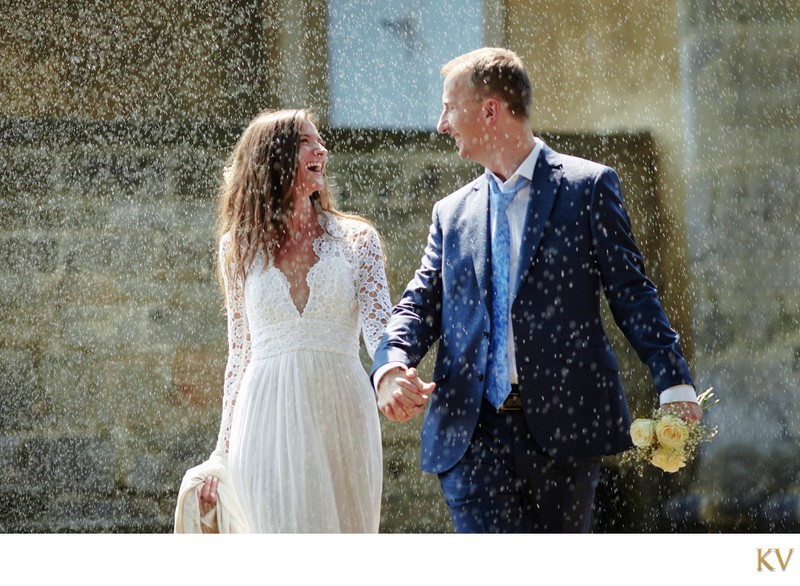 Photojournalist or reportage wedding photographers document your wedding day as it unfolds with minimal involvement. Their photos are less artistic or magazine worthy, but they are genuine moments that tell your wedding day story from the beginning to the end. Many of them will create images in black and white and a few will shoot your wedding entirely in film.
Editorial wedding photographers will pose the bride and groom to achieve magazine worthy images. It takes more time to create this look as the photographer must pose the couples and work with the light (available or strobed). The photographer must really be on his or her game in achieving this style quickly without taking too much time away from the wedding day. When done well it has the feel of a high-end, luxury magazine photo essay. Editorial photographers usually do not capture the candids, groups or family photos. As every photographer is different - it is always best to consult with your photographer to see what they cover and what they will not cover.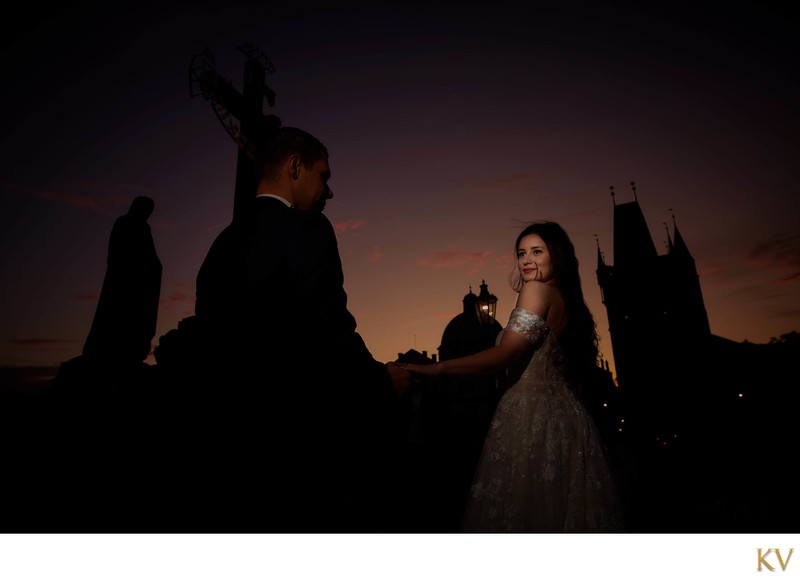 Dark & Moody is exactly what it sounds; dark, moody and when done well - dramatic. By working with harsh light, darkness or with shadows they create a uniquely dark visual style. This style is especially suited for adventurous elopements - think of those amazing mountain vistas or valleys at dawn or dusk of the bride and groom snuggled up. Or a sunrise wedding day portrait session as captured above. Though wonderful for elopements it may not be practical for most wedding celebrations due to time constraints and the locations.
Fine Art wedding photographers are commonly associated with film. It has a more light, bright and airy feel to the images. When done well the imagery tends to be very polished and the portraits have a natural look. Some photographers will not shoot the candids, groups or families whereas others do. As many photographers are labeling themselves as Fine Art photographers it is best to find out what exactly they capture and what they do not.
Contemporary or modern wedding photographers tend to offer various styles as they ejoy taking creative risks. They will incorporate artistic angles, lighting and utilize the atmosphere to create dramatic images as well as capture heartfelt emotions. They will also pose portraits as well as capture the candids. The better ones are also able to work with both natural and artificial lights to create dramatic and unique imagery. As their style is much more fluid they are usually much more agreeable to their clients wishes.
Price
While price plays a factor it is important to not let it limit you to someone without experience or talent. We have all heard of the horror stories of brides choosing their wedding photographer purely on price and regretting it later. At the end of your wedding day - your photos are all that you will have to remember it. So finding a professional who has been around awhile is usually the safe bet.
Budget wedding photographers in Prague can be found for under 100 EUR per hour. They are either still learning their craft, just starting out or people who are hustling to make a bit of money on the side. Few of them are full-time photographers at this price point. Budget photographers rarely have backup or lighting equipment. Nor do they have the expertise to handle various lighting situations that regularly occurs during a full wedding day. As their price is low so must be the clients expectations.
Talented Prague wedding photographers charge 125-200 EUR per hour. These are the professionals who create quality as opposed to quantity. A few of them will travel for destination weddings to build their portfolio. The discrepancy in this price range is based on multiple factors such as: photographers from the East (Ukraine, Russia, etc) who work here but actually do not live or pay taxes here. Other factors are keeping prices very low in hopes of attracting volume. Retouching of portraits (skin issues, teeth & eyes whitening and removal of bad shadows) may not be covered at the basic price point.
'Talented Prague wedding photographers charge125-200 EUR per hour.'
The higher end is where it gets quite interesting. Many of the higher priced wedding photographers regularly work with the Prague wedding planners as their 'team members'. As wedding planners demand commissions of anywhere from 10 - 30% these photographers must charge higher rates. As such their prices are anywhere from 200-300 EUR per hour. Yet, when a bride contacts them directly they will dramatically lower their rates. Brides should always due their due diligence when it comes to sourcing not only their wedding photographers but also the hair & makeup artists and videographers. If you would like to have an outside opinion on which Prague wedding planners are suitable for your needs - feel free to get in touch as I would be glad to help. There is no quid pro quo - just an honest opinion from an American who values honesty and integrity.
For more perspective; figures from a shotkit survey for year 2021 show that US wedding photographers are averaging between $3000 - $3500. The UK photographers are between £1500-2000. Obviously a big factor is the costs of living and level of expertise. Suffice it to say that many of Prague's talented wedding photographers are a bargain in comparison to their international colleagues.
Portfolio
When you are reviewing a photographers portfolio do you feel anything? Does it engage you? Can you see yourself in that situation? More importantly - do you wish to have images like that? If you can say yes to those questions you are starting off in the right direction. The other thing to look for is complete weddings. Does the photographer have variety? Are they able to capture the kind of images you will wish to have throughout the entire day? Many photographers are very keen on only showing you their very best but how do they approach those tricky interiors, how do they approach the family & groups? What heppens when it rains? It really is important to have a visual understanding of what they are capable of capturing before you commit to them capturing the most important day in your life.
Review and recommendations
The best thing about the internet is the ability to find out about the people you may be working with. Google reviews are a great resource, though do double check to see if reviewers have only one review as this may be a red flag. Also note that the best talent may not always be at the top of the Google page results. Some photographers are quite savvy at building a website that attracts people (or search engines) but the photography and or services can be quite poor. It is best to go through several pages of search engine results. You may be pleasantly surprised at what you find.
Wedding Wire, Bridestory or various other industry sites are also quite helpful when it comes to appraising your photographer. Also how much of a media presence do they have? Have they been around for a while or are they new? Do they operate under their name or do they have a studio that may have changed hands?
'It is best to go through several pages of search engine results.'
Contact
If you have found a photographers whose work resonates with you then it is time to contact them to arrange a Skype or Zoom call. Having a face to face conversation is always the best way to communicate your ideas, vision and any concerns. It is also a great opportunity to get to know each other. It is not enough to base your decision on the initial portfolio. Or even a referral from a wedding planner.
One of my first brides recently remarried in the United States. She made the mistake of hiring a wedding photographer based only on her portfolio and reputation, without seeing a complete wedding or as she states 'bothering her with silly questions'. She had assumed that this photographer knew what was important to her. Sadly that was not the case. If a seasoned wedding photographer can get burned on her wedding day so can you.
You can read more about her heartbreaking experience and the lessons she learned here:
https://sherribarberphotography.com/my-own-wedding-photography-experience-made-me-a-better-wedding-photographer/
'It is not enough to base your decision on the initial portfolio.'
Wedding planners
Wedding planners can be a great resource, however many of the wedding planners in Prague will only recommend their team members. Sadly many team members are chosen not on their level of professionalism or quality but on their willingness to pay the most in commissions. This is why many of the best photographers throughout Czechia are not team members or even recommended. Many business people / photographers refuse to pay up to 30% commissions to be a part of those teams. I had a memorable experience with an agency who inquired abour receiving a commission from the wedding albums - in addition to demanding copies of all the unedited photos!
As a bride & groom it is ultimately your choice who you want to capture the best day of your lives. Leaving the decision up to one who is only looking at their bottom line rarely results in a satisfying experience.
Where is Your Photographer Based?
Having your photographer based in Prague is beneficial. This can help with your budget as you don't have to pay for their travel.
Why you should hire a Prague photographer for your wedding day here
1 They can suggest the best locations for your photos
2 They can help in planning your timeline accurately as they are familiar with how much time it takes to get between locations
3 You can schedule a venue walkthrough together
4 They can also give you a much needed second opinion outside of the wedding planners
Schedule an Engagement Session
Once you've selected your wedding photographer why not schedule an engagement photoshoot? This is a great time to test your chemistry and get to know them and their style. You will be especially interested to see if they make you comfortable and relaxed. The engagement session is like a trial run for the wedding day and getting to know what works (best angles, personal likes and dislikes) will prove to be very beneficial on your wedding day. This is essential to creating emotional, beautiful, joyful images and in a style that you desire.
Another wonderful idea is to bring in your wedding outfits for the session so that on the day of your wedding you can have a large canvass print or many prints showcasing the two of you on site at the wedding dinner location. Having these beautiful, flawless portraits are a real eye opener especially if you are having a large wedding and will not have time for a proper portrait session during your wedding day.
Videographers
As weddings are so tightly choreographed having videographers and photographers working together can be problematic. Especially when one is more photojournalistic in approach and the other one is thinking of transitions, details and zooming in and zooming out. For example: the bride brushing her hand across a wedding dress before she puts it on will need to be art directed and shot several times to get the right look, focus and light. Or the one man video crew who insists on walking right up to the bride & groom for the first kiss obstructing everyone else's view.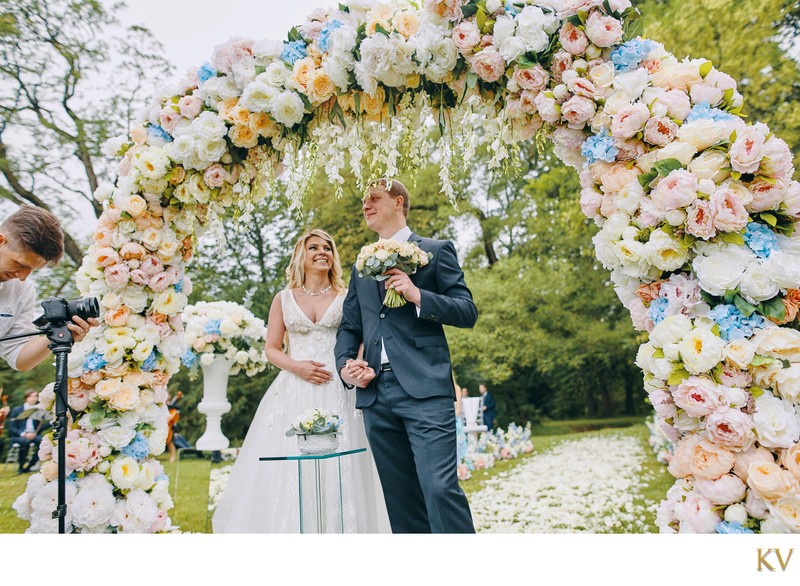 If you are having both a videographer and a photographer please add more time to your timeline. You will need the extra time for the preparation, the portrait session and capturing the details during the key moments of the day. Both crews will appreciate the extra time to do their jobs correctly and you may get a kick out of seeing how two unique versions of your wedding day are captured and created on your behalf.
Image Retouching
As technology has allowed anyone who owns a camera to call themselves a wedding or portrait photographer, brides & grooms really need to look closely at the imagery presented in the portfolio. For example: are the brides skin tones clear, are the teeth and eyes bright, are there blemishes or unsightly wrinkles, are there any distractions that ruin the images? These are all things that separate the non-professionals from the pros. Professional photographers charge more for various reasons but a big part of it is time. As they must spend time on retouching and cleanging up the images and creating a look and style - so should they be rewarded. It is not enough to slap a lightroom filter on all of the photos and send them to the client. These are your treasured memories and you deserve to look flawless. When you hire your photographer you should ensure that this is the case.
Albums and other products
What do you do with all the beautiful images from your wedding day? Whether you are displaying them on the walls of your home, or purchasing an album to tell the story of your day, be cautious as many Prague wedding photographers offer low-end products at a high end prices or no retouching of the images - which is quite common here. Make sure you are able to view the albums, prints, and wall art they offer before booking your wedding photographer. If this cannot be done in person ask to see samples during the Skype or Zoom call.
In conclusion
Your wedding photographer should add to your wedding day experience. Having one who you feel comfortable with, can communicate with and who you trust is incredibly important. After all the only mementos you will have from your wedding are those photos.
If you are in need of further assistance or would like to have a second opinion about anything - feel free to contact me.
About the Author: Kurt Vinion is a former photojournalist who transitioned from social issue & reportage reporting to capturing people during the happiest moments in their lives. He is a resident of Prague, a military brat and an international award-winning photojournalist. He regularly covers weddings and portrait sessions all around Europe. His style of photography consists of photojournalism with a modern & contemporary edge.
---
Prague wedding photographer Kurt Vinion, Est 2008 in Czechia
Weddings • Engagements • Pre Weddings • Portraits • Couples • Family • Corporate • Events • Branding
Prague Portrait Studio Located in the heart of Mala Strana
(via appointment only - no walk ins accepted)
+420 776 069 384 • info@kurtvinion.com • © 2020 Kurt Vinion
Introducing our new website dedicated to couple shoots in Prague: