How to choose a wedding photographer and not get burned
Useful tips from an industry insider for selecting the best wedding photographer for you!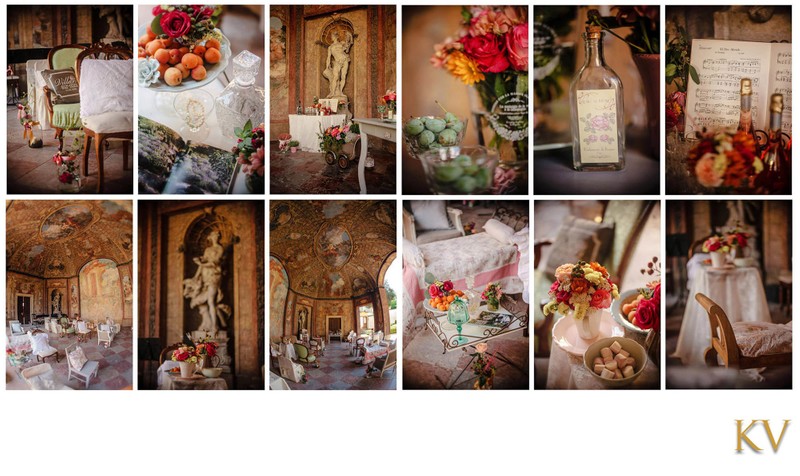 With the advent of technology, anyone can call themselves a professional wedding photographer. For many couples who were not diligent - the results from their wedding day can be heartbreaking. So how do you ensure that you are getting the best wedding photographer for you?
With over 12 years of international wedding industry experience, I would be happy to offer you my insight into how to best select your wedding photographer. Every couples deserves to have memories that they will treasure for a lifetime.
One of my first brides, a dear friend, and fellow wedding photographer, recently remarried in the US. Instead of asking one of her many friends to capture her wedding, she went outside of her circle. As she states: "I had a hard decision on my hands. I wanted so many of them to photograph my wedding for different reasons. Everyone has a different application to their talent. I mean how could I have narrowed it down? And most importantly, I did not want to hurt one person's feelings for choosing another. Yes, we are all friends... The photographers that I am closest with, I wanted them to be there for the wedding! Not working! So I decided to think a bit outside of the box.'"
She chose a young photographer outside of her region whose portfolio she really liked. On the day of she was so focused on her wedding day that she did not pay attention to what her photographer was capturing.
Many weeks after her wedding - she received an email with the gallery details. The excitement that had been building for weeks turned to heartbreak as she looked through the collection. Many of the photos that she had been expecting, that had been important - were not there. Speechless and in shock, she asked her husband to call the photographer and ask about seeing more photos from her wedding day. The reply was - there was nothing more to show as she had already deleted everything.
With the advent of technology anyone and everyone can now call themselves a professional wedding photographer. For many couples who were not diligent - the results can be heartbreaking.
As the bride recalls, "I get questions sometimes from couples that I'm thinking in my head, "duh, of course, I am going to capture that!" Yet for her own wedding, she never asked those same questions. She assumed that her photographer would capture the simple things such as the atmosphere, the many details of the location, portraits of the bride and groom (captured separately) during and after the preparation - both candids and posed, candids of the family members and guests intermingling, details of the designer wedding cake, the many layers that makeup one's wedding day.
When she finally got up the nerve to speak to the photographer directly and asked her for an explanation - the photographer's response was "those kinds of photos are not her thing."
"I was heartbroken. All of these details cannot be recreated. It is a glimpse of time. A glimpse that I wanted to remember. Every little detail that so much thought and time went into creating. A glimpse that I paid someone to document. To document it all, not to pay someone to get a handful of photos that only meant something to her that could possibly mean she wins some meaningless award that she can brag about."
It was a lesson learned and if it can happen to a very successful wedding photographer - it can happen to any of us. This is why there are no silly or dumb questions when it comes to capturing your wedding day.
This is why there are no silly or dumb questions when it comes to capturing your wedding day.
So how does a bride know if she is getting a real pro for her wedding day? And how can you ensure that you do not get burned? Presented here are a few things you should keep in mind when searching for a wedding photographer.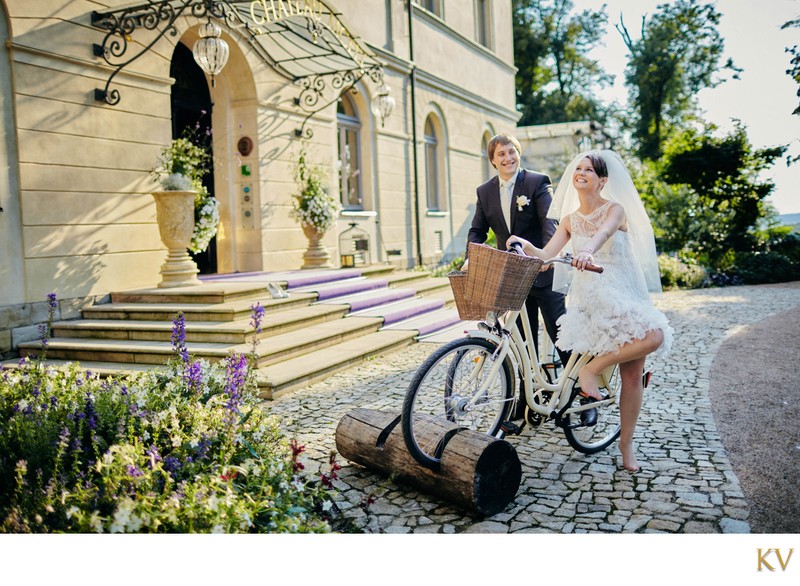 Portfolio
When you are reviewing a photographer's portfolio do you feel anything? Does it engage you? Can you see yourself in that situation? More importantly - do you wish to have images like that? If you can say yes to those questions you are starting off in the right direction. The other thing to look for is complete weddings. Does the photographer have a variety of weddings to showcase or just a single wedding?
Will your photographer capture the many details that make your day so special?
Do they have a macro lens for those wonderful rings, dress,es and elements from the locations that help tell the story?
Will the photographer capture the uniqueness of those interior and exteriors?
Does the photographer capture portraits of the bride & groom, during the prep?
Will they take the candids of the family?
Do they arrange and take pictures of the groups? Are their groups well captured, well lit? Would they look great on your family room wall?
Will they take a portrait of your grandparents?
Many photographers are very keen on only showing you their very best but how do they approach tricky situations? Such as what happens when it rains? Can they capture images well in those dark halls or churches or must they use flash? If they do have flashed images do they look natural or is the light harsh?
It really is important to have a visual understanding of what they are capable of capturing before you commit to them capturing the most important day in your life.


Reviews and recommendations
The best thing about the internet is the ability to find out about the people you may be working with. Google reviews are a great resource, though do a double check to see if reviewers have only one or two reviews as this may be a red flag. Also, note that the best talent may not always be at the top of the 1st page of Google. Photographers can be quite savvy at building a website that attracts people (or the search engines) but the photography and or services can be quite poor. It is best to go through several pages of search engine results. You may be pleasantly surprised at what you find on page 2 or even page 3 of Google.
Wedding Wire, Bridestory, or various other industry sites are also quite helpful when it comes to appraising your photographer. Also, how much of a media presence do they have? Have they been around for a while or are they relatively new? Do they operate under their name or do they have a studio that may have changed hands?
Also note that the best talent may not always be at the top of the 1st page of Google."
Price
While price plays a factor it is important to not let it limit you to someone without experience or talent. We have all heard of the horror stories of brides choosing their wedding photographer purely on price and regretting it later. At the end of the day - your photos are all that you will have to remember it. So investing in a professional who has been around a while is usually the safe bet.
Budget wedding photographers are typically under100 EUR per hour. They are either still learning their craft, just starting out, or people who are hustling to make a bit of money on the side. At this price point, few of them are full-time photographers. Budget photographers rarely have backup equipment, lighting equipment, or even insurance. Nor do they have the expertise to handle various lighting situations that regularly occurs during a full wedding day. As their price is low so must be the client's expectations.
Talented wedding photographers charge anywhere from 100 - 250 EUR per hour. These are the professionals who create quality images. Many of them will travel for destination weddings to add to their portfolio. The discrepancy in this price range is based on multiple factors such as photographers who come over from countries with a low cost of living (Ukraine, Russia, China, etc), or who do not pay taxes (most part-timers). Other factors are photographers who keep their prices low in hopes of attracting volume. Or those who charge low rates and hope to make up for it selling books or prints.
This price point typically includes a collection of high-res edited files. Please note that edited files can mean anything: culled and color corrected, or just removal of the bad images and autocorrected, Lightroom presets applied by batch is also the usual way the lower end creates their files at this price point. On the higher end, it usually means that the photographer individually color corrects each image (or sub-set of images) to ensure consistency. At the higher end, the focus is on quality as opposed to quantity. Please also note that high-res edited files are also a fluid term. Is high res an A4 or A5 sized file? Is it native? Again, it is always best to ask what high-res means.
One thing to keep in mind is that there is usually no retouching of portraits (skin issues, teeth & eyes whitening, and removal of bad shadows) or removal of distractions on the lower end of this price point. Though some photographers at the higher end of the scale will offer this kind of correction on a selection of portraits - it is not the norm for the lower end.
The higher end of wedding photography is where it gets quite interesting. The prices are simply what the market will bear.
For a more detailed pricing perspective; figures from a shotkit survey for the year 2021 show that US wedding photographers are averaging between $3000 - $3500. The UK photographers are between £1500-2000. Obviously, a big factor is the costs of living and level of expertise.
Set up a time to chat
If you have found a photographer whose work resonates with you then it is time to contact them to arrange a Skype or Zoom call. Having a face-to-face conversation is always the best way to communicate your ideas, vision, and any concerns. It is also a great opportunity to get to know each other. Ensuring that you gel well and are have trust in their ability will allow you to relax and enjoy your day more. It is also a great time to review complete weddings and products such as books. This is a great way to get a better feel of their experiences and expertise.
Customer Service
Most of what we do as photographers is customer service. There is a noticeable difference between those who have been doing this for a while and the newcomers who are only focused on shooting for their portfolio. The most important lesson is - never assume, always ask. It is their job to answer your questions. Many younger photographers cannot be bothered to capture the many details and layers that comprise one's wedding day. It is simply too much work and provides no value to them. Many couples find out the hard way that this is how they work. As a bride & groom, you should have all of your pertinent questions answered beforehand. If they are unable or unwilling to answer the simplest of questions this should be interpreted as a red flag.
Where is Your Photographer Based?
Having a local wedding photographer is usually a good idea. The reasons are:
1 They can suggest the best locations for your photos
2 They can help in planning your timeline accurately as they are familiar with how much time it takes to get between locations
3 You can schedule a venue walk through together to discuss ideas and possible issues
4 They can also give you a much needed second opinion outside of the wedding planners
5 As they are local - there are no travel and accommodation costs
Schedule an Engagement Session
Once you've selected your wedding photographer why not schedule an engagement photoshoot? This is a great time to test your chemistry and get to know them and their style. You will be especially interested to see if they make you comfortable and relaxed. The engagement session is like a trial run for the wedding day and getting to know what works (best angles, personal likes, and dislikes) will prove to be very beneficial on your wedding day. This is essential to creating emotional, beautiful, joyful images and in a style that you desire.
Another wonderful idea is to bring in a set of evening wear for a night portrait session at a wonderful location. You can then have a large canvass print or a collection of these prints showcasing the two of you on-site at the wedding dinner venue. Having these beautiful, flawless portraits are a real eye-opener. One of my favorite weddings in Hong Kong featured about 14 images from a pre-wedding that I had captured of the bride & groom. They were so happy with the results they flew me to Hong Kong to be a guest at their wedding. Seeing those beautiful large format prints that greeted their wedding guests was a tremendous feeling and it beautifully complimented this very stylish and successful couple.
Wedding planners
Wedding planners are a great resource in sourcing your wedding photographer. However, some agencies are only interested in working with wedding photographers who pay the most in commissions. As much as we like to think that the wedding planners are there for the couples, the reality is this is a business and they are thinking of their bottom line. Many photographers who want to break into the wedding industry will pay a substantial percentage to be a part of those teams. Thankfully the internet is able to bring forth some much-needed transparency regarding this. As a personal note: if your agency is only recommending photographers (for example Photographer A - E) or only the first names, chances are it is because they are only interested in protecting the commission they receive. All wedding agencies should stand proudly behind the vendors they work with. By not allowing you the knowledge of who they are working with should be a red flag.
Ultimately it is your choice who you want to capture the best day of your life. Leaving the decision up to one who is only looking at their bottom line rarely results in a satisfying experience.
One of the most important decisions couples will need to make is what kind of wedding photographers style YOU desire.


For younger / hip couples the more 'arty' or modern/contemporary photographers rue the day. For older, more established, wealthier couples the traditional approach is always in demand. For other couples, a photographer who can offer a mixture of styles is usually the best route. Regardless, knowing the right style will go a long way in your decision-making process.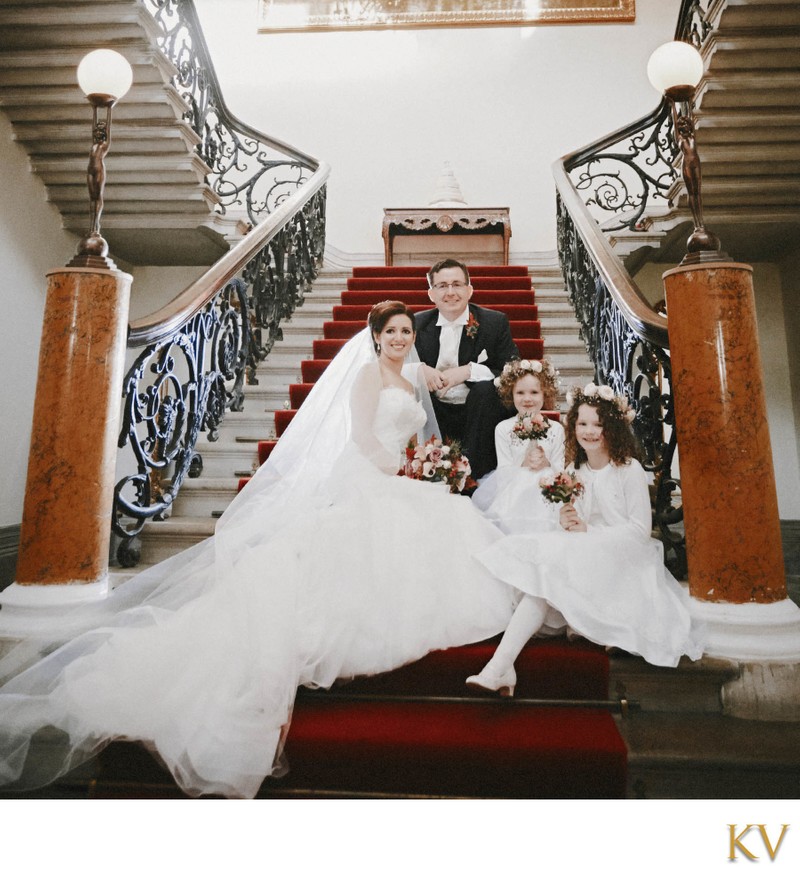 Traditional wedding photographers are similar to what your parents have from their weddings. Straightforward photos that are not highly creative and usually posed. The simplicity is what attracts some couples who do not want their images to look dated due to the ever-changing fads.
The higher end of traditional wedding photographers tends to be very detail-oriented. With a focus on posing couples, using lighting, clean backgrounds and etc. The goal is to create studio-quality images that retain a classical elegance. As such they will usually bring in studio lighting equipment and work with assistants. Traditional wedding photographers on the higher end command higher rates due to their team consisting of specialized photographers. For example, photographers who focus on capturing the interiors, tabletop, and details, and those who specialize in capturing candids and etc. And then you have the rock star wedding photographers (yes this is actually a term) who are focused on the bride & groom's portrait sessions and their teams do the rest. One wedding I covered (I was chosen to be a floater so that I could capture and create what I wanted) had a team of 6 photographers and 4 videographers. Each photographer had their own specialization - one photographer shot every photo with a super-wide while another photographer specialized in macro photography. That wedding was 12 hours long with 250 guests and the budget was not an issue.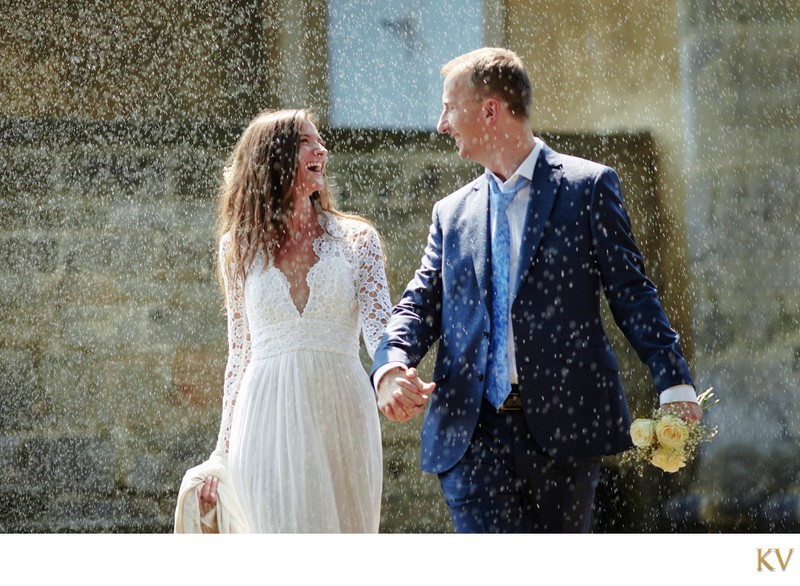 Photojournalist or reportage wedding photographers document your wedding day as it unfolds with minimal involvement. Their photos are less artistic or magazine-worthy, but they are genuine moments that tell your wedding day story from the beginning to the end. Many of them will create images in black and white and a few will shoot your wedding entirely in film. As they are focused on capturing real moments - they do very little posing of the couples. The high end of this market will shoot both B&W and color and on film.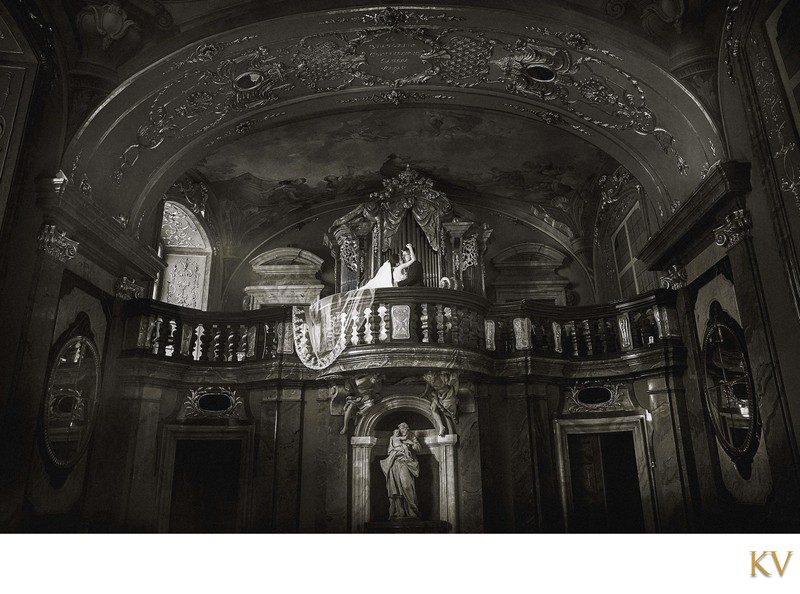 Editorial wedding photographers will pose the bride and groom to achieve magazine-worthy images. It takes more time to create this look as the photographer must stylize every photo. The photographer must really be on his or her game in achieving this style quickly without taking too much time away from the couple's actual wedding day. When done well it has the feel of a high-end, luxury magazine photo essay. Editorial photographers usually do not capture the candids, groups, or family photos. Many wedding planners heavily feature-styled shoots on their websites as it looks like a real wedding but in reality, it is two models beautifully stylized in every image. You can usually tell that it is a styled shoot when the couple is sitting at a lavish dinner set up but there is no wine, food, or even lit candles and there are no guests pictured in any of the photos. Many photographers who wish to build their wedding portfolio will offer to shoot these sessions for the wedding planners for free.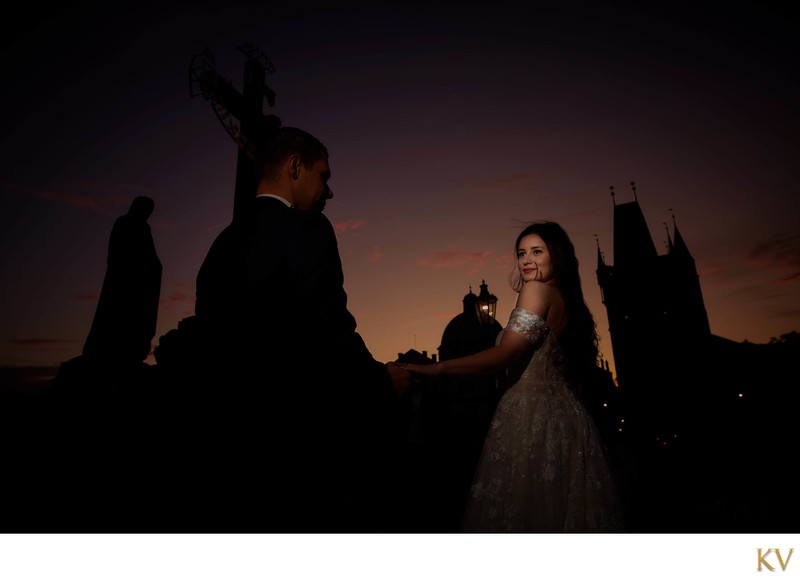 Dark & Moody is exactly what it sounds; dark, moody, and when done well - dramatic. By working with harsh light, darkness, or with shadows they create a uniquely dark visual style. This style is especially suited for adventurous elopements - think of those amazing mountain vistas or valleys at dawn or dusk of the bride and groom snuggled up trying to stay warm. Or a sunrise wedding day portrait session such as this one captured above. Though wonderful for elopements it may not be practical for most wedding celebrations due to time constraints, the light, and the locations.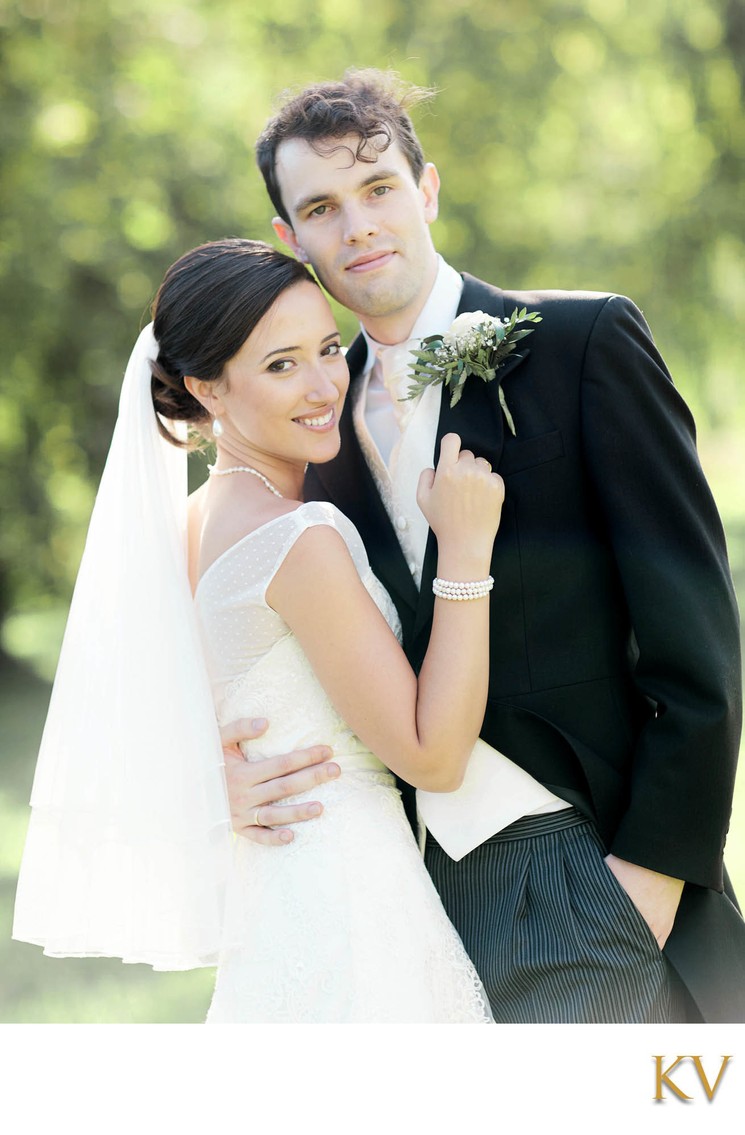 Fine Art wedding photographers are commonly associated with the film like quality. It has a more light, bright, and airy feel to the images. When done well the imagery tends to be very polished and the portraits have a natural look. These photographers will also spend quite a bit of time capturing the many details that wedding planners love showcasing on their websites: interiors, floral arrangements, table details and etc.
Many fine art photographers will not shoot the candids, groups photos, or family photos whereas others do. As many photographers are labeling themselves as Fine Art wedding photographers it is best to find out what exactly they capture and what they do not. Please also note that the Light & Airy style of wedding photography is intermixed with this term.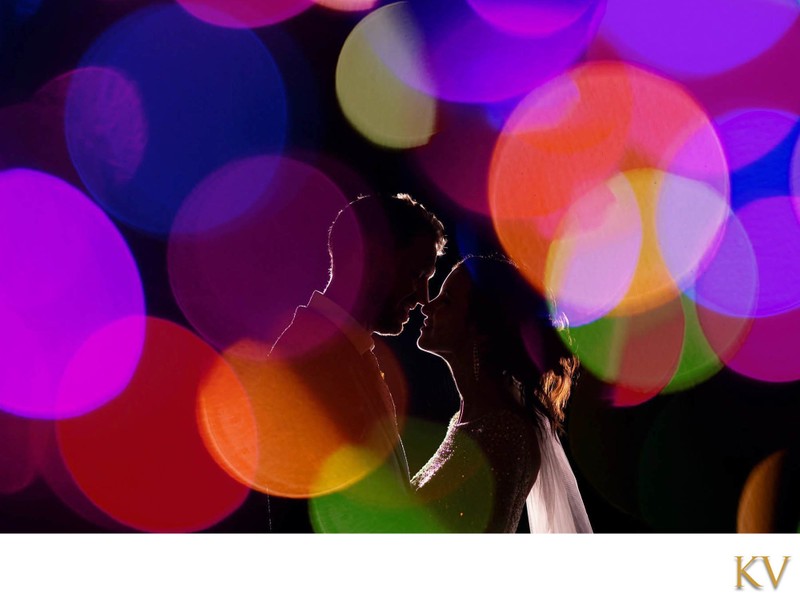 Contemporary or modern wedding photographers tend to offer various styles as they enjoy taking creative risks. They will incorporate artistic angles, lighting and utilize the atmosphere to create dramatic images as well as capture heartfelt emotions. They will pose you for those creative portraits as well as capture the candids. The better ones are also able to work well with both natural and artificial light to create dramatic and unique imagery. As their style is much more fluid they are usually much more agreeable to their client's wishes. With the changes in technology these photographers are also pushing the boundaries of wedding photography and the results are stunning.
A word about Videographers
As weddings are so tightly choreographed having videographers and photographers working together can be problematic. Especially when one is more photojournalist in approach and the other one is thinking of transitions, details, and zooming in and zooming out for their music video. For example the bride brushing her hand across a wedding dress before she puts it on will need to be art directed and shot several times to get the right look, focus, and light. This works incredibly well for those video transitions but if your videographer is taking up all of the brides time - what will the photographer have to show for it?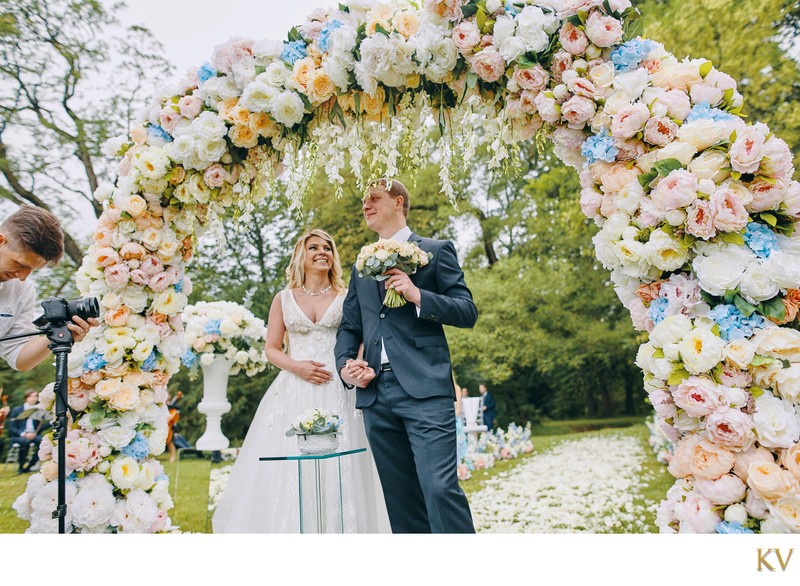 If you are having both a videographer and a photographer please add more time to your timeline. You will need the extra time for the preparation, the portrait session, and capturing the details during the key moments of the day. Both crews will appreciate the extra time to do their jobs correctly and you may get a kick out of seeing how two unique versions of your wedding day are captured and created on your behalf.
If you are having both a videographer and a photographer please add more time to your timeline
Image Retouching
Brides & grooms really need to look closely at the imagery presented in the portfolio. For example: are the bride's skin tones clear, are the teeth and eyes bright, are there blemishes or unsightly wrinkles, are there any distractions that ruin the images? These are all things that separate the non-professionals from the pros. Professional photographers charge more for various reasons but a big part of it is time. As they must spend time on retouching and cleaning up the images and creating a look and style - they should be rewarded. It is not enough to slap a Lightroom filter on all of the photos and send them to the client and forget about them. These are your treasured memories and you deserve to look flawless. When you hire your photographer you should ensure that they can do this aspect and do it well.
Albums and other products
What do you do with all the beautiful images from your wedding day? Whether you are displaying them on the walls of your home or purchasing an album to tell the story of your day. Make sure you are able to view albums, prints, and or wall art that they offer before booking your wedding photographer. You would be surprised at how many wedding photographers do not offer these kinds of services. If you can't meet them in person, ask to see samples during the Skype or Zoom call. Every reputable wedding photographer should have a collection of sample albums to show you and you will also want to see how their design skills match up to your vision.
In conclusion
Your photographer should add to your wedding day experience. Having one who you feel comfortable with, can communicate with and trust is incredibly important for your peace of mind. After all the only mementos you will have from your wedding are your photos.
About the Author: Kurt Vinion is a former photojournalist who transitioned from social issue & reportage reporting to capturing people during the happiest moments in their lives. He has lived in Prague since 2008. Previously he lived in Germany and the United States where he attended the best photojournalism school in America before being named as director of photography at the University of Louisville. His style of wedding photography consists of photojournalism with a modern & contemporary edge.
---
how to choose a wedding photographer
Weddings • Engagements • Pre Weddings • Portraits • Couples • Family • Corporate • Events • Branding
Prague Portrait Studio Located in the heart of Mala Strana
(via appointment only - no walk-ins accepted)
+420 776 069 384 • info@kurtvinion.com • © 2020 Kurt Vinion
Introducing our new website dedicated to couple shoots in Prague: