SHORT LIST OF OUR FAVORITE GARDENS IN PRAGUE
For many couples visiting Prague the first question they ask is where to go? Obviously the historic Charles Bridge, Astronomical Clock, the Old Town Square, Prague Castle, Jewish Quarter and many places in and around the riverside in Mala Strana are gorgeous. But Prague also has stunning gardens that should also be considered.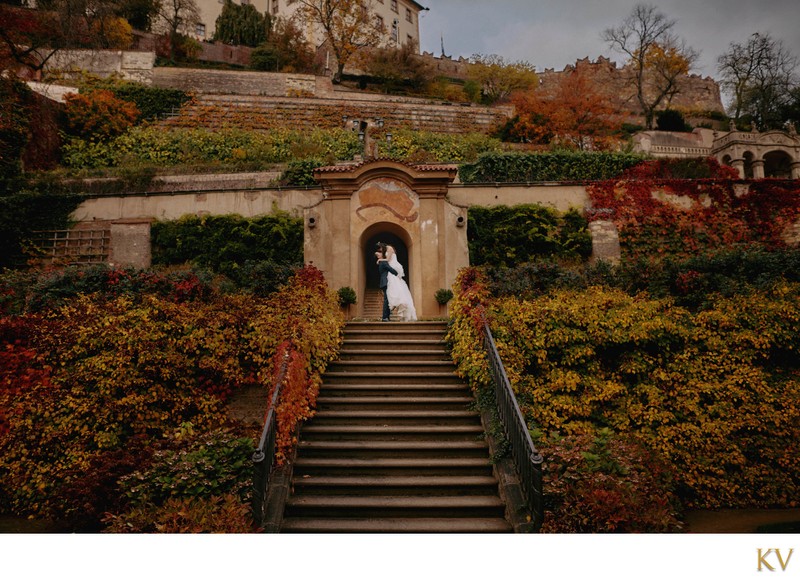 LEDEBURSKA - ROYAL GARDEN
Offering many levels overlooking Prague and Mala Strana below. This garden also has a wide array of architectural elements, gardens, fountains as well as a few hidden surprises
a picture perfect location for adventurous couples
1 hour of time is the very least you should devote to this garden
the downside it is an uphill and a steep walk
should only be captured early in the day due to it's location
admittance fee of 1000 CZK (40 EUR)
no parking
VRTBA GARDEN
One of the most charming Baroque gardens in Prague offering 3 levels of incredible views. This garden is very popular as a wedding venue as such it can be quite busy with tourists and weddings. However the views from this garden under Prague Castle are not only impressive, but are a must have for couples who are investing in their Prague pre wedding photo session. You can realistically spend 1 hour here and have a collection of portraits that you will be quite proud of.
perfect for adventurous couples who are not afraid of heights and are willing to spend at the very least 1 hour here
the downside - it is an uphill and a steep walk so high heels are not advised (change into a 2nd pair of comfortable shoes)
should only be captured late in the day due to it's location
perfect for capturing dramatic skyline images of Prague Castle and St. Nicholas Church
admittance fee of 500 CZK (20 EUR)
no parking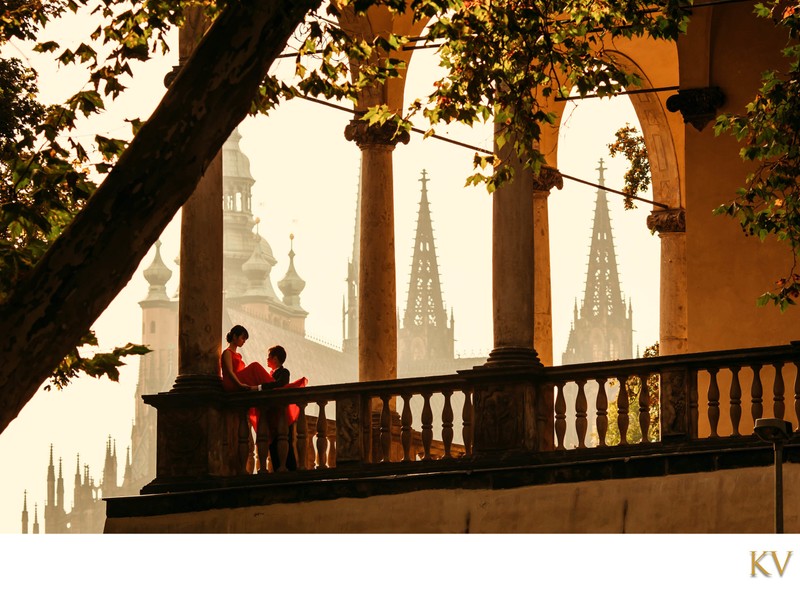 PRAGUE CASTLE GARDEN
Without a doubt the most popular (with free entry) garden in Prague. The Castle Gardens are quite special in the amount of wonderful locations it offers. As it sits under the castle it offers stunning views of the city down below and in addition to the castle grounds it is a venue not to be missed. You can easily spend several hours here.
picture perfect for views overlooking Prague
many unique locations for picture taking
free admittance
this garden is very busy with tourists
waiting times can be up to 45 minutes just to enter the garden
to really capture the many wonderful locations you would need to spend at least 1-2 hours here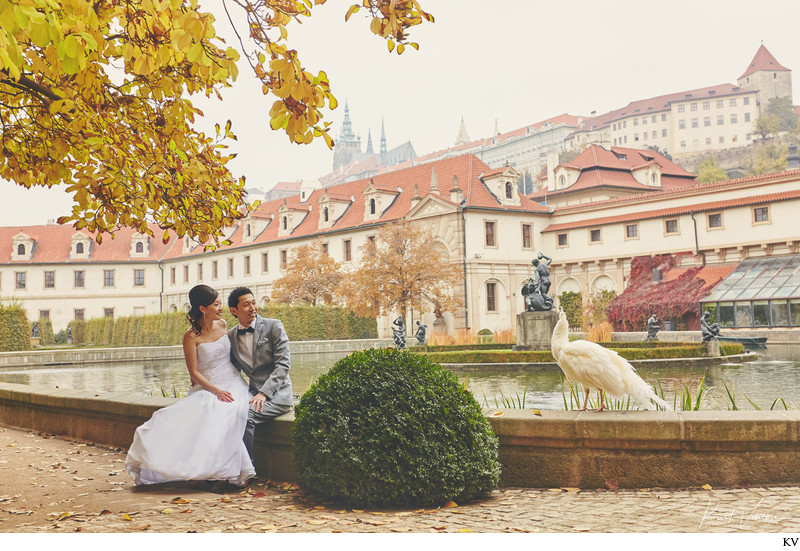 WALLENSTEJN GARDEN
Another wonderful garden that offers beautiful landscaped grounds with a small lake, a stunning view looking up towards Prague Castle, and interesting architectural elements. Plus the many peacocks who call it home are always a hit with couples.
picture perfect for stunning architectural views of Prague
ideal times late afternoon when the sun is behind the castle above
several unique locations for picture taking
free admittance
extremely busy with tourists and concerts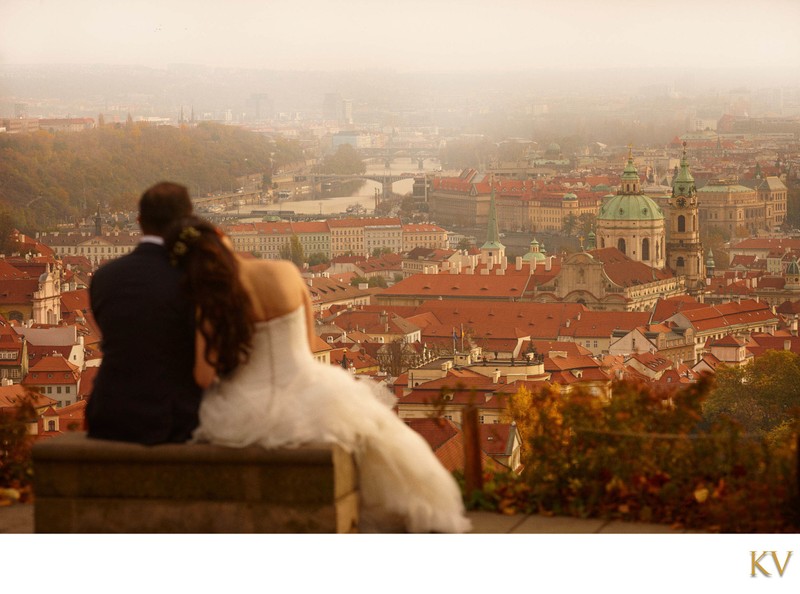 THE SECRET GARDEN
It was a secret until it a Korean soap opera used the location and then the city started putting it on its maps and with cameras having GSM coordinates built in the secret is no more. The reality is this is a wonderful place to have a portrait captured or to sit back and watch the sunrise and perhaps the sunset. Showing the castle on the left and the city and especially Mala Strana down below Socha Panny Marie z Exilu is a rare gem and has a distinct place in the heart of many people who live and love this special part of the city.
an ideal location for stunning architectural views of Prague Castle & Mala Strana
ideal times late afternoon when the sun is behind the castle above or sunrise
a unique location for picture taking and the bonus is you are in a beautiful park
free admittance
difficult to walk to as the paths have not been finished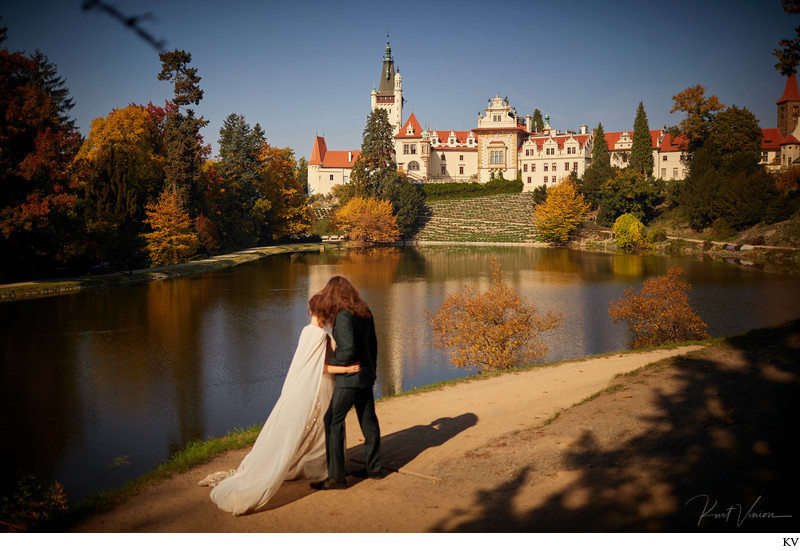 PRUHONICE BOTANICAL GARDEN
First thing to note this garden is not in Prague it is 30 minutes south of the city. However this impressive Botanical Garden features a stunning castle and is a truly remarkable place for those couples who are having a large package and are willing to travel outside of the city centre.
lush greenery with the castle and a lake as a backdrop
unique locations for picture taking
the downside - paid admittance
traveling to and from is on average 60 minutes
to really capture this location you would need to spend at least 1 hour here
Interested in knowing more about the best times to have a portrait session captured? Please click below to visit our info page.
---
Looking for information on where to have your wedding photo shooting in Prague?
Prague Portrait Studio
Weddings • Engagements • Pre Weddings • Portraits • Couples • Family • Corporate • Events • Branding
+420 776 069 384 • info@kurtvinion.com • © 2020 Kurt Vinion