---


Love defines us, inspires us, enriches us, and adds meaning to our lives. Capturing fleeting moments so that couples can relive them over and over again is what makes this profession so special. Knowing that these photos will be passed down to the next generations is especially humbling.
The truth is, anyone can pose a photo, but to capture real emotions takes patience, a keen eye, and an artistic focus. This is why 8 wedding & portrait photographers internationally have chosen me to capture their most precious memories.
Creative Destination Wedding photos from Prague and worldwide
---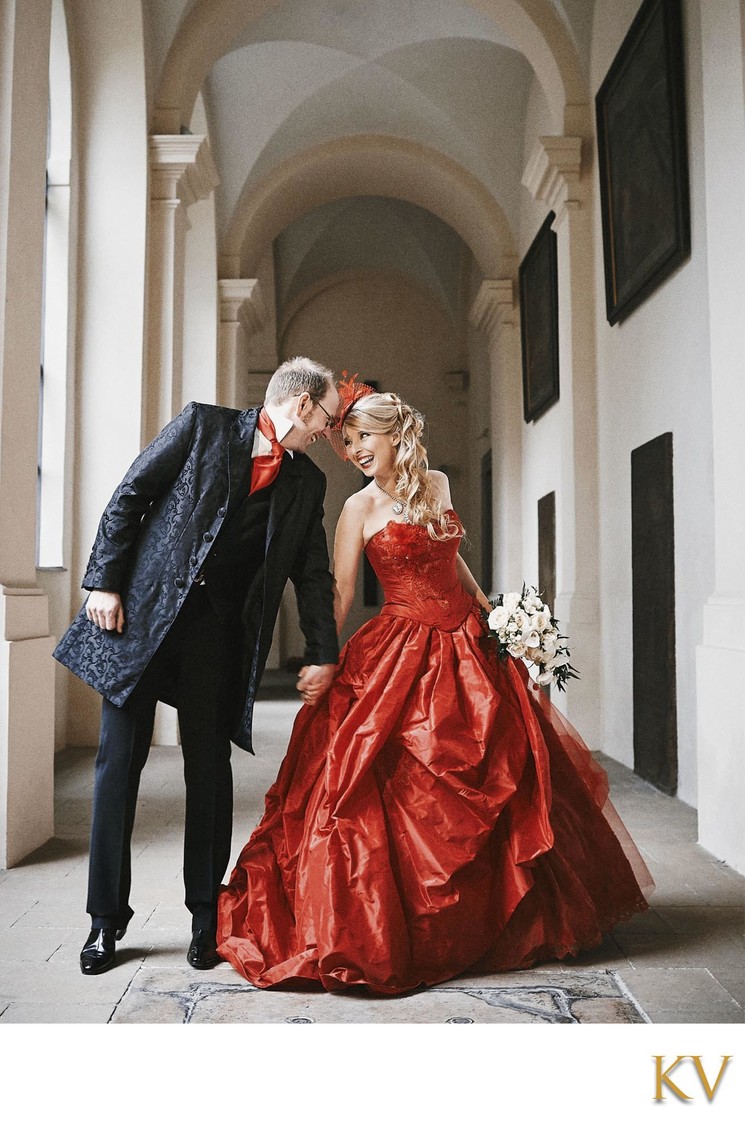 I just love them.
What I love most is that you have really captured the day and the way Andrew and I were feeling and this is priceless.
As a wedding photographer myself, it was always going to be a big ask for someone to capture our big day and get us to behave ourselves!
Not only did I admire Kurt's work enough to want him to be our man, he was even part of the reason we decided to get married in Prague.

The results are magical and we've had so many people compliment us on such great wedding photographs.

I cannot recommend Kurt highly enough. He is an immense talent and an all round lovely guy.
- Sam & Andrew
To see Sam's gorgeous wedding photography website, please visit here: https://samanthahook.co.uk

---
Available for your Prague or European destination wedding or elopement
This photography portfolio showcases my work as a Prague wedding and destination wedding photographer
I have been chosen to photograph destination weddings in Hong Kong, Ireland, Italy, England, Germany, Greece, Malta, N. Ireland, Poland, Slovakia, and Slovenia. Unfortunately due to the new rules pertaining to Brexit - I am no longer taking commissions for the United Kingdom.
Pricing for destination weddings is usually specially created dependent upon the client's needs. Please visit my pricing page to get an estimate of my services.
For any brides & grooms who are considering marrying in Morocco, Turkey, or Greece - I would be especially happy to speak with you about your wedding photography.
Looking for wedding photography reviews?
Many client reviews can be found on Google, Wedding Wire, WPJA as well as many industry blog sites.
The couples I have worked with have had their weddings featured in: CS Luxury Style, Weddings Online, Engaged Magazine, White Weddings, Good Morning America, BBC, Conde Naste, Wedding Magazine (NZ), Gay Wedding, French Wedding Style, and Marriage Magazine, as well as many websites and blogs worldwide. They have also been showcased via marketing campaigns from Prague Tourism Board as well as the Czech Government. For couples who do not wish to have their images shown publicly we do offer an opt out in their contract.
---
Ready to book? Wanting to know more? Why not get in touch!
Dates are limited, inquire as early as possible once you settle on a date to ensure availability
My Style of Wedding Photography
As a former photojournalist I always focus on real emotions that capture the essence of the moment. As much as I love the PJ aesthetic I am also quite keen on being challenged in coming up with imagery that go well above the standard of wedding photography. For me the key is to always adapt, learn, and be as flexible as possible. This is why I will not only shoot in only one style.
I don't easily fall in any one aesthetic genre of wedding photography. I am not strictly a photojournalist nor am I a 'creative' or modern wedding photography. I will clean up the suite where you are getting ready, or move objects around to get a better angle. I will move you in to the best light to create a more flattering look as you are putting on your wedding dress. And no worries, I would be happy to scout out locations for your1st look.
When I was considering leaving the world of photojournalism I sought out the best classical wedding photographer in Ireland to teach me everything about classical portraits & weddings. The littlest things like the placement of one's hands, or a small turn of the body, and yes, the angles of the face make a big difference. This is why when it comes to those stylish portraits my portraits retain a classical elegance. I will also key in on real emotion that happens spontaneously and as many couples want a more natural-looking set of portraits - I am happy to do this as well.
I will not copy poses or use posing cards, nor will I take photos that are unflattering. I will take great care to pose you in a way that makes you feel comfortable. I will find the best light, the best setting and art direct the scene so that the magic unfolds in front of my lens naturally. As one who understands the importance of making you look great I will always key in on the little things such as having you bend your legs or extending your arm, or turning your face to make it more pleasing.
When I create an image, either candidly or posed, there are three questions that I have in my head: how does the light look, is the composition working and is it flattering? Obviously the first are important, but it will not matter if you do no like the way you look in your photos. A great image should have all three. As a professional it is my goal to create compositions that are worthy of your living room wall and to be showcased for a lifetime if not generations. It also means I am a big proponent of working creatvely with light - to give your images that wow factor.
In short, my style is a mixture of everything - in what can only be described as: modern & contemporary.
If my style speaks to you - why not reach out and get in touch? I would welcome the chance to hear about you and what your vision for your wedding day is and to see if I am the right fit.
---
Interested in having me capture your Prague wedding or destination wedding?
Much of what I create as a photographer is not only about my skill set but about the connection that I have with you, your family & friends. The interactions we have leading up to your day as well as on greatly affect the work I will produce. Having that connection and trust allows me to both personalize and create images that will surpass your expectations.
We can do an in person or video consult where you will get a chance to share your story and your desires. I will also be quite happy to offer my insight on how you can have the very best experience possible from your wedding day photography.
If this sounds like the kind of photographer that you wish to have - please feel free to contact me today as I'd love to hear from you!
Moments that truly matter
Wedding photography is about real moments: moments of happiness, humor and those intimate moments that turn photographs into cherished life long memories. Couples should relax and enjoy their wedding day knowing that their trusted photographer will be capturing those fleeting moments on their behalf.
Frequently Asked Questions
Wedding Photography
My goal is to tell the story of ones wedding day with a focus on capturing those once in a lifetime moments. This requires a variety of skillsets, from the ability to capture stunning portraits with both natural iight as well as the use of modern equipment for any condition, to the ability to capture fleeting moments, to being able to capture those wonderful details, and the most important skillset - being a storyteller.

Personalized Portrait Sessions
Your wedding photos are only a part of your wedding day experience. For many couples traveling to Prague or a destination wedding - the location is an important aspect that should also be beautifully shown. This is why when we have enough time during your wedding day we will also capture those unique portrait sessions that will be a standout addition to your collection of mementos.

Portrait Photography
We specialize in a variety of portrait photography, from family portraits, to on-location portraits for pre-weddings, honeymoon and engagements. In addition we can create any stale of in studio portraits from maternity to headshots to model portfolios.



My team and I have been in business since 2008. We have photographed weddings all over the world. In addition Kurt is a photography educator and has taught many successful photographers about lighting, posing, and storytelling. In addition, our reputation for excellence is well known. We simply make sure that all of our clients hvae an amazing experience from start to finish.
Our goal is to ensure 100% satisfaction from the beginning to the very end.
Our team is regularly trained with the latest software, lighting gear as well as updated on the latest trends and products in our industry.
We can capture weddings in any kind of lighting during tight deadlines and in any environment.
We have a dedicated team of in house retouchers who ensure everything is retouched to the highest standard.
Our albums are hand crafted and designed with every clients direct input. This ensures that they receive the album of their dream
Kurt has been honored with numerous industry accolades and has been chosen by 8 full-time wedding & portrait photographers to capture their special moments.
Step 1 - Book an Appointment
We can meet with you either via Facetime, Skype or in person. During your consultation we will show you wedding albums, as well as a detailed walk-through of our styles, portfolio, and customize your wedding coverage to suit your needs.

Step 2 - Choose Your Package
We will create options that you can select from. We will not try to oversell you on coverage. Instead we will explain what your options are and what kind of images you can have in the time allotted. We will also discus your wedding album options. Our goal is to find the best option that works for you. And no worries, you can always add more options later.

Step 3 - Book Your Date
We will present you with a contract and summary of your coverage. Once that is signed electronically, and after you pay your deposit - your date will be locked in!

Step 4 - Create Your Memories!
As your wedding day is unique we will assist you every step of the way. After all we will be spending a lot of time together on your wedding day and ensuring everything runs smoothly is also a part of our job. After you return from your Honeymoon you will be able to review your images and with our guidance we begin the process of creating your wedding album. From the inception to the final printing, everything is meticulously checked to ensure that you receive everything as promised. So no stress - no worries!



Absolutely! Your wedding Album is the most important memento that you will have from that special time in your life. Though we live in an electronic world, having a hand-created, hand-printed album that you can pass down from one generation to the next will be a part of your heritage. As such we only want to work with the best.
We highly encourage all clients to review our albums in person to feel the craftsmanship as well as the quality of the printing. If you are coming in from afar and do not have the chance to do so, we suggest viewing our offerings
online
to get an idea.
Most of our Albums are hand-printed in Italy, Poland, or New Zealand (Queensberry).
Oh my goodness!!!!!! The albums are really breathtaking!!!!!! Perfection at its's best!!!!!! We are so proud of the pictures, everyone looks great and so happy and everyone has been complimenting your work. Thank you so much!
---
Featuring real wedding photos & authentic wedding moments from Prague & worldwide
by
Kurt Vinion, Established in 2008 in Prague
Prague Portrait Studio
Weddings • Engagements • Pre Weddings • Portraits • Couples • Family • Corporate • Events • Branding
+420 776 069 384 • info@kurtvinion.com • © Kurt Vinion 2020
introducing our new website: www.PragueLoveStories.com
Privacy Policy | Terms of Use | Copyright © 2021