---


Featuring real couples and their beautiful engagement photos from Prague.
PRAGUE ENGAGEMENT PHOTOGRAPHY
from the intimate to those crazy 2 day affairs in several cities around Europe


---
Special Pricing for 2021! Book now and save!
The Gold Collection 300 EUR
- up to 60 minutes of photography
- 1-2 locations
- editing / post processing of files approximately 4 hours included
- 10 Selects (edited files chosen by you from our online private gallery)
- professional retouching of close up portraits provided gratis
- a copy of all proof images with studio name in 1650 pixels provided
- free personal consultation (online or in person) prior to your session
Possible Locations:
The Charles Bridge with views towards the castle and the red-roofed buildings of Prague it is a visual feast with its historic statues and views all around.
The Old Town - with its old world charms and unique architecture the Old Town Square is a favorite for many. Explore the small winding streets as it leads you to the Astronomical Clock and one of Europe's most visually stunning squares. We highly recommend a sunrise or near sunrise start time to experience the changing light and uniqueness of this beautiful area.
Prague Castle - with its impressive architecture you can spend hours sightseeing the unique gardens and especially the views. For adventurous couples we highly recommend a sunrise start overlooking the city as the sunlight breaks above the horizon and then a walk through the courtyards or if you desire a walk down to the Charles Bridge. Either way this makes for an unforgettable experience.
Jewish Prague - unique architecture and winding narrow streets makes this a wonderful tour for couples who wish to experience one of the last intact pre war Jewish districts in Europe.
Not sure what is best? No worries, we would be happy to discuss with you to build your itinerary.
The Gold Collection 500 EUR - daylight hours only *+**
Beautiful & creative portraits for gorgeous couples captured during the daylight hours package contents:
- up to 2 hours of photography with Kurt - up to 3 locations (time allowing) - editing / post processing of files approximately 4 hours included
- 20 Selects (edited files chosen by you from our online private gallery)
- professional retouching of close up portraits provided gratis
- a copy of all proof images with studio name in 1650 pixels provided
- free personal consultation (online or in person) prior to your session
additional services
*- for those wishing to have a sunrise session (30 minutes prior to sunrise) please add 100 EUR to cover the early start time and includes the lighting techs time
**- for those wishing to add night time portraits please add 150 EUR for the 90 minute prior to sunset start time - this also includes the lighting techs time
- hair & makeup artist preparation 160 - 200 EUR
- transportation 100 - 125 EUR - includes hotel pick up, transport to locations, transfer back to hotel
- garden and or castle entry fees are paid by the client
- extra High Resolution Selects can be ordered for 35 EUR per
- a special gift box containing your selected photos printed in your choice of 5x7" or 8x10" can be ordered
- special fine art albums or photobooks can also be ordered. To get an idea of our offerings please visit our Album Collection page
- special art pieces can be created - such as removal of all people on the Charles Bridge so that it is just you and your loved one.
- extra time – each 30 minute increment is 150 EUR and can be ordered on the day of
Suitable for couples, families and or engagements
---
LOOKING FOR ADVICE FOR AN AWESOME PORTRAIT SESSION IN PRAGUE?
Step 1 - book your Prague photo session
Booking your Prague photo shoot with us is simple.
browse our different photo galleries to ensure you love our style and have a good idea what you can expect.

check our availability for your preferred date(s) and starting time. As we only accept one couple per day our calendar does fill up quickly.

we do require a contract and a 50% retainer to guarantee your date & time.

connect with us to discuss your session, your style, tastes, wishes, the timeline(s), meeting points, starting time, hours of coverage and any additional requests you may have.
WHEN IS THE BEST TIME FOR A PORTRAIT SESSION IN PRAGUE?
For truly beautiful images with very little worries about the weather the period from late March (this is when the Cherry Blossom trees start to bloom) through the end of autumn in early October is best. Personally I am a big fan of September to early October as it is the most visually stunning time of the year. The fall foliage is at its most spectacular and a visit to a garden is a must. The bonus: shorter days with late sunrises and early sunsets make for easier & faster paced sessions.
As our Sunrise sessions start quite early the bonus is that we usually have less tourists cluttering up the background of your images and are able to get around and see more in a more relaxed pace. For many of our couples from Asia we actually start their pre-wedding sessions 1-2 hours before sunrise to capture night motifs, the magical Blue Hour, the incredible sunrise (either from the riverside of on the Charles Bridge) as well as stunning panoramic images of the city from up high. This is truly the best way to capture an incredible set of images.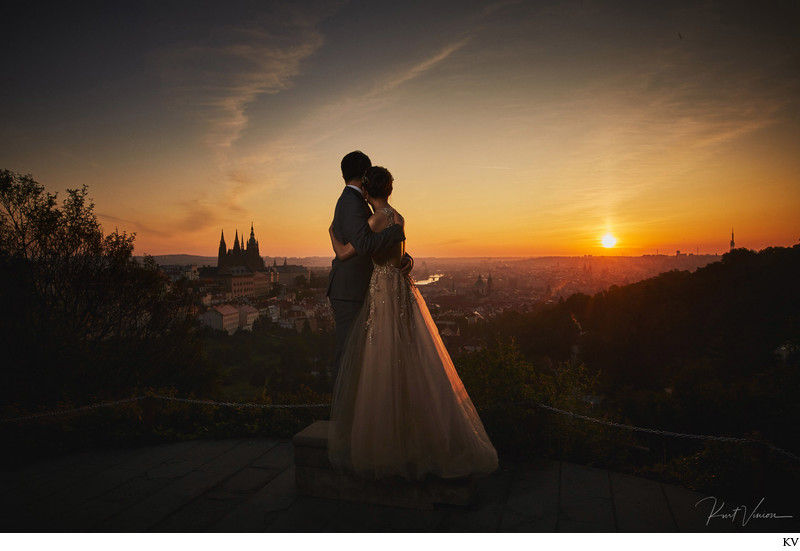 Sunrise
This is the time where the sun starts to peak above the skyline in the morning dawn or daybreak. The fall months are especially breathtaking as the warmth of the sun hitting the Vltava sends up a gorgeous mist that creates ethereal streaks of lights that simply can not be replicated in photoshop.
The benefits of having a sunrise session (or pre sunrise)
the only time of day you can get photos at your favorite Prague location without the distraction of many tourists

gorgeous sunrises and gorgeous Golden Light Hour conditions

wonderful opportunity for creative lighting and modern & creative portraits

more intimacy

the drawbacks: getting up early - though not a problem for our couples from Asia who are still on their home time zones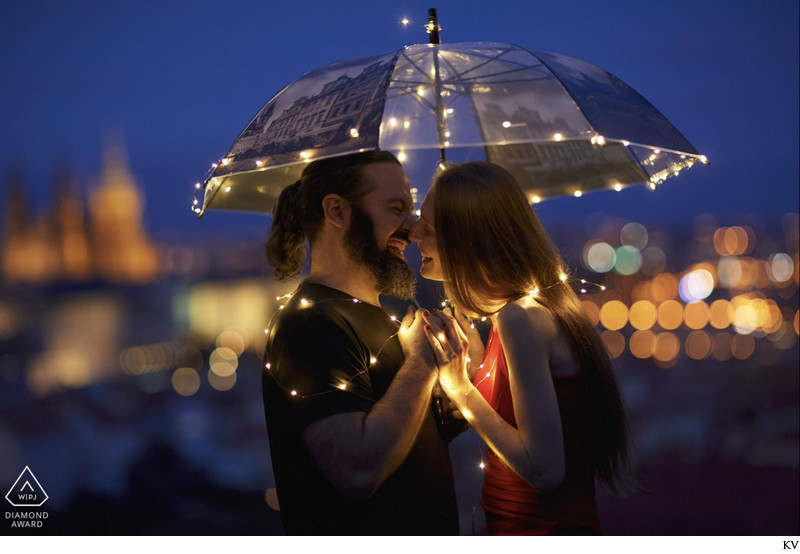 Evening (twilight) photo session - or the Blue Hour
The period when the day is ending and the night is beginning.
magical, beautiful, romantic & incredible are how couples view their images captured during this time period.

with the softness of the light their is no harsh lighting to cause unwanted and unflattering shadows. An ideal time for creating luxurious (and lit) portraits that will impress and amaze with their rich colors

we do recommend a timeline that provides you with an opportunity to have both daylight and night time photos with a 120 minute period.

the drawbacks: time frames fill up quickly and bookings are limited. As we work with a lighting crew these images are more art directed since we are setting up lights and the pace is slower than a natural light session.
Evening (night time) photo sessions
the time of day where the city feels most alive and fun

intimacy in beautiful historic locations such as Prague Castle at night is something our clients still rave about many years later

the best time for us to create truly unique and creative artistic and art directed portraits

the later start times means it is easier to commission hair & makeup services and lighting crews

the drawbacks: these time frames fill up very quickly as we do many split sessions so our bookings are quite limited. As we work with a lighting crew these images are more art directed since we are setting up lights and the pace is slower than a natural light session.
LOCATIONS & TIMELINES
You can chose the locations or we can simply create a route that takes in the most beautiful locations in the time allotted with your input in mind. As Prague is very busy with tourists I am also very happy to show you locations that only those of us who have been living here for a long time know. These locations are also quite beautiful and are close enough for us to maximize the amount of locations visited. Please note that we do not pause the sessions for new hair & makeup styles or simply to take breaks.
DO WE NEED A CAR TO GET AROUND?
If you wish to pay extra for a van to drive us around we can arrange that. Truth be told, Prague is such a small and compact city that you actually see and experience more as opposed to being driven around on many of the one way streets losing time. Though we do not recommend having a car the exceptions are for winter themed sessions and for couples who do not wish to walk that much.
DO WE NEED TO ARRANGE TRANSPORTATION IF WE WISH TO GO OUTSIDE OF PRAGUE?
We work with several car & driver companies so we can make the arrangements on your behalf. Most day sessions are roughly 200 EUR with a driver.
WHEN TO BOOK YOUR SESSION?
As the summer months are always in demand it is best to book your session as much in advance as possible.
WINTER THEMED PORTRAIT OR LIFESTYLE SESSIONS
For those couples wishing to have a dreamy winter themed session – the best months are December – February. Though we can not guaranteed full cooperation with the weather. Be warned that though these sessions are quite beautiful, the cold weather does slow us down considerably as we take many small breaks to get warmed up.
WHAT TO WEAR
Dark clothes are always a bad idea for night time shooting. Loud patterns are also not a good idea as they distract. As fashion is truly subjective it is entirely up to you. For our ladies wearing high heel shoes in Prague can also be quite demanding so please keep that in mind as the cobblestones of the Charles Bridge have happily eaten up a Manolo Blahniks and lesser priced shoes. It is best to take a comfortable pair of walking shoes when walking around.
HAIR & MAKEUP
I only work with certified hair & makeup artists who speak English fluently, who are dependable and reliable. In no particular order:
Eliska - matejkova.eliska@gmail.com
https://www.facebook.com/matejkovaeliska
Linda - info@lindathemakeupartist.com
https://www.facebook.com/linda.chudomelova
Mili - mili.dvorak@seznam.cz
https://www.facebook.com/milimakeup.dvorakova
How does it work with the hair & makeup artists? Once you have finalized your date, you should contact them to discuss your hair & makeup needs. Photos of your outfits, your chosen hair styles are always helpful to provide them with valuable insights in to your styles and wishes. For those ladies who have skin issues, please mention this to your hair & makeup artist before you meet up so that you have the right makeup for your session.
Having beautiful, flawless images is key to a successful session. As such we believe that having a full-time hair & makeup artist attend to your needs during the entire session is important - though not a necessity. I
At the end of the day, the only thing you will have left are your photos. This is why we encourage our couples to invest a little bit more for peace of mind - after all you deserve the best!
Please note for our pre wedding packages where the hair & makeup artists is included in the package - the hair & makeup artists may have already been selected as part of your package due to their availability.
---
What is the difference between a Pre Wedding Portrait Session and an Engagement / Love Story Session?
Engagement photo sessions or commonly called E-Sessions or 'Love Story Sessions' focus on capturing each couples personalities and those moments they share as they explore this city in a natural, non art directed / posed way. There is also very little retouching done to the images. As these sessions are usually the two of you and your photographer, they are fast paced with minimal equipment and posing and are priced considerably lower.
Pre Wedding Portrait Sessions is an Asian concept that tends to be completely art directed / mini fashion / editorial shoots that usually have a lighting crew of 1-2 assistants, lots of lighting gear (soft boxes, beauty dishes, gelled lighting), extra camera gear (2-3 bodies, 6-8 lenses: fisheye, macro, zooms, & specialized lenses such as tilt-shift and 'bokeh monsters') and a full hair & makeup crew. Obviously with a crew and more equipment the prices are considerably higher to cover their costs. The images are also more polished (retouched) to a very high standard suitable for magazines and large format printing. And for the very high end of the market lots of photoshop effects are being added. These sessions are slower paced with lots of art directing and posing and on-location lighting set ups. At one time the style of Asian pre weddings was very stiff, and the stand in front of a famous location and look in to the camera was quite common (and still is in some parts) but now these pre wedding Asian sessions have become increasingly artistic oriented and each year the styles, dresses and locations are becoming more grandiose. As these sessions become increasingly more popular the western world is taking note and we are now seeing many clients from North America and Western Europe wishing to have the same style.
Though many of the images in my Pre Wedding Portrait portfolio look and feel 'natural', these sessions are almost always art directed where everything, hands, body position, lighting and composition are controlled to create the most pleasing look. Additionally as these sessions take more time to create in post processing - they are priced considerably higher. For couples who wish to have a very stylized session wether it is a 'pre-wedding' or a post wedding session (with your wedding outfits) or simply a very stylish magazine styled & editorial session the pre-wedding sessions are ideal.


---
A short list of some of our favorite gardens in Prague picture perfect locations for your portrait session
For many couples visiting Prague the first question they ask is where to go? Obviously the historic Charles Bridge, Astronomical Clock, the Old Town Square, Prague Castle and many places in and around the riverside in Mala Strana are gorgeous. But Prague also has stunning gardens that should also be considered for your session.
Here is a short list of some of our favorites: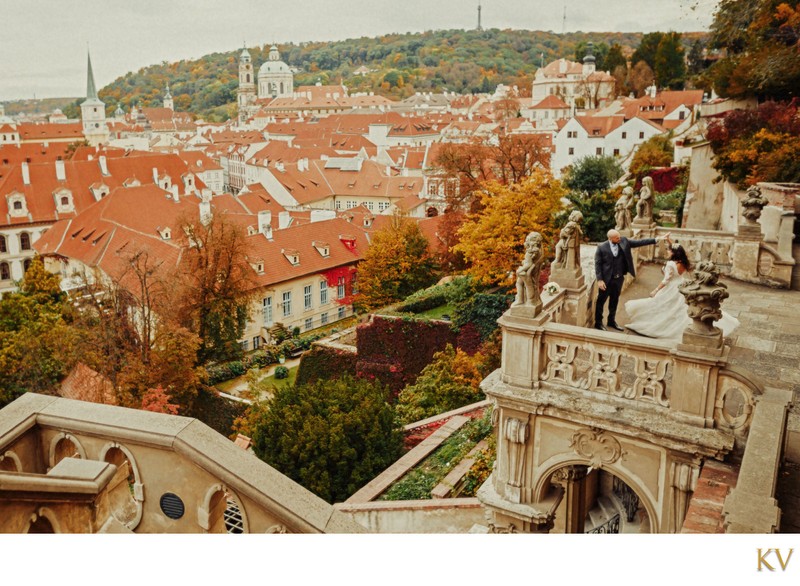 Ledeburska or the Royal Garden
Offering many levels overlooking Prague and Mala Strana below. This garden also has a wide array of architectural elements, gardens, fountains as well as a few hidden surprises.
perfect for couples who enjoy stunning vistas overlooking Prague

at the very least 60-90 minutes should be spent here

the downside - it is an uphill walk and is steep

should only be captured early in the day due to it's location

admittance fee of 1000 CZK (40 EUR)

no parking
---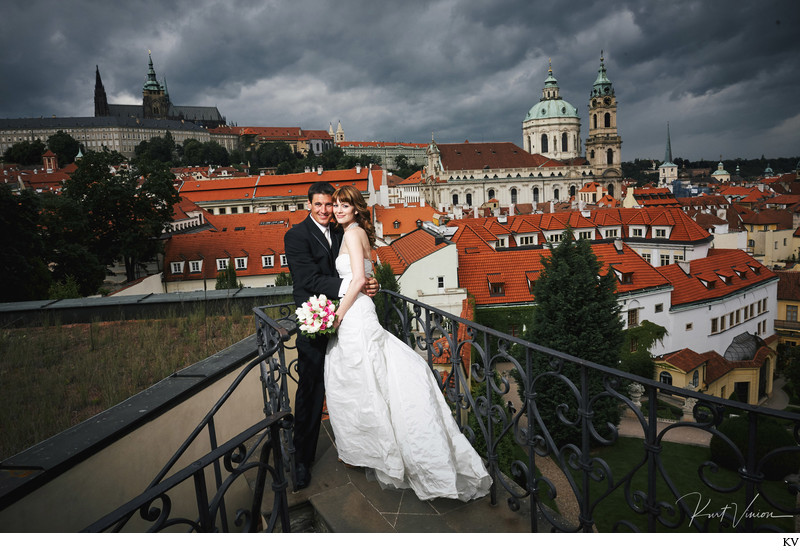 Vrtba Garden / Vrtbovska Zahrada
One of the most charming Baroque gardens in Prague offering 3 levels of incredible views. This garden is very popular as a wedding venue as such it can be quite busy with tourists and weddings. However the views from this garden under Prague Castle are not only impressive, but are a must have for couples who are investing in their Prague pre wedding photo session. You can realistically spend 1 hour here and have a collection of portraits that you will be quite proud of.
Picture perfect for adventurous couples who are not afraid of heights and are willing to spend at the very least 1 hour here

the downside - it is an uphill and a steep walk

should only be captured late in the day due to it's location

perfect for capturing dramatic skyline images of Prague Castle and St. Nicholas Church

admittance fee of 500 CZK (20 EUR)

no parking
---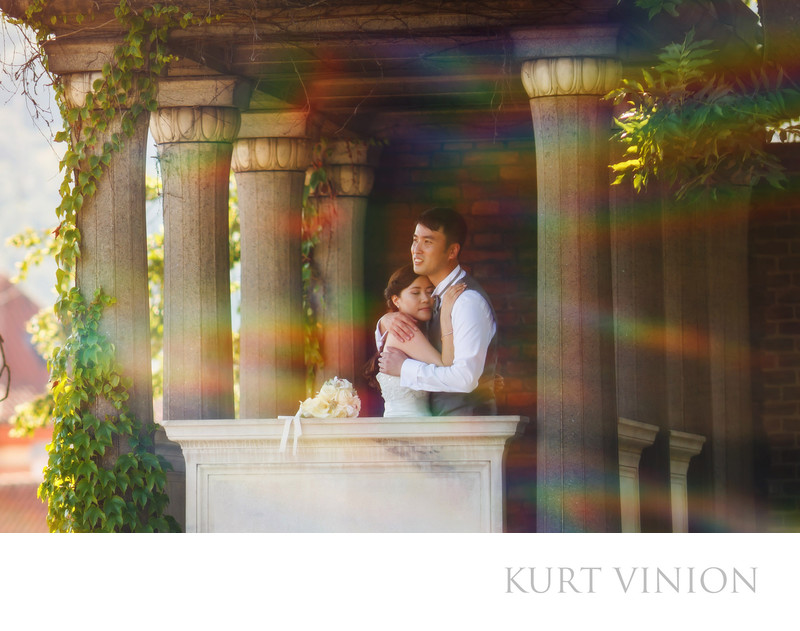 Prague Castle
Without a doubt the most popular (with free entry) garden in Prague. The Castle Gardens are quite special in the amount of wonderful locations it offers. As it sits under the castle it offers stunning views of the city down below and in addition to the castle grounds it is a venue not to be missed. You can easily spend several hours here..
picture perfect for views overlooking Prague

many unique locations for picture taking

free admittance

the downside - is very busy with tourists

waiting times can be up to 45 minutes just to enter the garden

to really capture the many wonderful locations you would need to spend at least 1-2 hours here
---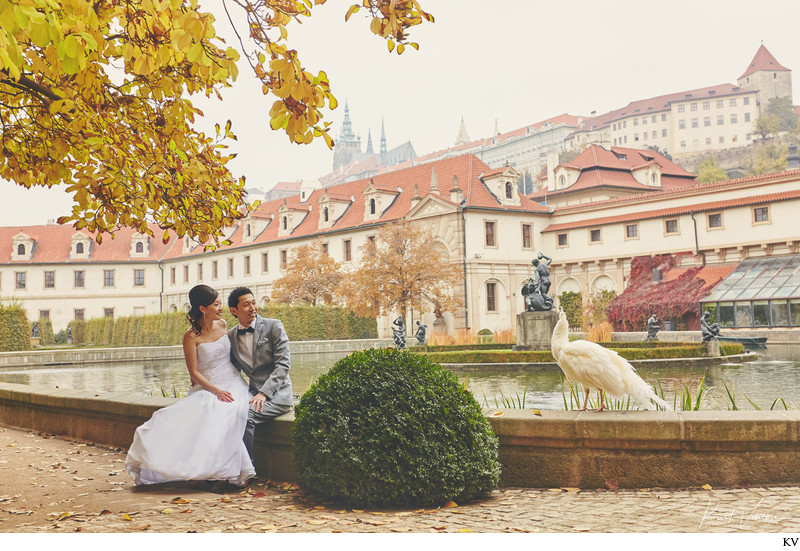 Wallenstejn Garden & Palace
Another wonderful garden that offers beautiful landscaped grounds with a small lake, a stunning view looking up towards Prague Castle, and interesting architectural elements. Plus the many peacocks who call it home are always a hit with couples
picture perfect for stunning architectural views of Prague

ideal times late afternoon when the sun is behind the castle above

several unique locations for picture taking

free admittance

the downside - extremely busy with tourists and concerts
---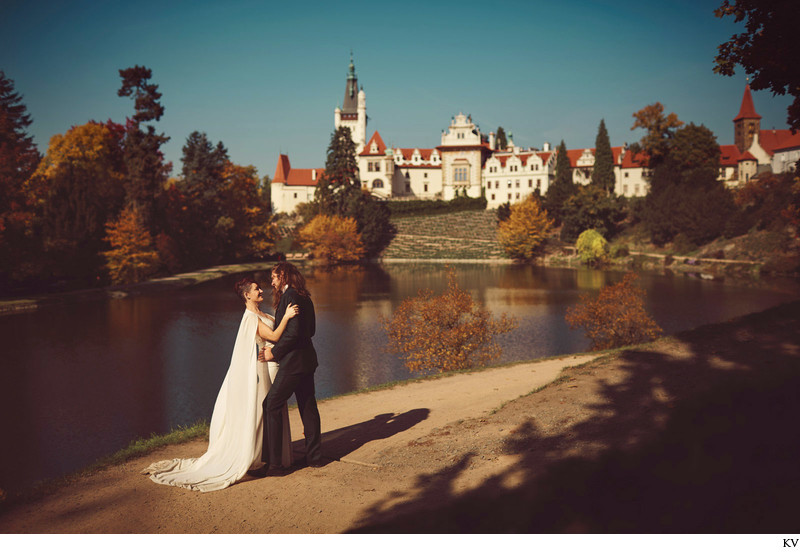 Pruhonice Botanical Gardens
First thing to note this garden is not in Prague it is 30 minutes south of the city. However this impressive Botanical Garden features a stunning castle and is a truly remarkable place for those couples who are having a large package and are willing to travel outside of the city centre.
picture perfect for capturing lush greenery with the castle and a lake as a backdrop

unique locations for picture taking

the downside - paid admittance

traveling to and from is on avg 60 minutes

to really capture this location you would need to spend at least 1 hour here
---
Do you have more questions about your session such as timelines, hair & makeup, location and etc?
Please visit our FAQ page.
---
Ready to have the best in pre wedding photography in Prague (or elsewhere) created especially for you and about you?
Send us an email via our Contact page and we will get right back with you!
Interested in seeing full sessions? Feel free to peruse our blog to see more couples!
---
Prague Destination Wedding Photographer
Prague Portrait Studio
Weddings • Engagements • Pre Weddings • Portraits • Couples • Family • Corporate • Events • Branding
+420 776 069 384 • info@kurtvinion.com • Kurt Vinion © 2020
Introducing our new website dedicated to couple shoots in Prague: