Choosing the right person should add to your experience - after all it's not just about the photos.
How much are you willing to pay for amazing memories?
---
Meet Kurt
English bulldogs, Cockatiels, espressos (doubles of course), collecting books, traveling, cooking, live music, family ( or how to tame 2 teenagers who know everything ), and meeting new friends and clients from around the world and my significant other: Dorota - these are the things that make life truly enjoyable. And naturally not in that order.
With over a decade of experience in the portrait and wedding industry and especially after a successful career as a photojournalist, I always bring an artistic & photojournalistic vision to every session. It is one of the reasons why I still do this as a profession - the love of creating something unique and momentous and reading as well as seeing the reactions those images inspire in people.
I have photographed over 300 weddings and portrait sessions in over 14 countries worldwide.
Truth be told, I love what I do and am always excited about every couple who entrusts in me their hopes to have a fantastic portrait session or an amazing photographic document captured of their wedding day.
As a professional creating stunning imagery and high quality artwork that will hang beautifully on ones living room wall or presented in a designer art book is something that I am also very proud of. Seeing these images in couples snapshots that they share with me is a wonderful compliment in and of itself. And their wedding or coffee table books that we design. Every book is created to exacting specifications and they really are family keepsakes that are cherished.
I am also a perfectionist (yes, it is a Virgo thing)! Earth signs are solid, reliable, humble, practical and stoic. ... Virgos are blessed with a powerful intelligence AND equally cursed with a leaning towards self-criticism and judgment. -- yeah, that is me to a tee... always striving for perfection...
But enough about me, I want to read about the two of you, how you met, what your life's goals are, your desires and what I can do for you? That inspires me and knowing those stories help me create something truly unique and personal for each couple.
So are you ready for an amazing experience? If so, contact me today as I would enjoy hearing about your desires and wishes - after all every couple is unique!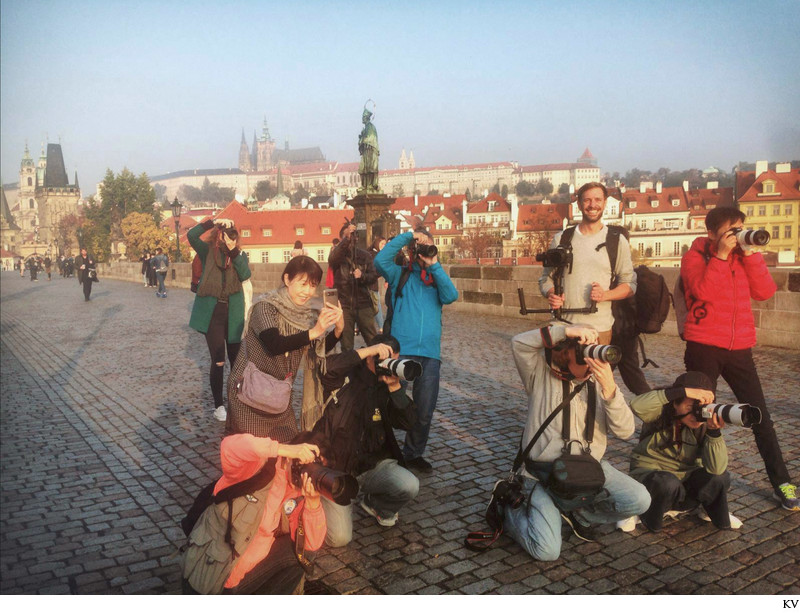 The usual crazy scene when I am capturing a session on the Charles Bridge and our friends from around the world join in to crash our session (and build their wedding portfolio). Plus the always smiling videographer Cary taking it all in standing behind me. (photo from our crazy Aussie lighting professional Stefan Raycanovski)
More about me...
Growing up as a US military dependent ( 'army brats'), I always felt more at home in Europe. A proud father of two (my daughter is learning 6 languages and my son, he is just Awesome for being who he is. I smile a lot as I am one of the lucky ones who works at what they love. My love affair with photography began in high school and I have worked professionally as 'a professional photographer' all of my life. First shooting sports professionally as a very young Director of Photography at the University of Louisville Athletic Dept, then incredibly working as a reportage photographer shooting all around the world and later happily reincarnated as a portrait & wedding photographer. The short of it all: I simply love capturing real moments shared between people. Creating images that will be treasured for a lifetime if not generations is a wonderful and yes I still get nervous the night before each session or wedding. The truth is: my goal has always been to capture defining moments that inspire and move ones soul in an artistic creative way.
Moments, what truly matters...
I prefer to work in an unobtrusive, documentary style that focuses on capturing moments of happiness, humour and intimate moments that turn photographs into cherished life long memories. I realize that staging every photo - or art directing everything is the new norm and to be honest - this kind of photography does not really interest me. The moments that couples are always fondest of are the ones that are real, unplanned and unscripted. Clearly this takes a lot of focus and patience to capture and this is something I strive to do.
To pose or not to pose...
Let's face it, many of us are not models nor do we have the experience of knowing how to pose and especially with our body types. Coaching couples to show them what works and what does not - is something I do in a very relaxed and fun way. As time progresses these same couples will start to relax and enjoy themselves without feeling terribly awkward. After all when you start having fun this is where the real magic begins.
Natural Light or a bit of everything...
Lighting! Yes, this is really what pushes me over the top in comparison to many of my friends and colleagues. My on-location lit (studio lighting gear) or 'strobed' portraits are highly sought after for a reason - they ooze class, sophistication and an especially timeless & 'expensive' look. Irregardless of the conditions - I always bring back beautiful images - something that is not possible with 'natural light photographers'.
Style or how does one define my work...
If one had to really describe my work it would be clean, moment drive, artistic and warm. I am not keen on the current overly dark, moody slap a Lightroom filter on a poorly exposed image and call it 'art'. I feel that in a few years this style will be out of fashion and many couples will look back and ask themselves why they chose this when they could have gone for a more modern & clean look. And yes, there are times where I will shoot those kinds of images but overall I prefer a clean, polished look and feel.
The details...
In my dealings with clients I am painstaking about the details, but not a pain. In fact, I like to think with my relaxed & calm persona that I am a pleasure to deal with (at least this is what my clients say). And yes, I am honest to a fault, though careful of peoples emotions and sensibilities after all we all want to have a great time..
Getting around...
Being based in Prague allows me to easily capture weddings and special portrait sessions around Europe. Italy is one of my favorite locations and the weddings I have done in Rome & Tuscany for the Getty Family (Getty Museum, Getty Foundation, Getty Images) and the Karzai family (former Pres. of Afghanistan) were mind blowing experiences to say the least. There was also that very special wedding I captured in Santorini with the sweetest & happiest couple I have ever photographed - their images always brings a smile to my face. What a wonderful time that was!
Yet some of my fondest weddings run the gamut of a small village wedding in Poland (with lots of funny, crazy moments) to lavish London affairs (the Syon House and it's incredible staff truly set it apart) to castle & chateau weddings all over Europe. Plus capturing the beautiful weddings of my fellow wedding photographers are personally very rewarding. If you can make a wedding photographer cry - you are doing your job exceptionally well.
And Asia: the Peninsula and Hotel Intercontinental in Hong Kong set a new standard in every way - a region I plan on visiting and working more in as I love the cultures there.
Truth is, with the right couple I am willing to travel anywhere in the world to capture those incredible moments that will be cherished for a lifetime.
Want to stay connected? Or see how bad I am at posting new content...
What is my professional photography background?
Professionally I have worked as a photojournalist with The New York Times, The Boston Globe, Mother Jones, Spectrum Pictures and many magazines worldwide. I have covered assignments in: Afghanistan, Pakistan, Egypt, Israel, Belarus, Russia and many countries in Europe...
Additionally I spent 3-years photographing celebrities in Berlin for Getty Images and Wire Images after tiring of the reportage workload and yes, of the travel... Some of the 'celebrities' were interesting and those Berlin parties were fantastic (the ones I remember). But to be honest, photographing celebrities is quite boring, tedious work, with very little creativity as celebrity imagery are so controlled & contrived...
Before moving to Europe, I was a very young, Director of Photography at The University of Louisville Athletic Dept.
In addition, I was also the event & personal photographer for Muhammad Ali and his foundation and I feel honored to have spent so much time with Muhammad and meeting many of the greats of boxing. Being from Louisville definitely has its perks (a big shout out to Tom Cruise - we had a great laugh about his time growing up in Louisville).
I majored in Photojournalism/Fine Art at WKU one of America's top photojournalism programs well renowned for producing the very best photojournalists in the world.
AWARDS:
The truth is, I have won some of the biggest prizes in international photojournalism including: 2 - 1st Place Awards in the Best of Photojournalism as well as a hand full of Czech Press Photo Awards and a coveted Sports Photographer of the Year award. Yet, the best award: being told that American couples traveled to the Ukraine and adopted children after they viewed my documentary project on Ukraine's street children and their plight.
Knowing that my reportages gave children a new chance at life is priceless. It is the highlight of my very short and wonderful photojournalism career and I am still quite humbled by this experience. Honestly, there is no award that can ever top. The only other experience that topped that feeling - holding my newborn daughter in my hands for that very first time. Now that was truly awesome.
For the year 2018 I also received a pretty sweet award from the WPJA