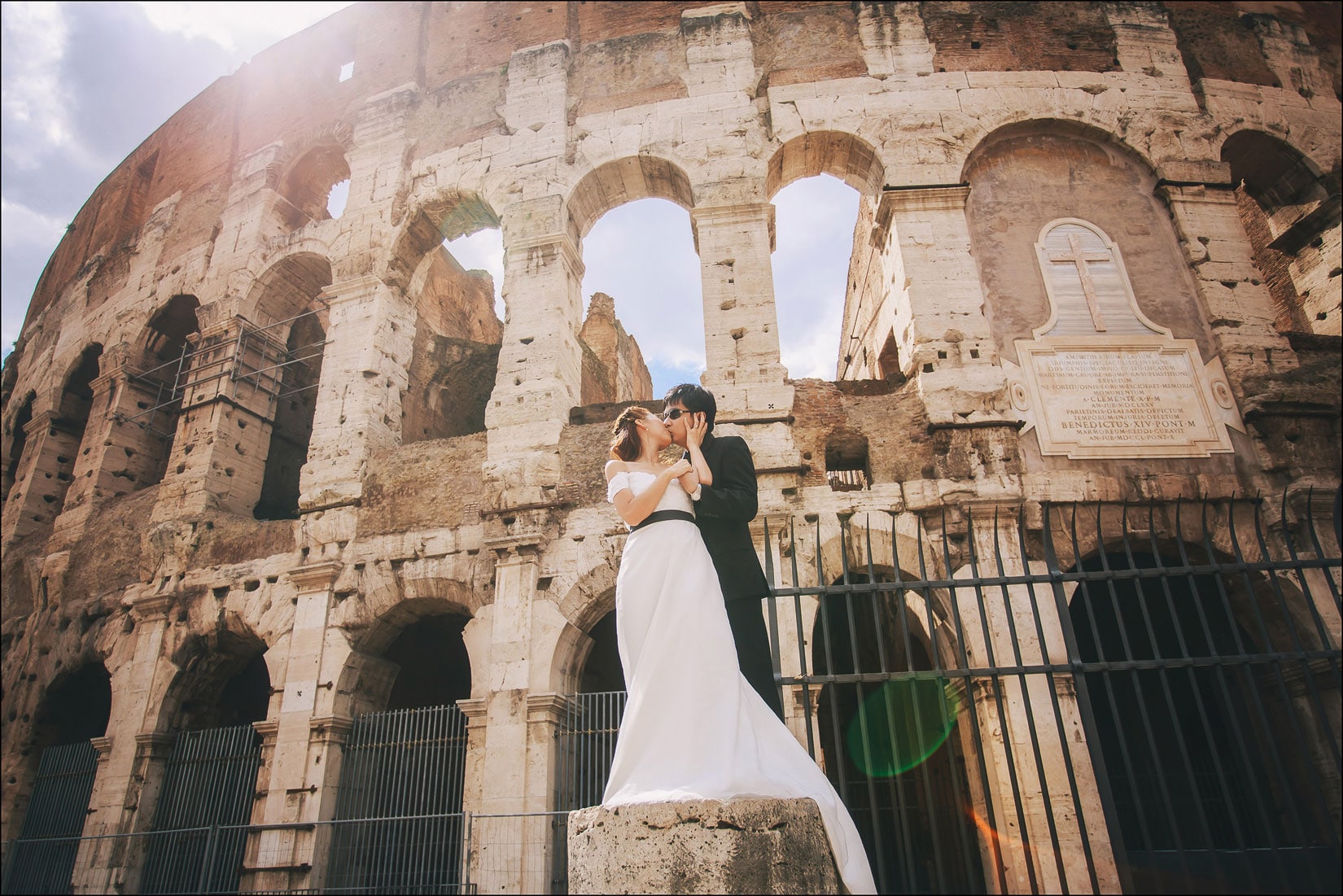 Hannah & Mark always wanted a session at the Coloseum and so when they contacted me I was totally game.  After all Rome has that magical sunshine, beautiful ancient monuments and  locations that photographers worldwide can only dream of.
Combine that with a young, hip and happening couple who are also brilliant, fun and clearly very excited about their session in Rome,  you simply cannot go wrong. Truth be told, we were lucky as it had rained for three days prior to our session but on our day – glorious sunshine.
Our route started in Monti overlooking the Coloseum where some of their favorite portraits (and mine too) took place.  We then walked to the Capitaline Hill(Campodoglio). This is the smallest and yet the most politically important of the 7 hills that comprised ancient Rome. It is also a truly visually breathtaking location.
At the Forum we soaked in the history in an incredibly peaceful and quiet atmosphere where the sounds of the birds chirping and of course a few car horns (this is Rome after all) were the only thing to break the silence. As the late afternoon sunlight lit up the famous frescoes and columns in silence it was a moment that cannot be described in words.
We then walked to the "Il Vittoriano" or as we Yanks  like to call it rather embarrassingly 'The Wedding Cake Building' for a quick series of images.  Afterwards it was time for a dinner and an outfit change with our fabulous hair & makeup artist Bara who traveled over from Prague.
During dinner one question remained; where to go for our evening session? Trevi was shockingly covered in scaffolding and the insane crowds at the Spanish Steps did not look appeasing either. In Rome you really do have  many choices but we opted for Castel Sant'Angelo but first,  a quick stop at the Pantheon as they had not seen this incredible monument yet.
For me, the most beautiful place in Rome that evening:  atop the bridge at Castel Sant'Angelo as the sunset peaked above St. Peter's basilica. As the sky flared its last gasps of color, Hannah & Mark decided to venture down to the Tiber to seek out the peace and tranquility of this truly historic place.
So how do end a wonderful nite in Roma? Gelato!  And damn was it good.
To Hannah & Mark, thank you once again – it was an absolute pleasure meeting you and creating this beautiful session – I am so pleased that you two 'love the results'.