Let's be honest, Venice is rightfully one of the most beautiful cities in the world. It is an incredible location for couples who desire an unforgettable photo shooting experience. Couples from around the world come here to have their pre-weddings, post weddings, honeymoon, anniversary you name it - photo sessions. And weddings? Of course! The truth is - you will be greatly rewarded if you spend some time here and have a photo session to remember it by.

But there are some caveats: in the summer Venice is incredibly busy with tourists, combine that with a very hot and humid climate it can be quite miserable. From the autumn to the early spring it does flood.
So what are our recommendations for a successful photo shooting experience in Venice?
First: get up early - way early — in fact in the middle of the night and head out and you will be amazed at the quiet solitude of its enchanting streets and canals. There is something quite amazing about exploring Venice when no one else is around — where the only sounds are the lapping of the waters in the lagoon or canals or maybe a boat traveling off in the distance. Of course having photos captured at night can be tricky for many photographers. But if you go with a pro who works with a lighting crew you will be greatly rewarded. So invest more in your session as this is a once in a lifetime chance to get right. It also goes without saying that having a professional hair & makeup artist is a must have. They will normally need anywhere from 1 - 2 hours of prep. Though 90 minutes is the norm. It is not necessary to have one on the session unless your session will be completely art directed or posed.
Second: make sure your hotel or holiday flat is near St Mark's. This is especially helpful if you will want to change outfits during your session. As you will need to walk around having your hotel far from the center will cause you to lose valuable time.
Third: make sure you get plenty of rest and liquids the night before.
Fourth: always have a small bag for your dress shoes and drinks. You will not want to walk around in your expensive Jimmy Choo's in Venice as the cobblestones will very quickly destroy them. So always have comfortable walking shoes.
Fifth: as it is your session bring out your own props.
This is only a short list as we do spend quite a bit of time discussing the session in more detail when you book.
Please note that many sessions run the gamut from 4 - 6 hours. We do not recommend having two sessions in the same day. For some couples two days of shooting make sense if they have more outfits.
Why 6 hours? For some of our couples the last hour is usually spent on the gondola or traveling to one of the smaller islands. The 6 hour session also allows for a quick outfit change.
As one who has been capturing pre weddings and honeymoon sessions in Venice since 2008 I am well versed in capturing various styles. From the very stylized pre weddings to the more natural style of couples simply wandering around and being captured as they live in the moment.
If you are interested in speaking with me further about your session please get in touch!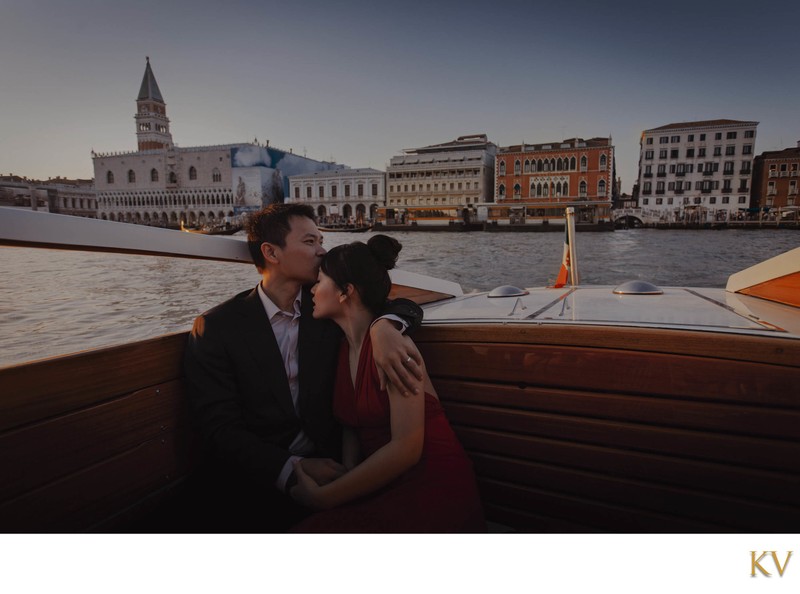 ---
Our recommendations for a successful photo shooting experience in Venice?
Prague Portrait Studio

Weddings • Engagements • Pre Weddings • Portraits • Couples • Family • Corporate • Events • Branding

+420 776 069 384 • info@kurtvinion.com • Kurt Vinion © 2020

Keywords: atmospheric pre-weddings Venezia (42), love (329), St Mark's Basilica (2), sun flared (62), sunrise Venice photos (41), urban love stories (41), Venice (44), Venice Love Story photos (41), Venice pre-wedding photos (41), Venice sunrise pre weddings (41).