Kissing in the rain under umbrellas Charles Bridge




LOOKING FOR ADVICE FOR A SUCCESSFUL PORTRAIT SESSION IN PRAGUE?
Step 1 - book your Prague photo shoot as soon as possible
Booking your Prague photo shoot with us is simple.
browse our different photo galleries to ensure you understand and love our style and have a good idea what you can expect.
check our availability for your preferred date(s) and starting time. Our calendar does fill up quickly and we operate on a first-come-first-served basis.
as we believe in transparency and your peace of mind (and ours too) we do require a contract and a 50% retainer to guarantee your date & time.
connect with us to discuss your session, your style, tastes, wishes, the timeline(s), meeting points, starting time, hours of coverage and how we work with your files.
Step 2 - prepare for your Prague photo shoot like a Pro - 'Truly successful photo shoots are those that have been prepared for'
The amount of fun captured in our images is really dependent on several things: how well you click with your photographer and how well you communicate your ideas and styles before the shoot. When you work with an experienced pro, your expectations should be quite high - after all, anyone can take a picture but to capture what you experienced in a beautiful, artistically created way takes vision, dedication and a real love for what we do. And no worries, if you feel like you need a bit of encouragement or some guidance - we can do that too.
WHEN IS THE BEST TIME FOR A PORTRAIT SESSION IN PRAGUE?
For truly beautiful images with very little worries about the weather the period from late March (this is when the Cherry Blossom trees start to bloom) through the end of autumn in early October is best. I am personally a big fan of September to early October as it is the most visually stunning time of the year - the fall foliage is at its most spectacular and a visit to a garden is a must. The bonus: shorter days with its late sunrises and early sunsets make for easier & faster paced sessions. Please note we are also booking many elopement weddings where couples chose to have a pre sunrise session so those dates do book up fast as well.
Sunrise photo sessions are truly the best way to experience this city without the many tourists cluttering up the background of your images. For many of our couples from Asia we actually will start their pre-wedding sessions 1-2 hours before sunrise to capture night motifs, the magical Blue Hour, the incredible sunrise (either from the riverside of on the Charles Bridge) as well as stunning panoramic images of the city from up high.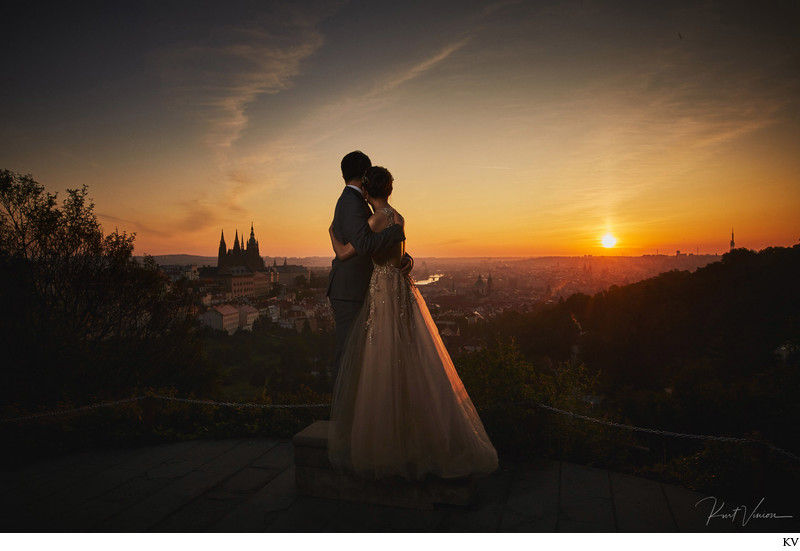 Sunrise
This is the time where the sun starts to peak above the skyline in the morning dawn or daybreak. The fall months are especially breathtaking as the warmth of the sun hitting the Vltava sends up a gorgeous mist that creates ethereal streaks of lights that simply can not be replicated in photoshop.
The benefits of having a sunrise session (or pre sunrise)
the only time of day you can get photos at your favorite Prague location without the distraction of many tourists
gorgeous sunrises and gorgeous Golden Light Hour conditions
wonderful opportunity for creative lighting and modern & creative portraits
more intimacy
the drawbacks: getting up early - though not a problem for our couples from Asia who are still on their home time zones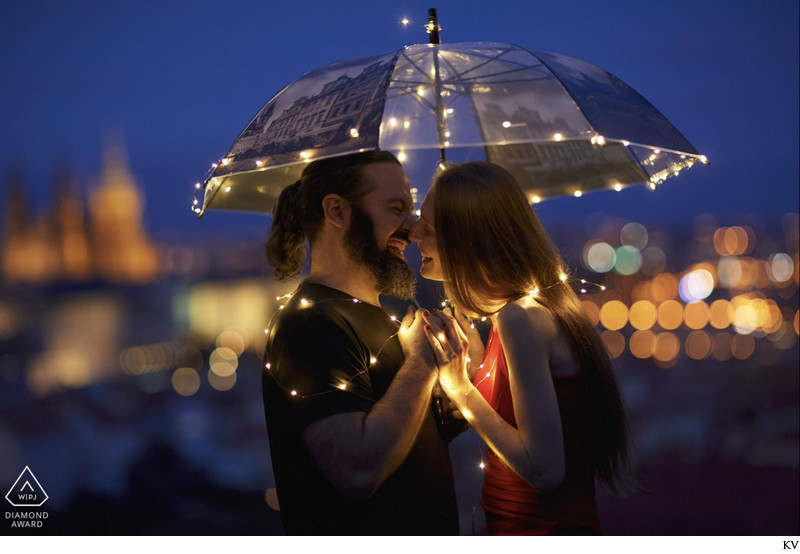 Evening (twilight) photo session - or the Blue Hour
The period when the day is ending and the night is beginning.
magical, beautiful, romantic & incredible are how couples view their images captured during this time period.
with the softness of the light their is no harsh lighting to cause unwanted and unflattering shadows. An ideal time for creating luxurious (and lit) portraits that will impress and amaze with their rich colors
we do recommend a timeline that provides you with an opportunity to have both daylight and night time photos with a 120 minute period.
the drawbacks: time frames fill up quickly and bookings are limited. As we work with a lighting crew these images are more art directed since we are setting up lights and the pace is slower than a natural light session.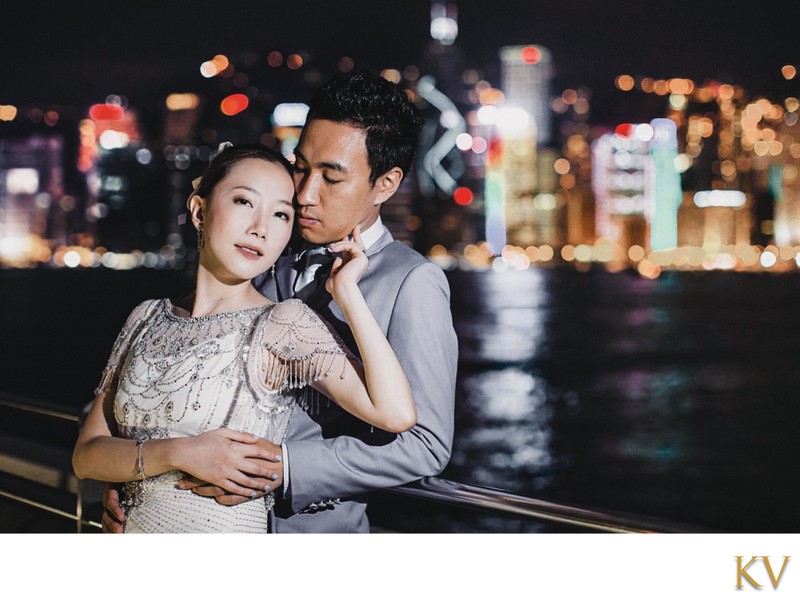 Evening (night time) photo sessions
the time of day where the city feels most alive and fun
intimacy in beautiful historic locations such as Prague Castle at night is something our clients still rave about many years later
the best time for us to create truly unique and creative artistic and art directed portraits
the later start times means it is easier to commission hair & makeup services and lighting crews
the drawbacks: these time frames fill up very quickly as we do many split sessions so our bookings are quite limited. As we work with a lighting crew these images are more art directed since we are setting up lights and the pace is slower than a natural light session.
A short list of some of our favorite gardens in Prague picture perfect locations for your portrait session
For many couples visiting Prague the first question they ask is where to go? Obviously the historic Charles Bridge, Astronomical Clock, the Old Town Square, Prague Castle and many places in and around the riverside in Mala Strana are gorgeous. But Prague also has stunning gardens that should also be considered for your session.
Here is a short list of some of our favorites:
Ledeburska or the Royal Garden
Offering many levels overlooking Prague and Mala Strana below. This garden also has a wide array of architectural elements, gardens, fountains as well as a few hidden surprises.
Picture perfect for adventurous couples who are not afraid of heights and are willing to spend at the very least 1 hour here
the downside - it is an uphill and a steep walk
should only be captured early in the day due to it's location
admittance fee of 1000 CZK (40 EUR)
no parking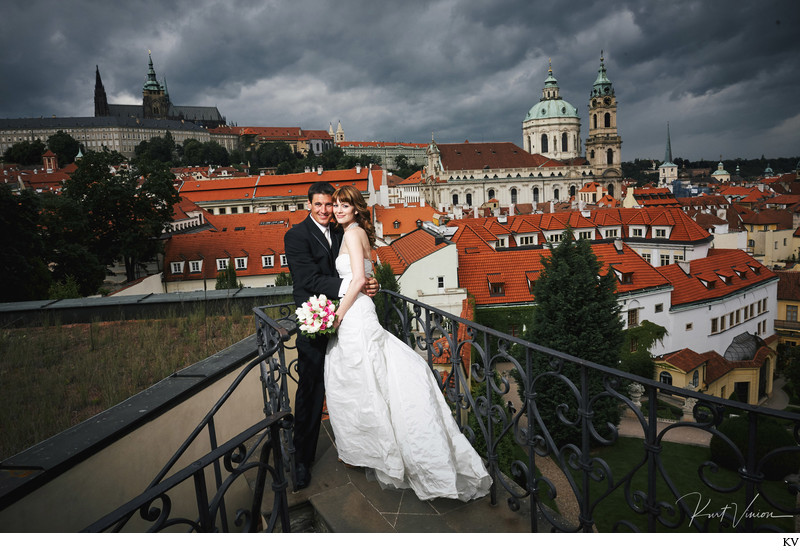 Vrtba Garden / Vrtbovska Zahrada
One of the most charming Baroque gardens in Prague offering 3 levels of incredible views. This garden is very popular as a wedding venue as such it can be quite busy with tourists and weddings. However the views from this garden under Prague Castle are not only impressive, but are a must have for couples who are investing in their Prague pre wedding photo session. You can realistically spend 1 hour here and have a collection of portraits that you will be quite proud of.
Picture perfect for adventurous couples who are not afraid of heights and are willing to spend at the very least 1 hour here
the downside - it is an uphill and a steep walk
should only be captured late in the day due to it's location
perfect for capturing dramatic skyline images of Prague Castle and St. Nicholas Church
admittance fee of 500 CZK (20 EUR)
no parking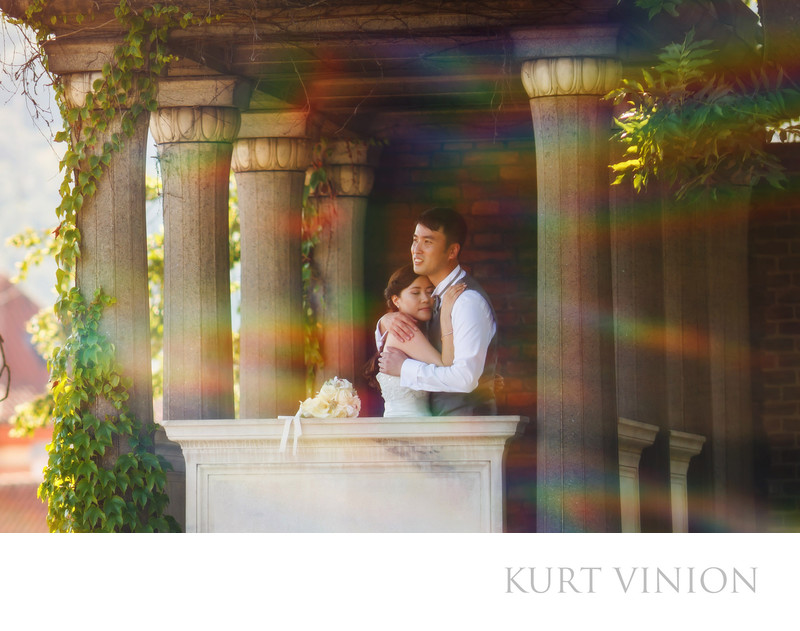 Prague Castle
Without a doubt the most popular (with free entry) garden in Prague. The Castle Gardens are quite special in the amount of wonderful locations it offers. As it sits under the castle it offers stunning views of the city down below and in addition to the castle grounds it is a venue not to be missed. You can easily spend several hours here..
picture perfect for views overlooking Prague
many unique locations for picture taking
free admittance
the downside - is very busy with tourists
waiting times can be up to 45 minutes just to enter the garden
to really capture the many wonderful locations you would need to spend at least 1-2 hours here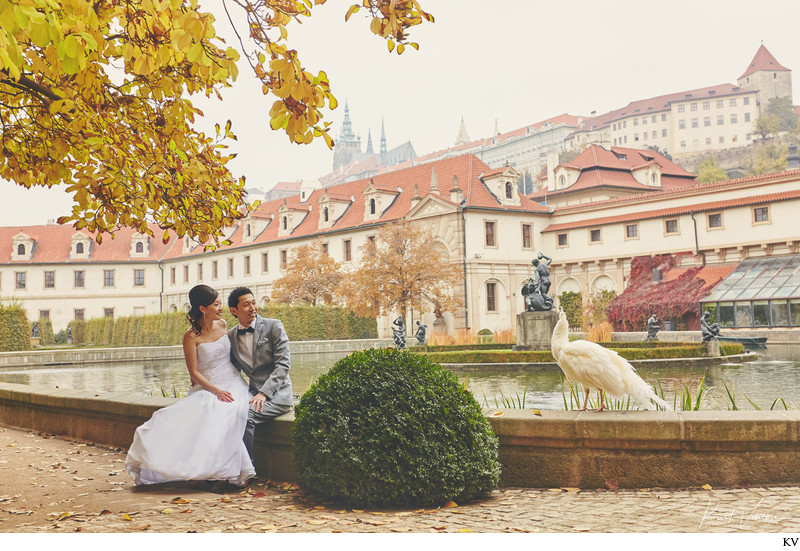 Wallenstejn Garden & Palace
Another wonderful garden that offers beautiful landscaped grounds with a small lake, a stunning view looking up towards Prague Castle, and interesting architectural elements. Plus the many peacocks who call it home are always a hit with couples
picture perfect for stunning architectural views of Prague
ideal times late afternoon when the sun is behind the castle above
several unique locations for picture taking
free admittance
the downside - extremely busy with tourists and concerts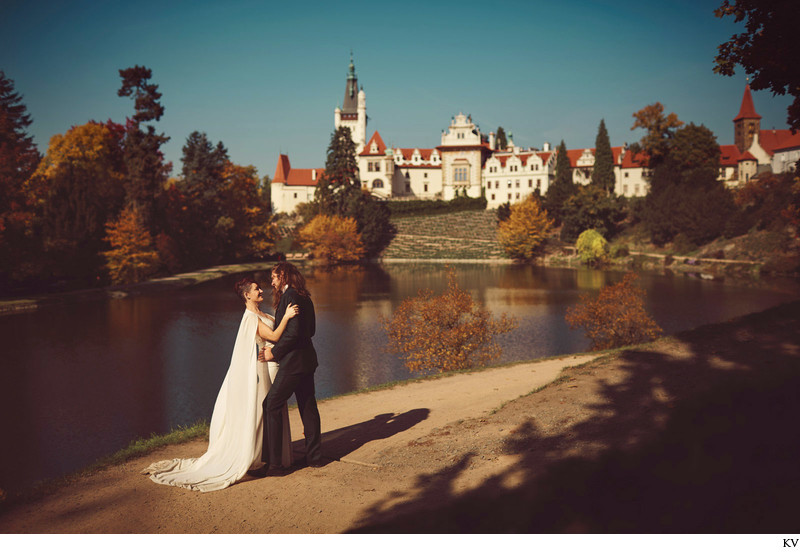 Pruhonice Botanical Gardens
First thing to note this garden is not in Prague it is 30 minutes south of the city. However this impressive Botanical Garden features a stunning castle and is a truly remarkable place for those couples who are having a large package and are willing to travel outside of the city centre.
picture perfect for capturing lush greenery with the castle and a lake as a backdrop
unique locations for picture taking
the downside - paid admittance
traveling to and from is on avg 60 minutes
to really capture this location you would need to spend at least 1 hour here
Questions about your session such as timelines, hair & makeup, location and etc? Please click on our FAQ page here.

Keywords: adventurous couples (35), anniversary photos (37), Charles Bridge (132), luxury post weddings (5).