bride & groom embrace in the rain Cesky Krumlov Castle
One of my favorite wedding portraits which has been shared worldwide is of Jana & John snuggling up during a torrential downpour as the Castle in Cesky Krumlov towers above them.
They had one of those unforgettable weddings filled with lots of emotions, wonderful moments and great times shared by all. We did create a hand full of 'official portraits' of them in the ballroom and as we were about to leave we asked if they wanted to do one last photo outside. As it had been raining for hours there was not many images showing their wonderful wedding venue - the Cesky Krumlov Castle and as these two wanted some fresh air from the very humid ball room we took leave of our guests.
With umbrellas in hand we set up a light from behind them on the fountain as we wanted to use this as the last motif. After a few quick snaps we were about to pack up and head in when these two looked in to the camera and their smiles said it all - they quickly dropped their umbrellas and for the next 15 seconds we took about 6 pictures of them embracing in the rain, smiling laughing, kissing and having the times of their lives.
Pictured here is that beautiful moment where two very happy people let themselves enjoy the moment by getting a bit wet. It is one of my first weddings and as such it still has special signifigance for not only me - but for Jana & John.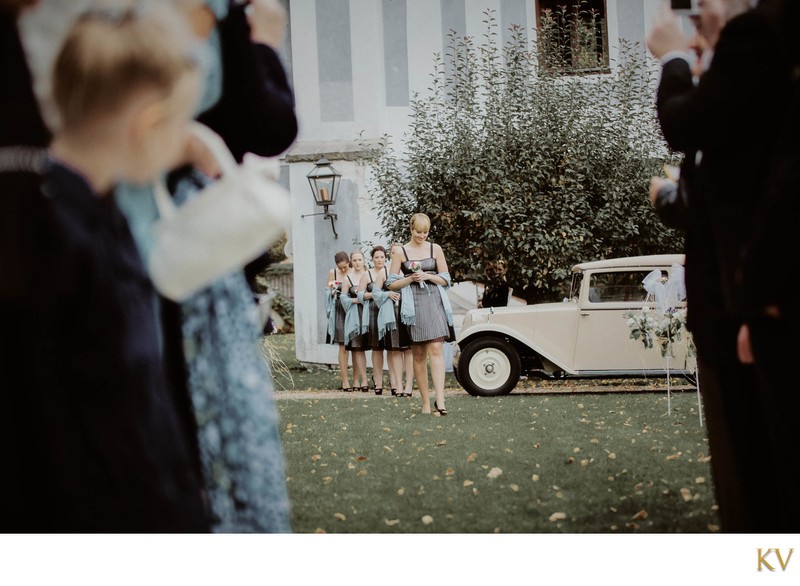 ---
Bride & Groom in the rain during their Cesky Krumlov Castle wedding
Prague Portrait Studio

Weddings • Engagements • Pre Weddings • Portraits • Couples • Family • Corporate • Events • Branding

+420 776 069 384 • info@kurtvinion.com • © 2020 Kurt Vinion

Location: Zamek cp. 59, Cesky Krumlov 381 01, Czech Republic.

Keywords: authentic moments bride & groom (3), award - winning photos (4), bride & groom in the rain, Cesky Krumlov weddings (3), modern wedding photographers Prague (2), wedding moments Cesky Krumlov.