authentic love + moment shared Prague wedding photo
Authentic wedding photography from your Prague wedding photographer!
---
Who is the Best Prague Wedding Photographer? If you are looking for the best Prague wedding photographer, where do you begin? There are many websites that have "best of" lists, such as The Knot, Wedding Wire, Fearless Photographers, Top 10 Wedding Vendors, LI Weddings, and Thumbtack, MyWed. But how can you really determine who the best Prague wedding photographer is? Truth is you really can't. Sure you can go with the paid for subscriptions who will happily point you to their paid members, or you can ask the wedding planners who will point you to their 'team members' - who pay up to 30% commissions to be a part of those 'teams'. Or you can simply go with what your heart tells you.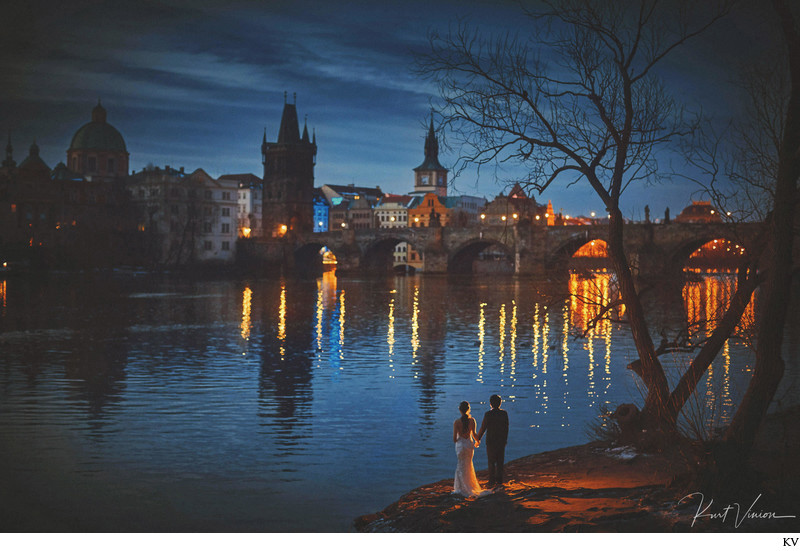 How to find the best Prague wedding photographer
First off, you need to make sure you have a connection to the work presented. We can talk about the technical merits of photography all day long, but the reality is: do you feel a connection? Are you drawn emotionally to the images that the photographer presents on his or her portfolio? Are you able to clearly understand the stories being told and the moment that is occurring?
You should also take a look at the work from a technical point of view. Does the photographer add fake sunbursts or lots of colors to create a 'vivid' or overly saturated look? Or does the photographer create images that are dark & moody and ones where you may struggle to see the details on the couples faces. Truth is all of these styles are fine to certain people.
When selecting your Prague wedding photographer it is not enough to just look at a few images and view their pricing you must really view as much of their work as possible -after all this is an investment and when your wedding day is done the only mementos are your wedding day photos. Don't chance it on a wedding vendors recommendation until you have researched what is really out there. Not all of the best Prague wedding photographers are members of the wedding planners teams in fact many of the older more established Prague wedding photographers do not pay to be a member of these wedding planners teams and prefer to work directly on the couples behalf.
Lastly, before selecting your Prague wedding photographer you must ask yourself, can they create the kinds of images that I will wish to have that tells the entire story? There are truly fantastic photographers here who excel at posing a woman like a model but when it comes to capturing those special moments they fail. Perhaps it is lack of experience or perhaps it is simply not being attuned to anticipating the moment, but this is something to truly consider. Another thing to consider? Can your photographer create stunning images of the details or the interior of the wedding venue or the party venue? Does your photographer work well with large groups of people and can they create a fun environment when capturing large groups of people? Again, having a well rounded Prague wedding photographer - one who can tell the entire story of your wedding day is far more important than the part-time fashion photographer who can not understand the intricacies of capturing a day of moments. Truth is capturing a wedding day is one of the hardest jobs a photographer can do as you truly must be able to create a wide variety of images that compose the entire wedding day story.




The 1st picture above is one of my favorite images from Yana & Daniel's destination wedding in Prague.

To view Yana & Daniel wedding day please click this link.

Truth be told, Yana & Daniel's small, intimate, very family oriented, destination wedding in Prague is one of my favorites from 2016. They are both incredibly sweet, and their family & friends are as adorable as these two. I knew when we met the day before that we were going to have a great time.

Their wedding day was simple enough, meet at a salon in the centre of Prague where Yana was getting prepped and the very patient Daniel and family & friends were waiting patiently. After she was prepped it was time for some wonderful images of them seeing each other for the first time and then it was time to travel to their wedding venue: HRAD CERVENY UJEZD a place I have flown over several times before but have never visited.

After the wedding ceremony it was time for some wonderful group and family portraits where the only important thing was having fun. As these two are very laid back and fun we simply (stills & video) followed them around as they explored the grounds. Later we traveled to Prague Castle for a second round of beautiful portraits before eventually meeting up with family & friends as the Botel Admiral for their evening dinner and dancing.
They say a picture is worth a 1000 words and as such I think I will let the images of these two speak for themselves.




Location: Pražské svatby, svatební fotograf, svatební fotografie, svatební fotograf z Prahy, svatební fotografie, svatební fotografie Chateau Liblice.

Keywords: bride & groom (519), happiness (444), happy couple (24), intimate (12), love (417), Prague weddings (720), wedding (21).