overlooking Vrtba Garden wedding elopement
---
Vrtba Garden elopement Wedding
Vrtba Garden is such an incredible location for wedding pictures and yes weddings! There is a reason why couples from around the world chose to marry here, whether a small elopement or a larger wedding with many attendees. The garden is simply one of the most beautiful in Europe.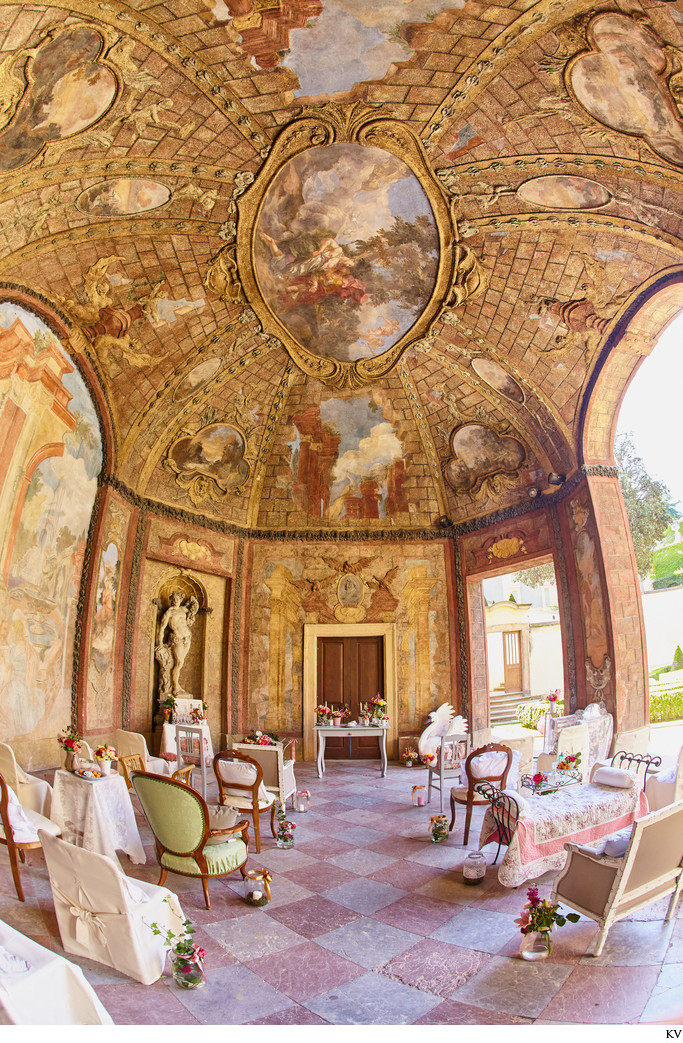 Together with three other Baroque gardens (Vratislav, Schönborn and Lobkowicz), the Vrtba Garden is situated on the slope of Petřín Hill and is one of the most precious and beautiful of Prague's Baroque gardens. The creation of this magnificent palace garden is associated with the construction boom around 1720. The garden was designed by František Maxmilián Kaňka, who first renovated the palace for Jan Josef, Count of Vrtba and then created the garden. Unlike the garden which retained its Baroque style without any significant changes, the Vrtba Palace underwent radical changes during the following centuries. The statue and sculpture decorations were created by Matyáš Bernard Braun. In addition, painter Václav Vavřinec Reiner was involved in the masterpiece. The interior decoration of the Sala Terrena has survived in its original designs until today. The fresco on the vault depicting Venus and Adonis was painted by Václav Vavřinec Reiner.
Wedding Portrait Locations at the Vrtba Garden in Prague
There are so many Vrtba Garden locations for great pics. I especially enjoy capturing a couple as they take in the view from above or when they become a bit more intimate such as Jennifer & Shad under the wedding veil. Down below and especially in the Autumn the vines turn a bright fiery red and the colors of the garden come more alive. It is truly a visual feast of architecture, colors and a very calming place in the center of Prague.
One of the things that set me apart from many other Prague wedding photographers is my use of unconventional lenses such as a fish eye lens used for this picture above. To truly capture the beauty of a garden like this you really need to use such a lens. Plus with the right light you can create truly atmospheric imagery that would look incredible on your living room wall.
I am also very good at finding unusual locations for portraits that other wedding photographers might not see, or think to use or perhaps not have the right equipment to create the look and feel. This portrait perfectly exemplifies what I mean. I love portraits that make the viewer think 'how was that taken?'.
And as it truly is the couples wedding day it is also imperative to create unique images that suit their styles and taste. Jennifer wished to have a more artistic and moody image and this small room at the garden provided just what she wished to have. It is not everyone's style or taste but for this particular bride - it was what she was hoping for.
And of course as a photographer who sees things differently sometimes it is those fleeting moments that leave an unforgettable impression such as this sun kissed image.



Bridal Portrait Locations at the Vrtba Garden in Prague

Though I am not one to pose my clients to excess, in fact I think it is quite terrible that photographers over pose their couples and turn their wedding day photo session in to a portfolio building session. What I wish is for my clients to simply enjoy the moment where they shared a laugh, looked at each other in a different way and more important I wish to for them to remember that feeling they were experiencing. You really can not pose a moment, but you certainly can propel them so that when it does happen it happens beautifully.




Location: Karmelitská 373/25 Praha-Malá Strana 11800, Czech Republic.

Keywords: Authentic Love (15), beautiful gardens (3), destination weddings (630), happy couples (42), Luxury Weddings (552), Prague elopements (3), Vrtba Garden (117), wedding (21).